Disclosure: Sponsored post in partnership with Blog Meets Brand and Cedar Fair. All opinions are mine.
My family visited Worlds of Fun on Opening Day 2017 and I'm so excited to share two new exciting rides and their beautiful new entrance. We visited some our favorites, like Planet Snoopy, Fury of the Nile, Boomerang, the Mamba and enjoyed a beautiful day at the Kansas City amusement park. Here's a quick video of our day.
PLANET SNOOPY
With kids ages 11, 8 and 6, Planet Snoopy is our favorite spot in the park. There are rides all three kids can enjoy from roller coasters, swings and train rides. This year we stopped at Peanuts Playhouse with three stories of cannons, targets and thousands of foam balls.  This is a shooting adventure your Nerf gun fan will LOVE! Peanuts Playhouse was the highlight of the day for our 8-year old and my husband even got in on the fun. Check out my son in action.
My daughter took this picture of our family with her two goofy brothers.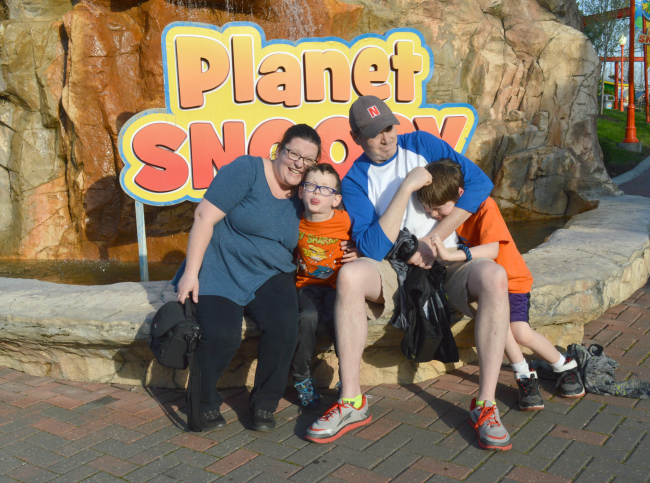 The Woodstock Gliders are our new favorite ride in Planet Snoopy. My son discovered he can make it fly high by adjusting the glider. So much fun!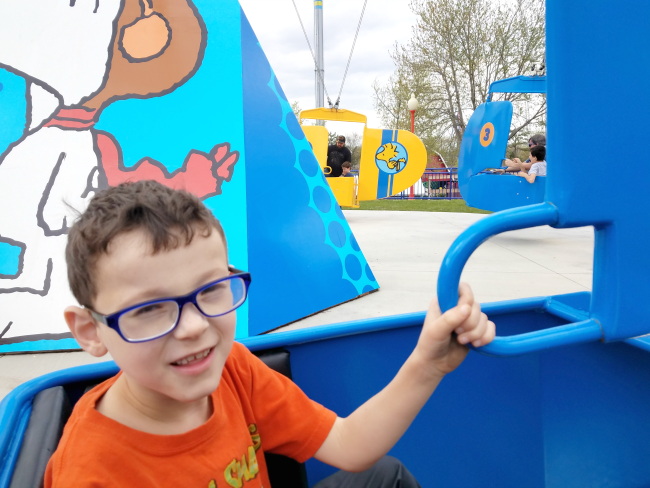 Taking a break from riding and checking out Snoopy. (He tried to steal the cookies too. Lol!)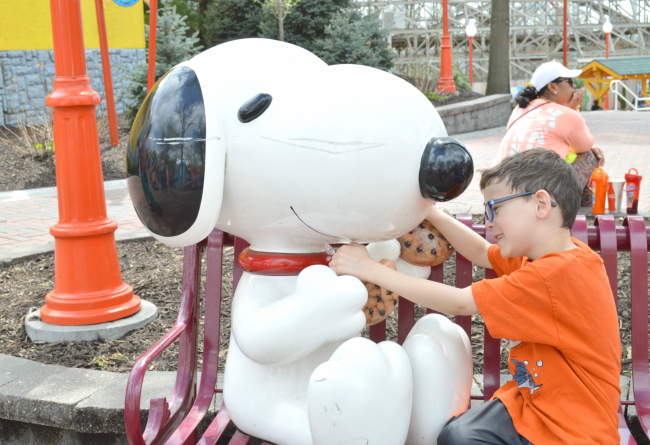 NEW RIDES FOR 2017
My 11-year old daughter and husband love to ride the roller coasters and thrill rides. This year Worlds of Fun announced two new high-flying rides! We didn't get a chance to ride the new rides, but they should be ready now. Both look exciting.
Mustang Runner: Three arms with seven gondolas per arm turn one way while the base of the ride spins the other way.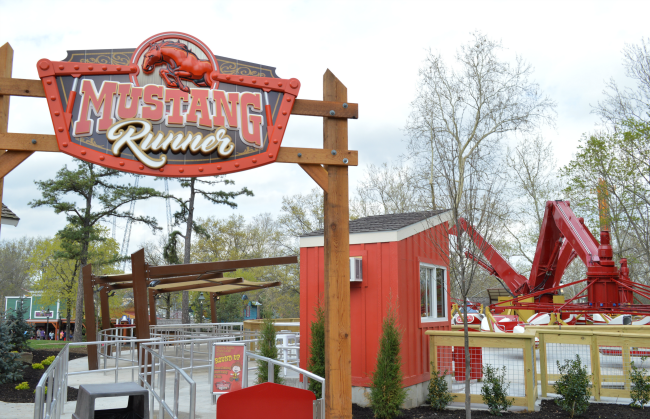 Falcon's Flight: A hair-raising thrill at nearly 100 feet above the ground. This ride spins and rises at the same time with more than 50 riders at a time.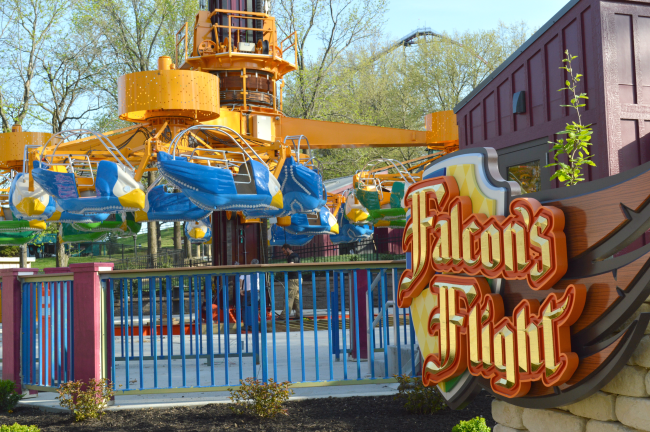 SPECIAL EVENTS FOR 2017
In addition to thrilling roller coasters, fun rides and water slides, Worlds of Fun also has fantastic special events. Here is a list of events happening in 2017 (View them all online at https://www.worldsoffun.com/play/events)
BBQ & Brew Festival – April 28-May 14 (Friday, Saturday & Sunday) – Featuring craft beers and BBQ from around the region
Kansas City Flavor – June 2-June 11 (Friday, Saturday & Sunday) – A culinary experience to discover the rich flavors of KC
Father's Day – Sunday, June 18 – Celebrate Father's Day with a belly flop contest at Oceans of Fun
Coaster Campout – August 11-12 (Friday, Saturday) – Camp among the coasters
Halloween Haunt and The Great Pumpkin Fest – September 16-October 28 – Scare zones, spooky mazes and monsters. View our visit to the Haunt last year.
WinterFest – November 24-December 23 & December 26-30 – Holiday lights, sights and sounds fill the park
SAVE WITH WORLDS OF FUN DISCOUNTS
Early Bird Discount – Through June 18, everyone can visit Worlds of Fun for the price of a kid's ticket, saving $19 per ticket! If you want to splurge on a Fast Pass (front of line access on most popular rides), you can save up to $27 when you purchase the Admission & Fast Lane combo pass online.
Free Pre-K Pass – If you have a child age 3-5, you can get a FREE Pre-K pass which includes admission to both parks and Dinosaurs Alive through April 30, 2017. Simply register online and then bring proof of age to the park before April 30 to get your child's free season pass.
Season Pass – If you plan to visit Worlds of Fun several times over the season, a season pass is a great way to save. Plus, you can make 6 monthly payments instead of paying one big chunk, so you can budget it. Gold Season Pass holders ($20.50 in 6 monthly payments) get access to Worlds of Fun and Oceans of Fun all season, Haunt, The Great Pumpkin Fest and the ALL NEW WinterFest, free parking, free admission to Dinosaurs Alive and 10% off merchandise and food throughout the park.
Military Days – As a Navy veteran, I really appreciate the Worlds of Fun offers military days. On Saturday 5/20/17 (Armed Forces Day), Monday 5/29/17 (Memorial Day), Tuesday 7/4/16 (Independence Day), Monday 9/4/17 (Labor Day) complimentary tickets are available for active duty, retired or reserve military with government ID. Plus, up to (6) members of their immediate family will receive a discounted admission of $36+tax.
Public Safety & Military Appreciation Days – From August 7-11, all police, correction officers, firefighters, EMTs and active, reserve, retired & veteran members of the military will also receive free admission to the park with valid government issued ID. Discounts for up to (6) immediate family members for only $36+tax.
Plan Your Visit
Make sure to check out my 10 survival tips for visiting amusement parks to make the most of your day at Worlds of Fun! I also recommend you join the Worlds of Fun email newsletter to learn about deals, the inside scoop on rides and events. Also, follow Worlds of Fun on Facebook and Twitter for more details and updates about the park and order Worlds of Fun Tickets online at https://www.worldsoffun.com anytime!
Are you planning to visit Worlds of Fun in 2017? What's your favorite ride?