OH MY GOSH!!!!!!  I have a new favorite bread!  And that's saying something cause I really like breads.
I have a new favorite way to eat blueberries too.  And that's also saying something cause I love blueberries.
This is how it all went down.
Jayme had a lot of bananas that were too ripe.  You could say that she had a bunch of bananas that were too ripe.  (Ha!)
Jayme had a couple of small containers of blueberries as they were on sale.
Jayme hadn't baked anything in a few days since it had been so stinkin' hot outside.
But since it had cooled down AND since she had bananas AND since she had blueberries, she thought "Hey, why not?"
Why not indeed?  BEST DECISION EVER!  (Well, probably not ever.  Marrying my husband was a pretty good decision.  But you know what I mean.  BEST DECISION EVER ABOUT BLUEBERRIES!)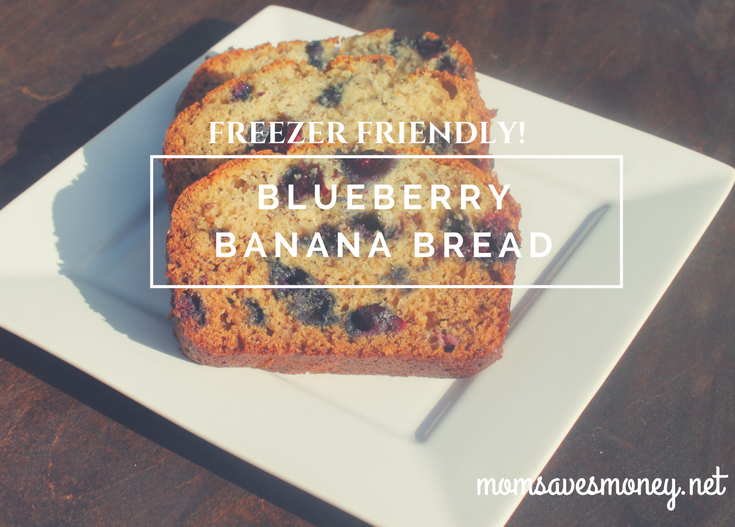 All I did was make my classic banana bread recipe and add in some blueberries.  It wasn't even a lot of blueberries – a 1/2 pint is all I had.  Less than $1 worth and it made the best blueberry banana bread.  So good that my husband even had a few slices with a scoop of ice cream and called it dessert.  It was that good.
I am in love.  I am in love with a bread.  I have no shame.  If you want to come over to my house, I would make this for you.  Probably just to impress you.  But that's okay – it would work.
Make some!!!!  You have to!
(And freeze some too — it freezes wonderfully!)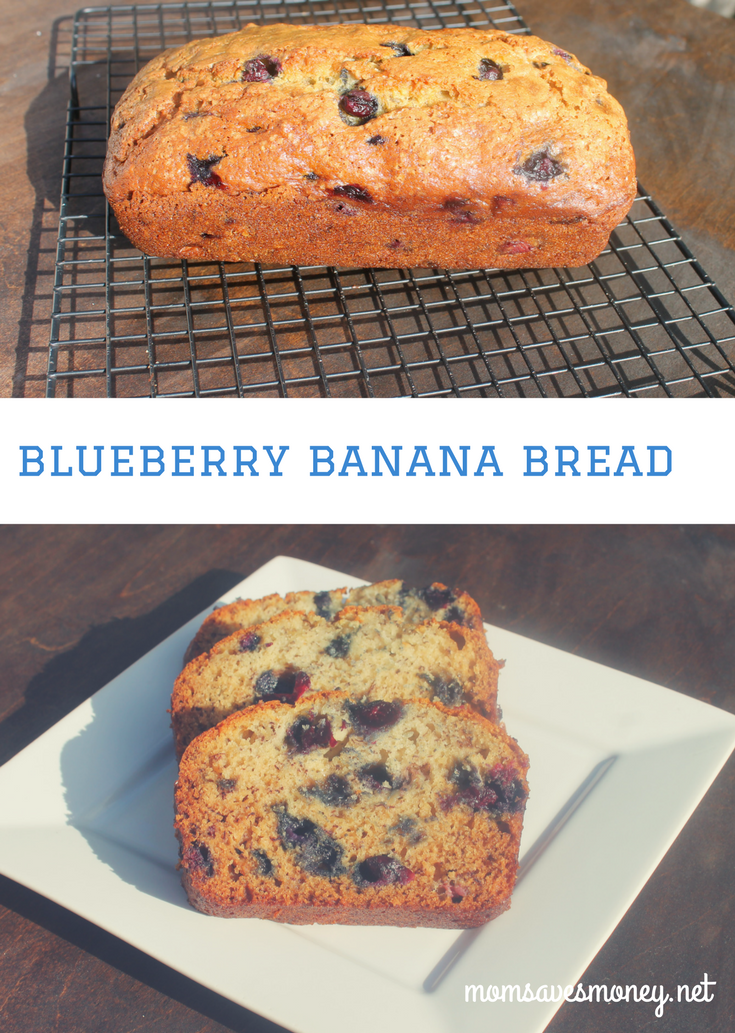 Blueberry Banana Bread
Blueberry Banana Bread is amazing - especially warm from the oven!
Ingredients
1/3

cup

butter

2

ripe bananas, peeled

1

teaspoon

baking soda

Pinch of salt

3/4

cup

sugar

1

egg, beaten

1

teaspoon

vanilla extract

1 1/2

cups

of all-purpose flour

1/2

pint

blueberries
Instructions
Preheat the oven to 350 degrees. Prepare a bread loaf pan (I swear by Pam with Flour!)

In a mixing bowl, melt the butter.

Add in the mashed bananas. (I just add the bananas to the bowl and mash them into the butter.)

Mix in the baking soda and salt.

Stir in the sugar, beaten egg, and vanilla extract.

Mix in the flour.

Fold in the blueberries - don't use the mixer, just mix by hand.

Pour the batter into the bread loaf pan. Bake for 50 minutes to 1 hour.

Remove from oven and cool completely. Remove the blueberry banana bread from the pan. Slice and serve.

To freeze: Let it cool, wrap up tight in plastic wrap, put into a freezer safe bag. Defrost when ready to serve!
Jayme is a wife to 1 and a mother to four little boys. She coupons, price matches and meal plans.  She price matches and loves it! While she likes to cook, she's in the stage of life where simple is usually better! She never knows how many hands she'll have free at dinner time! You can find her at No Regrets Living.