My kids love to snack and I am always looking for healthy recipes. Energy bites have become our favorite go-to snack. Most of these recipes are no-bake and as simple as mixing the ingredients. These are a great alternative to granola bars with no added preservatives and packed with healthy foods.
If you have a sweet tooth, try the carrot cake bites, almond candy bar or chocolate chip cookie dough energy bites. There's minimal (and sometimes no) added sugar in many of these recipes, so a great alternative to sweets. Plus, the recipes are so simple, my kids can even whip up a batch.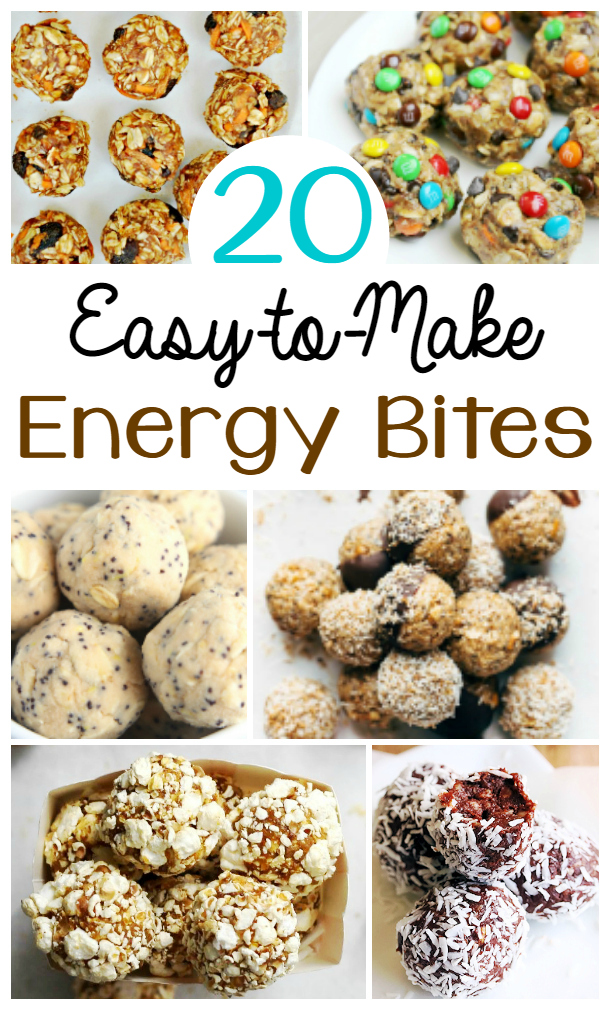 Cranberry Breakfast Bites – These bites are easy to make and full of healthy nuts!
Peanut Butter and Cherry Energy Bites – These are like biting into a fresh peanut butter & jelly sandwich.
Popcorn Energy Bites  (pictured above)- These are a fun twist on popcorn. Make a batch of these for family movie night!
Peanut Butter Chocolate Energy Bites – Don't let the chocolate name fool you. These energy bites have flaxseed and chia seeds for extra nutrition.
Vanilla Almond Balls – These energy bites have no added sugar!
Mint Chocolate Sunflower Bites – If you have a sweet tooth, these are a great alternative with fresh mint and cocoa powder.
Carrot Cake Bites  (pictured above) – Made with fresh carrots, these are perfect for carrot cake lovers.
Healthy Almond Candy Bar Snack Bites – Instead of a candy bar, try these delicious energy bites.
Flourless Chocolate Chip Cookie Dough Bites – You had me at cookie dough. This delicious recipe is made with chickpeas and is flourless. You have to try it.
Healthy No-Bake Chocolate Coconut Energy Bites (pictured above)- If you love coconut, you will love these energy bites.
Peanut Butter Pretzel Energy Bites (pictured above) – This is the perfect combination of salty and sweet.
Lemon Poppy Seed Energy Bites (pictured above) – My grandma often made lemon poppyseed cake and these remind me of her delicious baked goodies.
No-Bake Monster Cookie Energy Bites – These energy bites are colorful with mini M&Ms and one of my kids favorites!
White Chocolate Macadamia Nut Energy Balls – These taste just like a white chocolate macademia nut cookie without the hassle of baking in the oven.
Matcha Green Tea Energy Bites – Matcha tea adds some serious energy into these little bites.
Apple Cinnamon Cookie Energy Bites – Made with fresh apple and oats, these are a perfect fall treat.
Cherry Cheesecake Energy Bites – Made with fresh cherries, cream cheese and bananas, these bites bake for 15 minutes for an amazing cheesecake flavor.
Key Lime Energy Bites – No added sugar in these energy bites and no baking required.
Vanilla Espresso Almond Butter Energy Bites – Made with coffee, these energy bites are not for the little ones, but perfect for a mom who needs a quick pick me up.
Chocolate Raspberry Energy Bites – These vegan, paleo energy bites are the perfect amount of sweetness without any added sugar.
What's your favorite energy bite recipe? Please share in a comment below.