If you're sitting around wishing you could be taking a summer vacation this year like all your friends but just didn't have it in the budget – no worries! You are not alone. Traveling when you're in debt can be a tricky task, but with these tips, you'll learn how to travel even when you're in debt in no time. Keep reading for tips on how to make a vacation work even on the strictest of budgets.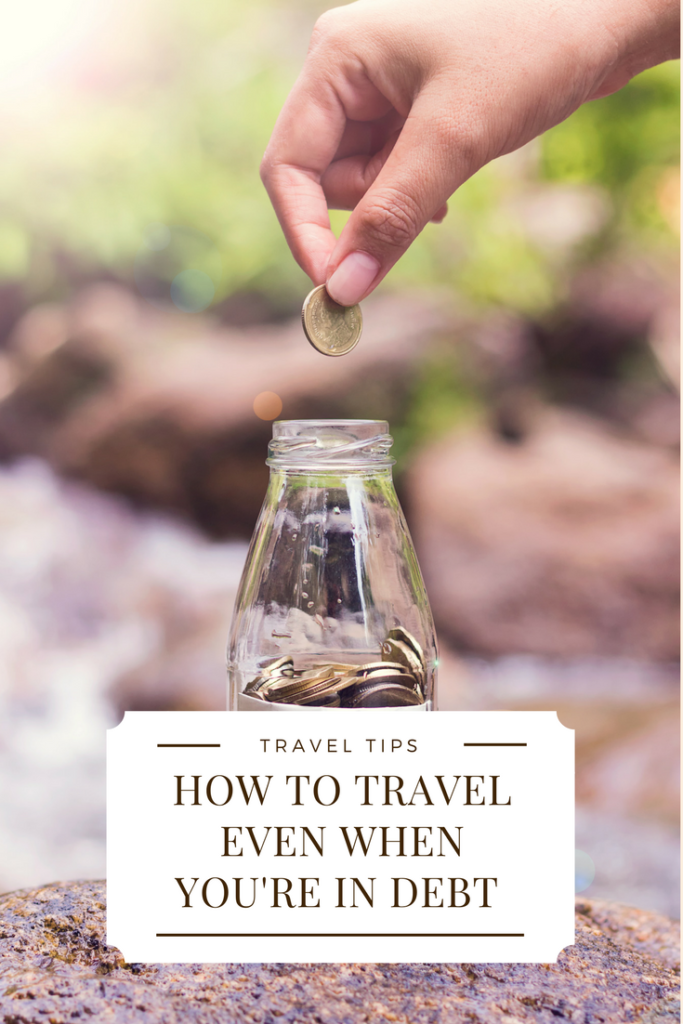 Tips To Travel Even When You're in Debt
1. Do small trips!
If you're in debt, you might not be able to swing a weekend or week getaway, and that's okay. Small day trips can be fun and relaxing too. Pick a place that isn't too far in your state (or the next state over) where you've never been.  It can be exciting to find hidden gems that are right "in your backyard" too. Small road trips and day trips are a great way to continue to travel even when you're in debt. You'd be surprised how much you can find to do on spontaneous day trips!
2. Plan way ahead of time.
Another option if you're wanting to take longer vacations or vacations to destinations further away is to plan way ahead of time. Planning a year or more ahead gives you a lot of time to save for travel costs, room/boarding costs, and a little spending budget too. If you know you want to go somewhere, set a goal for a year or two from now and write down the steps you'll need to take to make it happen. Then, start hitting all your savings goals and get ready in the meantime!
When my husband and I went to an all-inclusive resort in Mexico for a week for our 10-year anniversary, we actually planned two years in advance. We budgeted to save $200 a month. In two years, we had $2,400 in cash and were able to find a great deal and travel debt-free.
3. Don't get yourself in more debt!
While traveling is great, you don't want to dig yourself even further into a hole just to do it. It's much wiser to work on getting out of debt in the meantime and then being able to vacation debt-free later. This goes back to planning ahead. If you plan ahead far enough, you can avoid getting yourself into further debt because you'll have plenty of time to save.
4. Set up a dedicated travel savings account.
It's a good idea to have a separate travel savings account so you can see where you're at with your savings goals. When you're trying to get out of debt, it also helps to have an emergency fund in savings as well. Keeping these separate is very helpful so you don't dip into either for something else and it gives you visual progress to measure.
5. Find deals!
There are tons of ways to find deals on travel, so you'll definitely want to research before you jump in head first anywhere. Find hotel deals, car rental discounts, and more online before you head out for your trip. Actively searching for these discounts ahead of time is a great way to be able to travel on a tight budget. It also helps to use cash back sites, like Swagbucks and Ebates to earn a little extra on those purchases. Make your dollars stretch!
Knowing that you can travel even when you're in debt, where do you want to go first? Share in the comments below!