Annual free candy day is coming to a town near you soon. Are your kids prepared? You can create amazing and budget friendly DIY animal costumes with these 15 tutorials.
I have three kids who anxiously await this magical day of the year, but I dread spending $30+ for each of their new costumes. I encourage and help my kids make their own DIY costumes as often as possible. These are some simple ideas that you can use to make your own DIY costume too. Everything from cute fuzzy ears, unicorns to lions are included in this post.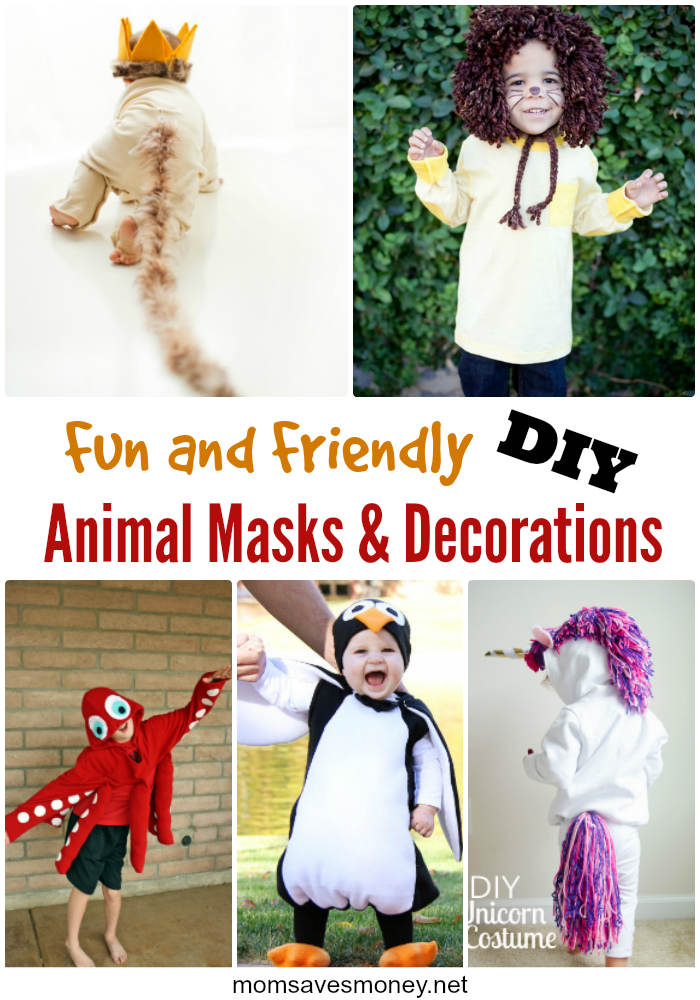 1. Finding Dory Costume: Hank the Octopus (pictured above) – A red hoodie, felt, duct tape and stuffing are all you need to make an adorable octopus costume.
2. DIY Where the Wild Things Are Costume (pictured above) – No sewing required for this adorable costume.
3. DIY Baby Hedgehog Costume Tutorial – This costume includes easy sewing instruction. Don't worry, no actual quills are used to make this.
4. Scrappy Unicorn Costume – This is a super easy design that would be quick to create.
5. Baby Penguin Costume (pictured above) – Easy sewing instructions for this amazing penguin costume. This is better than any store bought version!
6. Easy DIY Infant Bear Costume – If you have a brown hoodie, you can make this costume in a snap.
7. 15 Minute Badger Mask for Halloween – This is an easy mask tutorial with a printable pattern that you could easily use for other kinds of animal masks.
8. DIY Fabric Tutu Lion Costume – I absolutely love this adorable tutu tutorial and no sewing required. You can even use these instructions to make other kinds of tutus for your little one.
9. Homemade Butterfly Halloween Costume – Make an amazing mask and cape to transform your little one into a colorful butterfly.
10. DIY Fox Costume – This is a very simple design that requires just an old red coat and a little bit of sewing.
11. Newborn Baby Bunny Costume – Transform a simple white onesie into an adorable bunny costume for your baby.
12. Easy No-Sew Kids Lion Halloween Costume (pictured above) – This is a great and simple idea for a lion mane.
13. DIY Animal Ears Tutorial – Does your child want to be a dog, cat or other animal with ears? Check out this tutorial to make your own adorable headband with furry ears.
14. DIY Unicorn Costume Tutorial (pictured above) – Get out your glue guns to create this adorable unicorn costume with colorful yarn.
15. DIY Bee Costume – Transform a yellow t-shirt into an adorable little bumblebee.
Do you make Halloween costumes for your kids? Leave a comment and share more ideas.