Disclosure: Contains referral link. All opinions are mine.
If you haven't tried Swagbucks before, this is the perfect time with Christmas just around the corner. Why not buy those gifts with free gift cards from Swagbucks?
During October, you can even get a bonus $3 for signing as part of their Three for Fall promotion. Swagbucks is a rewards site where you earn points (called SB) for things you're probably doing online already, like searching the web, watching videos, discovering deals, and taking surveys. Then you take those points and exchange them for gift cards to places like Amazon, Starbucks, Walmart, Target, or PayPal cash.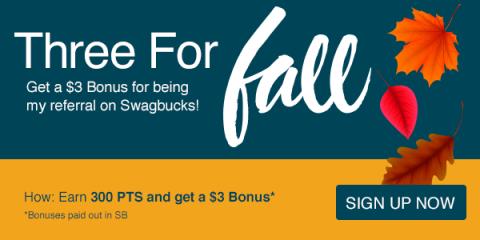 When you sign up through me this month, you can earn a $3 bonus! Here's how:
2. Earn 300 SB total before 11/1/17. You'll get a $3 (300 SB) bonus for it!
3. If you want even more bonuses, you'll get a $10 (1000 SB rebate) bonus for making your first shop purchase! That's in addition to the SB you earn for every dollar you spend.
That's it. It's super easy, and Swagbucks is for real. I use it myself, and I earn an average of $500 in FREE gift cards every year since 2009. It helps pay for Christmas presents and supports my coffee habits without breaking the budget (Yay for free Dunkin' Donuts gift cards.)
Want to learn more ways to earn with Swagbucks? Check out these posts: