Disclosure: Contains affiliate link. All opinions are mine.
The October Target Beauty Box is now available for a limited time for only $7 with free shipping. Beauty boxes are a great way to try new products and find your new favorites.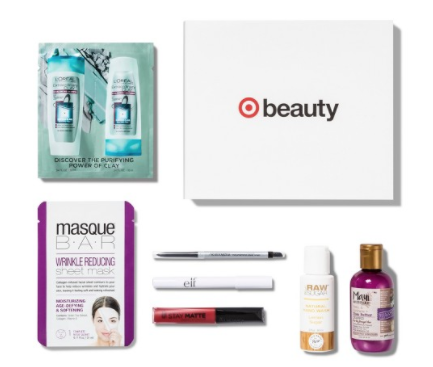 The October Beauty Box contains the following 7 items and 1 coupon:
Maui Moisture Shea Butter Shampoo- 3.3 oz.
Masque BAR Wrinkle- Reducing Mask- 1 ct.
e.l.f. Wax Brow Pencil- Full size
Neutrogena Nourishing Eyeliner (assorted shades)- 1 ct. Full size
L'Oreal Extraordinary Hair Clay System- 10 mL each- 1ct.
Raw Sugar Lemon Sugar Hand Wash- 2 oz.
Rimmel Stay Matte Liquid Lip Color (assorted shades) – 1ct. Full size
Target Beauty Coupon – $3 off your future Beauty purchase of $15 or more (expires 10/29/2017)
Order the Target October Beauty Boxes now for only $7 with free shipping. Save 5% when you pay with your Target Red Card. Limit one of each beauty box per order while supplies last.
Note – The September Total Hydration Beauty Box is still available for a discounted price of only $5 each with a limit of 5 per order.