As a couponer, I've been known to stock up on items during really great sales. When I had little ones and used baby wipes regularly I found an amazing deal with free wipes and stocked up! Well, turns out I overestimated how many I'd actually need. Now, my kids are all potty trained and I realized I still have several boxes of wipes.
I started using wipes to clean and found there are so many ways to use baby wipes (other than for baby) and keep stashes in several places for on-the-go. I've found wipes are much cheaper and work just as well as other disposable products, such as cleaning wipes or face wipes.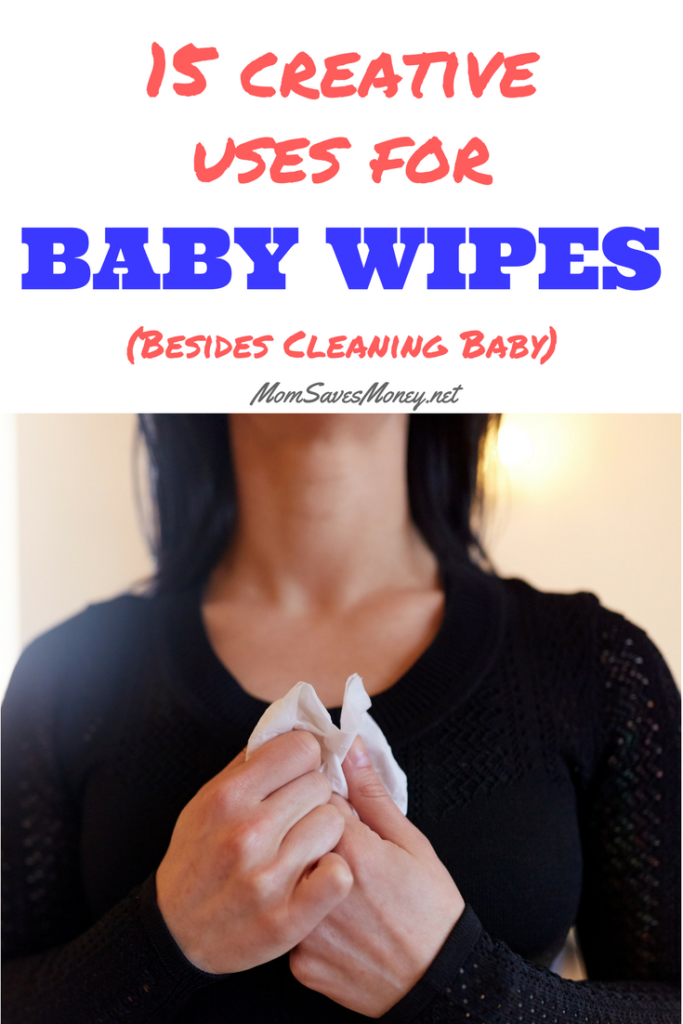 Here are some creative ways I use baby wipes:
1. Wipe down counters – I keep wipes in my bathroom and grab one daily to do a quick wipe down of the counter. It seems there is always toothpaste or soap messes on the counter and a 30-second daily wipe keeps them clean.
2. Clean interior of car – Wipes work fantastic for a quick wipe down of your car interiors.
3. Substitute for toilet paper – Just don't flush the wipes because they can clog your toilets.
4. Remove makeup – I use the sensitive wipes for makeup removal. They are much cheaper than the facial wipes sold in the beauty aisle.
5. Wipe down kid's toys – Toys get dirty. They get chewed and slobbered on, so do a quick wipe to keep them clean.
6. Remove crayon from walls – If you have kids, you've probably experienced a mini Picasso on the wall. Wipes will remove crayon or washable markers. Just do a test spot to make sure it won't damage the paint or trim. I always make my kids do the dirty work of cleaning up their 'masterpiece'.
7. Remove marker from skin – If you have kids, you may have also experienced a mini Picasso masterpiece on their arms or legs. Wipes work great to remove that as well.
8. Remove deodorant marks from clothes – Just do a quick wipe of the marks and it comes right off.
9. Clean hands & faces – I've used wipes for years to clean up little ones after a messy meal.
10. Dusting – Wipes can be used to dust surfaces. Just do a quick test area first.
11. Accidental spills/messes – Keep a package of wipes in your car to clean up messes. Wipes have saved my car many times when kids have spilled drinks or smeared food on something (including on themselves.)
12. Picnics – If you plan a picnic, pack some wipes for easy clean up of little hands and faces after the meal.
13. Camping – Wipes are a great way to freshen up during those long camping trips when you don't have a shower available.
14. Hunting – My husband always takes a pack of baby wipes on hunting trips and all the guys end up using them. It's very helpful to clean hands, especially if they catch a deer. That's a mess and a little gross.
15. Pets – Clean their dirty paws when they come in from the outdoors on rainy days.
What other creative ways do you use baby wipes?