This post was sponsored by Boys & Girls Clubs of America as part of an Influencer Activation for Influence Central and all opinions expressed in my post are my own.
I have three young children and I strive daily to guide them to reach their full potential. That means not only providing for their physical needs, but also their emotional needs and helping them stay active. During school breaks when their regular routine is broken, it can challenging to keep them active and engaged.
Boys & Girls Clubs of America (BGCA) has the same mission and introduced the Triple Play program. Their program promotes the three pillars of wellness – mind, body and soul. Raising a responsible child is more than just tending to basic needs, but includes eating right, staying active and forming positive relationships.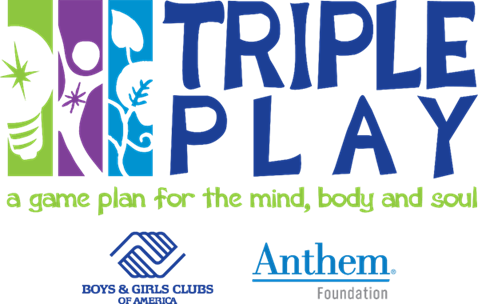 What do these pillars mean and how can parents keep kids motivated during school breaks?
Mind
Developing healthy habits, including smart food choices, appropriate portion sizes and healthy meals.
Provide Good Nutrition – Have fruits and vegetables prepped and easy to grab on-the-go for snacks. Serve a vegetable with every dinner. Even if kids don't eat all their vegetables now, continue offering. Here are some tips for picky eaters to encourage them to try more variety.
Teach Them Basic Cooking Skills – Engage your children in the kitchen. Start with simple tasks, like stirring or measuring and eventually let them master a recipe alone. I know it creates more mess, but kids will love helping cook.
Body
Staying physically active by getting kids moving and having fun.
Be Active Together – It's important for parents to be good examples for their children and physical activity is an important part of well-being. Take family walks, visit a park, go geocaching, jump in a pool or if you are in Omaha, walk the trails at Fontenelle Forest. Not only do you all get some exercise and fresh air, but you are teaching them life-long healthy habits.
Play Outside – Unstructured outdoor time is important for physical activity. Let kids have fun in the backyard or in a park every day. My kid's favorite outdoor activities are Nerf gun battles or hide and seek with the neighbor kids.
Soul
Reinforce positive behavior to build confidence and interpersonal skills.
Schedule Down Time – Between sports, after school activities, homework and chores our kids lives are busy. Sometimes, too busy. I know it sounds crazy to schedule down time for them to do nothing, but do it anyways. Kids need time to recharge. No chores, no homework. Just let them relax a little every day.
Daily One-on-one Time – I have three kids, a business and household to run. To say my life is a little chaotic is an understatement. No matter how busy I get, I make it a priority to spend 10 minutes a day alone with each kid doing what they want to do. I create Lego masterpieces, read books, talk about school, push swings or help them bake. This helps them feel secure, loved and appreciated when I focus 100% on them for a few minutes every day.
Family game night – Spend quality time as family with a weekly board game night. This teaches them about turn taking and develops their interpersonal skills. Plus the friendly competition is so much fun!
Want to learn more about the three pillars of wellness?
Boys & Girls Clubs of America is staffed with trained professionals and provides a safe and affordable place for kids to go during out-of-school time. There are 4,300 clubs nationwide and they serve more than 4 million kids and teens annually. Their goal is help families keep kids motivated year-round in a fun and relaxed atmosphere.
Parents can check out their local BGCA for programs and more information.  In addition to providing services after school and during summer, many Clubs offer extended hours during school breaks. Boys & Girls Clubs of Americas mission is to enable all young people to reach their full potential through lessons and activities from the Triple Play programs.
Make sure to download the Triple Play Parent's Guide for more ways to create healthy habits for mind, body and soul. There are great active game ideas in the guide that you can incorporate into their routines during school breaks.
Follow BGCA on social media to learn more:
Boys & Girls Clubs of America Website: https://www.bgca.org
Boys & Girls Clubs of America Facebook page: https://www.facebook.com/bgca.clubs
Boys & Girls Clubs of America Twitter Page: https://twitter.com/bgca_clubs
Boys & Girls Clubs of America Instagram Page: https://www.instagram.com/bgca_clubs/
How do you keep kids active during school breaks?