When my in laws come up to visit for the day, they often treat us to lunch or dinner.  One of our favorite things to eat are chicken wings from Buffalo Wild Wings.  They don't have one in their city and they just really enjoy it.  And we really enjoy it.  And our boys really enjoy it.  They call the wings "messy chicken".  For obvious reasons – being under the age of 6, they get quite messy when they eat it.  Even when it's just boneless wings and we've cut them into pieces for them. It still ends in a bath for at least one of them.
If you have young kids, chances are you tried to get them to eat something that they didn't want to eat.  A popular tactic that parents use is to let kids dip their food into something.  Ranch dip.  Mustard.  Mayo.  Ketchup.  Barbecue sauce.  All kinds of things.  For me and my kids, it was usually barbecue sauce.  I think it's because they really like that "messy chicken".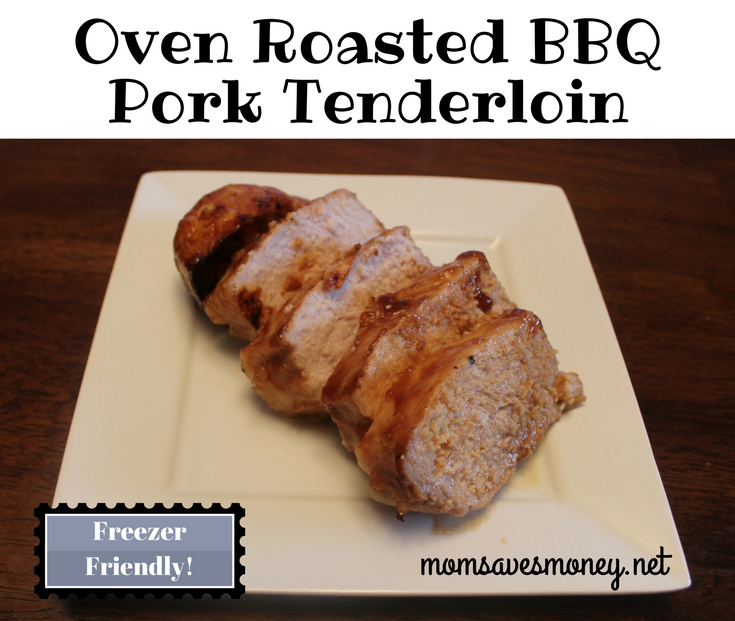 So I take their fondness for "messy chicken" and I make "messy pork tenderloin".  Pork tenderloin is an easy meal for me to make when I roast it in the oven.  And nothing is easier than taking a piece of meat, placing it in a zipper bag, dumping some sauce on it and letting it sit in the refrigerator.  That's all you have to do to prepare this.
And when you're ready to bake, just dump it in a 9×13 pan.  1 step.  So easy.  And we love it!  I love when we love easy recipes!
Roasted BBQ Pork Tenderloin
Ingredients
1-2

lbs

pork tenderloin

.5 - 1

cup

BBQ sauce
Instructions
Trim visible fat from the pork tenderloin. Place in a large zipper bag.

Add BBQ sauce. Seal. Shake. Refrigerate for 1-8 hours.

When ready to bake, spray a 9x13 baking pan with cooking spray. Place tenderloin in the middle of the pan.

Bake at 375 for 40-50 minutes, depending on thickness of tenderloin. In the last 10 minutes or so, you can brush on more BBQ sauce, if desired. Cook until the pork is 150 degrees internally.

Let rest 5-10 minutes before slicing.
Notes
To freeze: Prepare the marinade and pork tenderloin and place in a freezer-safe container.  Freeze.  When ready to prepare, defrost in the fridge, then bake as normal.
Jayme is a wife to 1 and a mother to four little boys. She tries to coupon, builds a smart stockpile, and always meal plans. While she likes to cook, she's in the stage of life where simple is usually better – she never knows how many hands she'll have free at dinner time! You can find her at No Regrets Living.