This recipe was born out of necessity and a little trial-and-error. See, I had bought a roast when it was on sale "Buy 1, Get 1 Free", but I didn't know what I wanted to do with it.  It was summertime and I wasn't really feeling pot roast (as delicious as it is), so when I stumbled upon a recipe for Slow Cooker French Dip Sandwiches that are made with a roast, I knew I had to try it.
So, try it I did.  And it turned out great!  Because it's a slow cooker recipe, it didn't heat up my house too much (I do toast my buns – which is a MUST HAVE in my book), but that doesn't take very long.  And it can cook for a very long time, allowing me to start it in the morning and forget about it for much of the day.  I like that!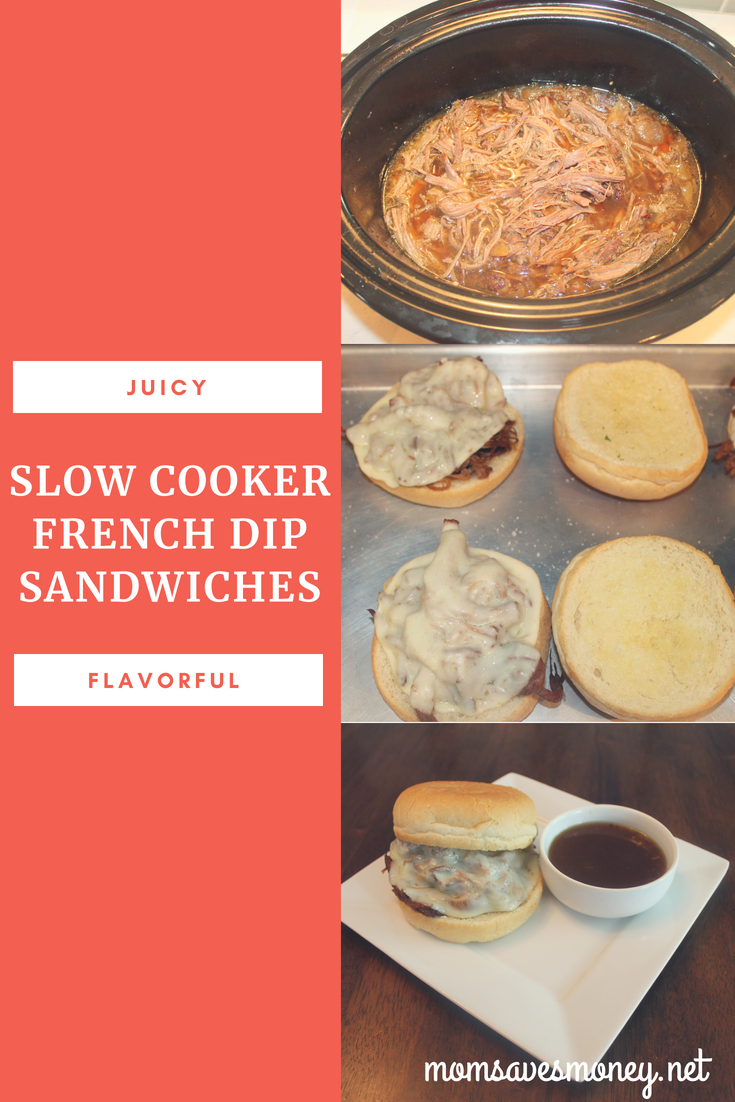 These are delicious and fun for the whole family.  My husband really likes them as it's a pretty meaty, manly meal.  My boys really like them cause it's fun to dip your sandwich into something.  I really like them because they're easy AND my kids aren't automatically dipping them into ketchup!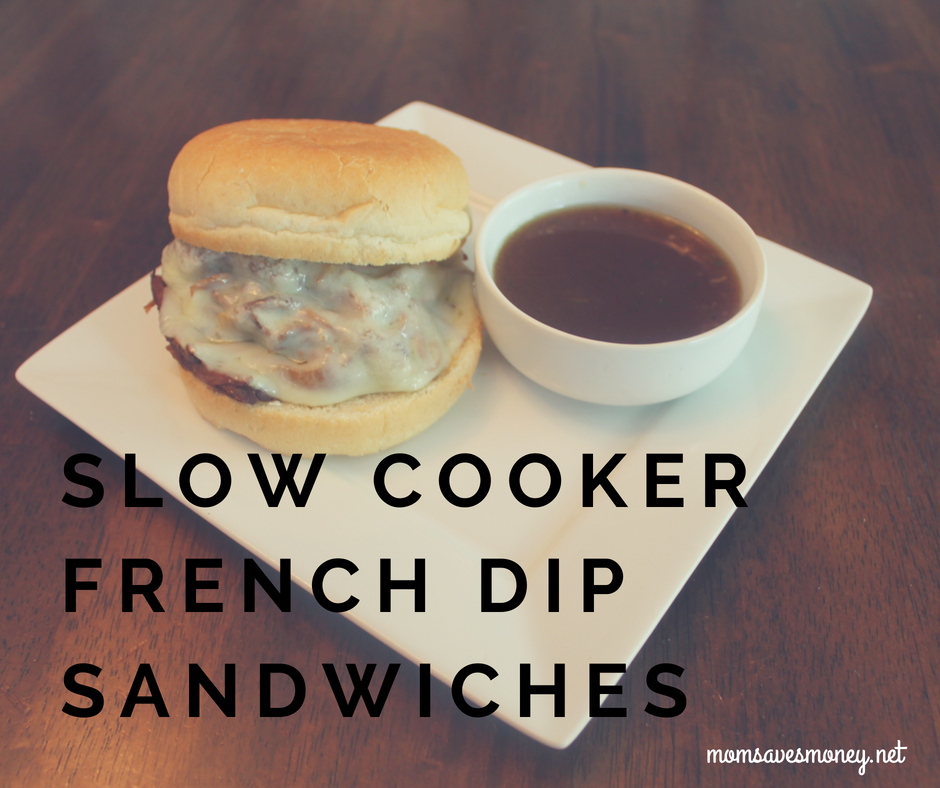 Slow Cooker French Dip Sandwiches
Turn an ordinary roast into an AMAZING sandwich with the help of the slow cooker.
Ingredients
3

lb

beef chuck roast trimmed of excess fat

1

tablespoon

olive oil

1

Tbs

minced garlic

1/3

cup

soy sauce

2

large onions, sliced thin

2

tablespoons

Worcestershire sauce

1/4

cup

brown sugar

2

cups

beef broth

2

Tbs

dry minced onions

1

Tbs

beef bouillon (3 bouillon cubes)

1/2

tsp

onion powder

1/2

tsp

dried oregano

1/2

tsp

salt

1/4

tsp

pepper

1/4

tsp

dried thyme

1

bay leaf
Other:
6

Rolls - as hearty as you can find

6

slices

provolone cheese
Instructions
Preparing the Slow Cooker Ingredients:
Heat olive oil in a pan. Sprinkle roast with salt and pepper and cook in a non-stick skillet for 2-3 minutes per side.

Slice onions thin, and mince garlic, and add to now empty skillet, cook for about 3-5 minutes, until slightly browned.

Add to slow cooker along with all the slow cooker ingredients. Cook on low for 4-5 hours.

When done, remove roast from slow cooker and shred. Return to the slow cooker for another 1-2 hours.
Bake Your Buns:
Before ready to serve, butter the inside of your buns. You can also sprinkle with garlic powder or garlic salt if you want - and I always want!

Bake at 375 degrees for about 5 minutes. Spoon the meat/onion mixture onto the bottom of the buns. Add onions to the sandwiches if desired.

Cover with cheese and bake until cheese is melty.
Preparing Your Au Jus:
Take the liquid left in the slow cooker pour some into little dipping bowls.
Jayme is a wife to 1 and a mother to four little boys. She tries to coupon, builds a smart stockpile, and always meal plans. While she likes to cook, she's in the stage of life where simple is usually better – she never knows how many hands she'll have free at dinner time! You can find her at No Regrets Living.