As a child, I remember several gifts that I really, really wanted for Christmas through the years. As a little, little girl, I dreamed of Cabbage Patch Kids, then Barbies. Had a whole bunch of those. There was the year that I wanted a jewelry box – such a grown up gift for a girl of 9, but I got it. And in middle school, I really wanted a jacket similar to a High Schooler's Letter Jacket. Got that too.
As an adult, I mostly wish for practical gifts. But versions that I wouldn't normally get myself. Quality gifts like KitchenAid mixers or a nice set of pots & pan. But today? As the part-time working mom of 4 young ones, I really, really, really want a cleaning crew to come in and take over my house! That'd be a very practical gift and one I'm not likely to shell out for any time soon.
So, hi ho, hi ho! It's off to clean my house, I go!

For many people who are hosting guests for the holidays, they also want a clean(er) house by Christmas. But if you leave it all towards the end, you'll be overwhelmed. So I made this 24-day list for them – just as much as for me.
In addition to the list below, I've also provided some links that may help you. Some things are easily understood and not very complicated. But other things? Well, maybe there are some short cuts you can take to make it easier. I've included some of those to help you!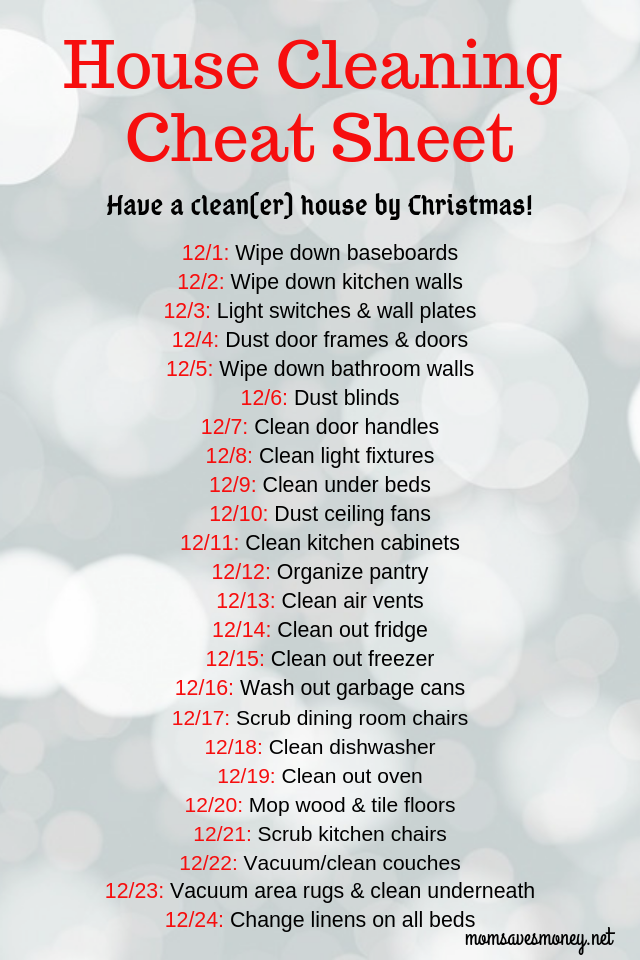 12/1: Wipe down baseboards – Baseboard Cleaning Hacks from A Mother's Shadow
12/2: Wipe down kitchen walls – The Painless Way to Wash Walls from Life Should Cost Less
12/3: Light switches & wall plates
12/4: Dust door frames & doors
12/5: Wipe down bathroom walls – The Painless Way to Wash Walls from Life Should Cost Less
12/6: Dust blinds – How to Clean Blinds (3 Ways) from Clean Mama
12/7: Clean door handles
12/8: Clean light fixtures – How to Clean Light Fixtures from Pop Sugar Living
12/9: Clean under beds
12/10: Dust ceiling fans – Cleaning Tip from Family Handyman
12/11: Clean kitchen cabinets – How to Clean Grimy Kitchen Cabinets by One Good Thing
12/12: Organize pantry
12/13: Clean air vents
12/14: Clean out fridge – Cleaning Your Fridge by Martha Stewart
12/15: Clean out freezer – How to Clean Your Freezer by Merry Maids
12/16: Wash out garbage cans
12/17: Scrub dining room chairs – How to Clean Upholstered Chairs by Clean & Scentsible
12/18: Clean dishwasher – How to Clean a Dishwasher by DIY Network
12/19: Clean out oven – How to Clean An Oven With Baking Soda & Vinegar from The Kitchn
12/20: Mop wood & tile floors
12/21: Scrub kitchen chairs
12/22: Vacuum/clean couches – How to Properly Clean Upholstery by Creek Line House
12/23: Vacuum area rugs & clean underneath
12/24: Change linens on all beds
Happy cleaning!
Jayme is a wife to 1 and a mother to four little boys. She tries to coupon, builds a smart stockpile, and always meal plans. While she likes to cook, she's in the stage of life where simple is usually better – she never knows how many hands she'll have free at dinner time! You can find her on Instagram.