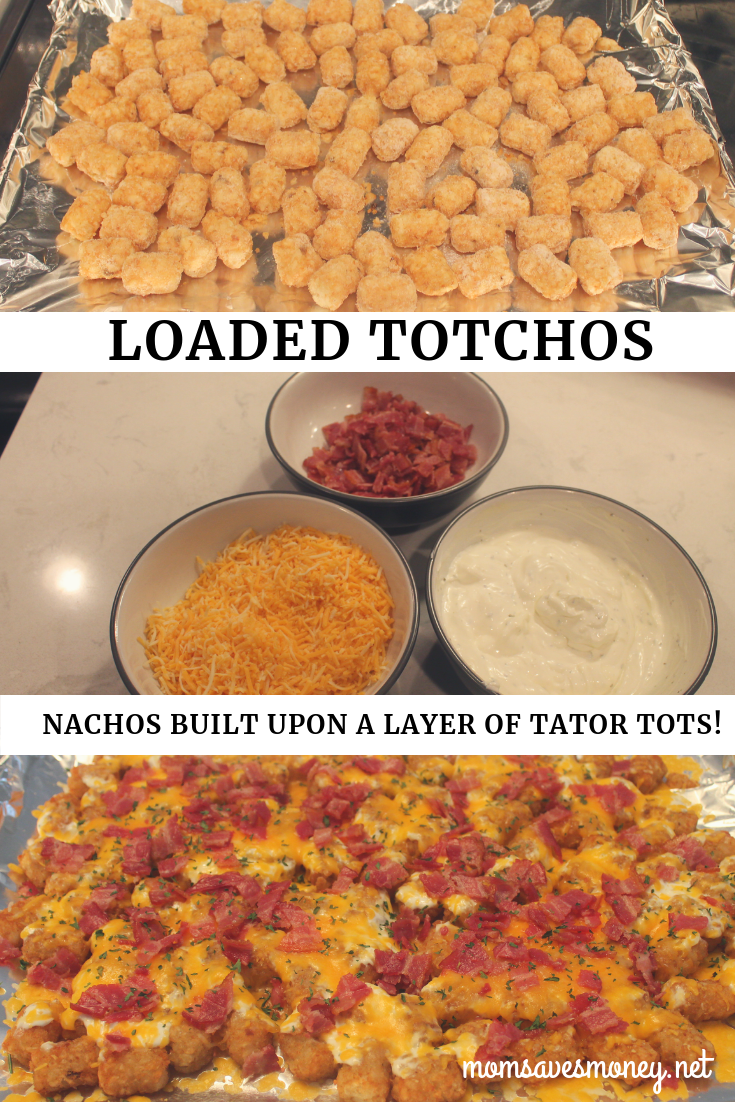 Have you watched the TV Series "Psych"?  I didn't watch it when it was airing on TV, but I did watch it when it was on Netflix.  It was just a great, fun show.  A show that interested both my husband and I — and those types of shows can be hard to come by!
Anywho, in this show, one of the lead characters is often using words and phrases incorrectly and is corrected by his partner.  His response is "I've heard it both ways."  When in fact, he probably has not heard it both ways.  If you're a fan of the show, check out this little montage:
I really only bring that up because 1) it's a fun show and b) I don't know what to call this recipe.  It's a layer of tator tots + cheese + sour cream + bacon bits.  So, what should I call them?
Tot Skins?  Because they're like Potato Skins.
Irish Nachos? Because they're baked in the oven like Nachos, but on a bed of potatoes.
Totchos?  Because they're a marriage of Tator Tots and Nachos.
I settled on Totchos, but really?  I've heard it both ways.  Well, 3 ways.  Call it whatever you want.  I call it easy and yummy and a family favorite!  The first time I made these, I didn't know how well they'd go over.  I usually serve something pretty casual for lunch on the weekends – really, half the time we have leftovers.  Turns out, they went over really well!
I thought we'd have lots of leftovers, but we didn't.  All but a few were eaten and that was for a family of 6.  A young family of 6, so I can see how in a few years, I'll have to use 2 bags of tator tots!
It's easy – just bake and serve.  It's simple – just a handful of ingredients, all common.  I make my bacon in the oven, but you can make it however you want to or even buy jars of bacon pieces.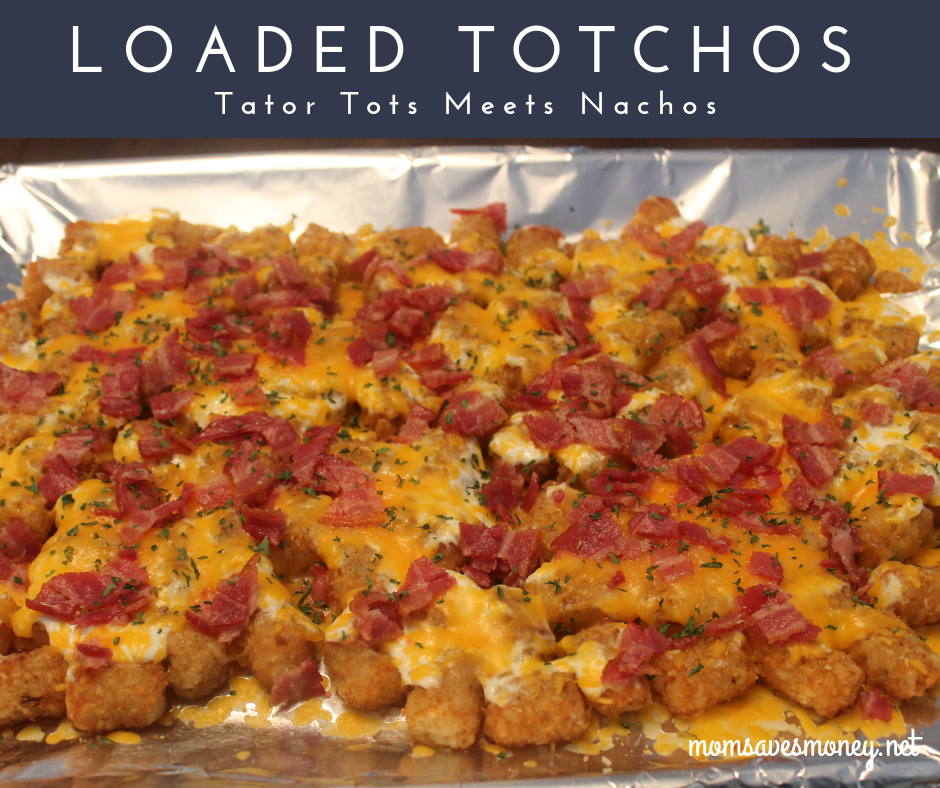 Totchos
Ingredients
1

bag

frozen tator tots

1/2

pound

bacon, cooked & crumbled

8

ounces

shredded cheese (1 cup)

1

cup

sour cream

1/3

cup

ranch salad dressing (optional)

Green onions, sliced (optional)
Instructions
Preheat oven to 450 degrees.

Mix sour cream and ranch dressing together.

Line a half sheet jelly roll pan or a cookie sheet with foil. Place tator tots in a single layer on sheet. Bake for 25-28 minutes per package instructions until crispy.

Remove from oven. Sprinkle sour cream & ranch mixture on. Sprinkle cheese on. Sprinkle bacon bits on.

Return to oven for 3-5 minutes until cheese melts.
Recipe Notes
You don't have to mix ranch with the sour cream, but it adds a nice flavor. It is totally optional though.
My family isn't a big fan of green onions, so I leave those off. I just sprinkle some parsley on top for a nice color.
Jayme is a wife to 1 and a mother to four little boys. She tries to coupon, builds a smart stockpile, and always meal plans. While she likes to cook, she's in the stage of life where simple is usually better – she never knows how many hands she'll have free at dinner time! You can find her on Instagram.
If you love this, check out more posts: