You can always tell when Lent is starting up because of all the seafood specials in this week's ads!  I confess to not making many shrimp or fish meals at home.  And by "not many", I mean none.  Take a husband who isn't a seafood fan, add in a wife who isn't too crazy about it either and two toddlers who don't know the difference and you can see why it isn't on our menu!  But that doesn't mean it shouldn't be on your menu!  Check out Nicole's list of weekly sales and maybe make some fish!
Main Dishes  
Baked Penne with Italian Sausage – Pasta's on sale at Bakers!  Pasta sauce is on sale at a few different places.  Add some cheese and Italian sausage and you have this great baked pasta dish!
Bubble Up Pizza – Using canned biscuits and typical pizza ingredients, this recipe would come together fast.  Might be a good meal for kids on Valentine's Day!
Pulled Pork – I feel like I recommend this too often, but I really think this is a super frugal meal!  You can use BBQ sauce on the sandwiches.  Or buffalo sauce.  Or no sauce at all. You can use leftover meat in other dishes too.  It's just so versatile.
Chicken Tetrazzini – It's so easy to pull together and with many of the ingredients on sale this week, this could be the right time for some chicken and cheesy goodness.
Bacon, Egg & Cheese Brunch Ring – This would be a good "breakfast for dinner" type of recipe.  Who doesn't love bacon?  And crescent rolls and eggs are on sale this week too.  If you can get it to come out as pretty as their picture, even better!
Ever need a good dip recipe for a party?  Try this one!  I actually make this as a side dish with many of the Mexican dishes that I make.  My husband doesn't like beans, but he likes this bean dip!  And it's easy spread 4 ingredients spread, put into the oven and serve with tortilla chips!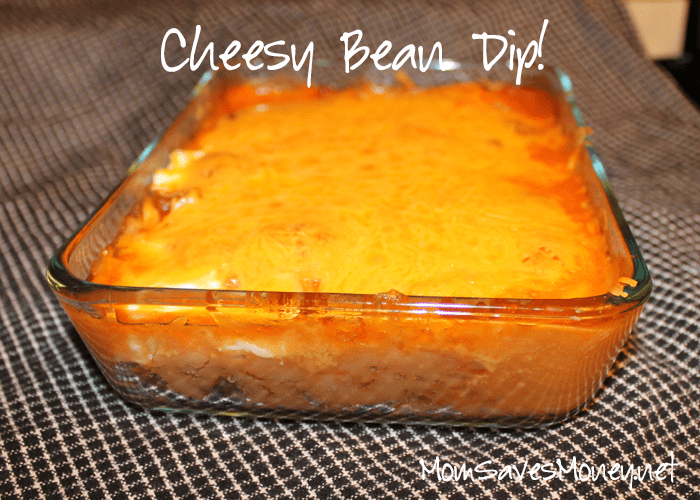 Bean Dip
Ingredients
1

(16 oz.) can refried beans

8

oz

. cream cheese

1

(16 oz) jar salsa (you don't need to use that much, so if you have a partial jar, use it!)

1

cup

grated cheese (cheddar or Monterrey jack or something similar)

tortilla chips for serving
Instructions
Preheat oven to 350º F.

Spread beans in a 9x9 glass baking dish.

Top with cream cheese. To make it easy, I usually microwave it for 20-30 seconds before hand and then just "slice" it into pieces and lay the pieces on top of the beans. No need to be exact – it'll melt and spread in the oven.

Dump salsa on top. You don't need to use a whole jar if it looks like too much salsa. I'm not very precise when it comes to this recipe.

Put the cheese on top.

Cover with foil and bake for 40 minutes. I often make it ahead of time (like early in the morning) and store in the refrigerator. If you do that, it will take longer to bake – maybe closer to an hour. Just look for it to be warm in the middle. (You can always microwave it for a few minutes before baking just to get it started – I won't tell people you cheated!)

Remove the foil and bake for another 5-10 minutes so that the cheese is totally melty.

Serve with chips!
Jayme is a wife to 1 and a mother to two little boys and a third boy due in April 2015. She coupons, but isn't super extreme about it. She price matches and loves it! While she likes to cook, she's in the stage of life where simple is usually better! She never knows how many hands she'll have free at dinner time! You can find her at No Regrets Living.