I'm a snack addict.  Sure, sugary is good sometimes.  But where my husband is more likely to eat a few scoops of ice cream at night, I'm more likely to go for something savory or salty.  That's my bent.
As my family has recently gone gluten-free, I've been doing more cooking of things that we might normally buy.  Chex Mix is one of them.  I dug out my old recipe books to look up my Chex Mix recipe and tried to see if I could make a batch, but make it gluten-free.
Turns out it was easy to do.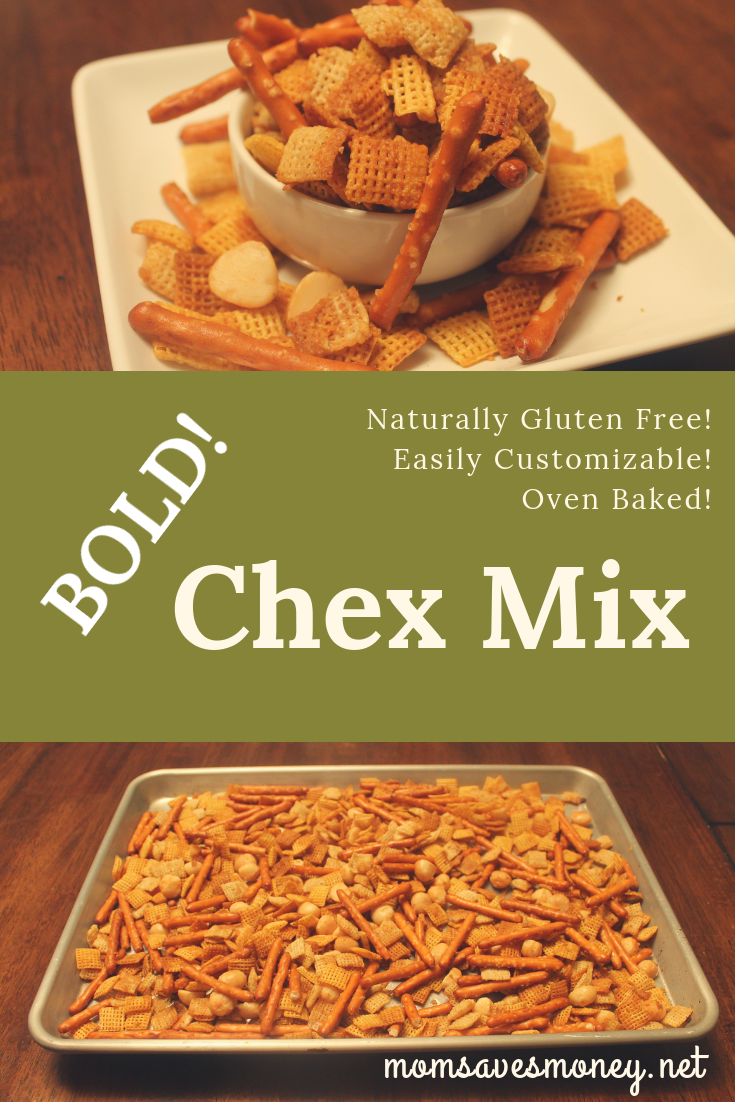 I used my normal recipe, but I just used gluten-free pretzels.  They're actually crisper than regular wheat-based pretzels, so they bake up nicely.  Using a gluten-free cereal is easy as both Rice Chex and Corn Chex are gluten-free.
If you don't like your Chex Mix bold or super strong, then don't use all of the seasoning mix – just cut it in half or use 3/4 of it.  Then it won't be as strong.
Making this is easy – mix up your "wet" ingredients, then dump in your dry ingredients.  I change up what kind of nuts that I use, just based upon what I have on hand.  This last time, I used macademia nuts as my mom had brought me back some from Hawaii.  That's not typical!  For me, I more likely have almonds or cashews on hand, so that's more common for me.  Use what you got.
I'll also change up the ratio of cereal & pretzels.  My boys really like the pretzels, so I'll use more of those and back off on the cereal.  Use what you like.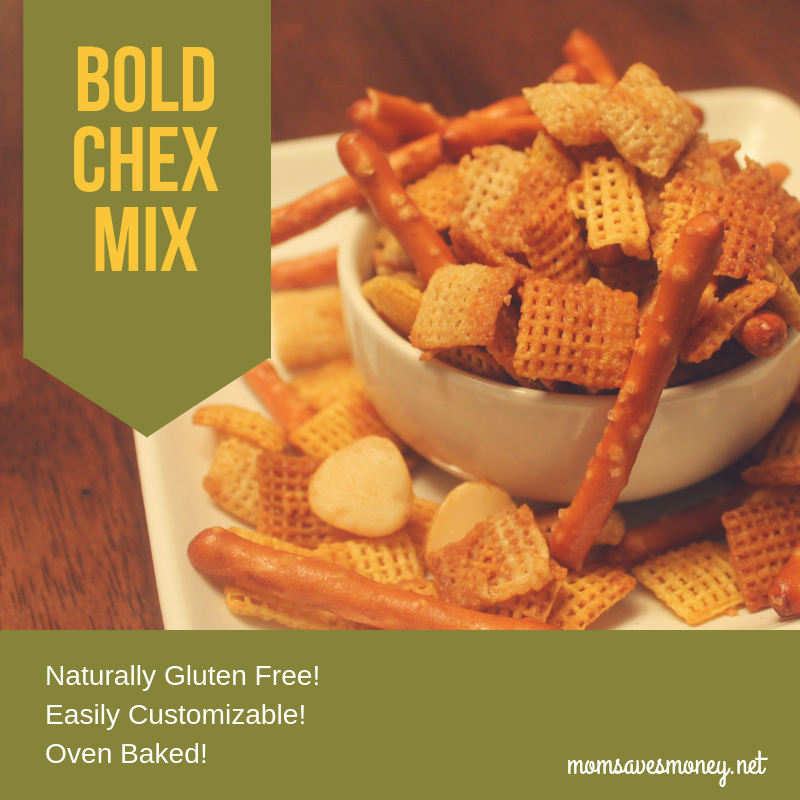 Bold Chex Mix
Ingredients
6

cups

Chex cereal (Corn, Rice, Wheat or combination, don't use Wheat if trying to be gluten-free)

2 1/2

cups

pretzels (regular or gluten-free)

1 1/2

cups

nuts (mixed or peanuts, cashews, almonds)

6

Tablespoons

butter, melted

3

Tablespoons

Worcestershire Sauce

1/2

teaspoon

garlic salt

1/2

teaspoon

onion salt (or onion powder)

1

Tablespoon

lemon juice
Instructions
Melt butter in a big bowl. Add worcestershire sauce, garlic salt, onion salt and lemon juice. Mix well.

Dump cereal, pretzels and nuts on top of the butter mixture. Mix well.

Dump onto a half sheet pan or cookie sheet. Try to get it in a single layer if possible.

Bake at 250 for 45 minutes, stirring every 15 minutes. Enjoy!
Jayme is a wife to 1 and a mother to four little boys. She tries to coupon, builds a smart stockpile, and always meal plans. While she likes to cook, she's in the stage of life where simple is usually better – she never knows how many hands she'll have free at dinner time! You can find her on Instagram.