Disclosure: Contains affiliate link
I've posted this recipe before, but I don't think it gets the love it deserves.  It's a fabulous recipe and one that I often crave!  But I think the reason it isn't more popular is because it was meant for a jelly roll pan.  Those are awesome pans, let me tell you — but they're really only great if you often have need to cook for a bigger crowd AND if you actually have one.  (That said, I only used to do desserts on my jelly roll pan, but lately, I've been roasting lots of meats and veggies on them (like fajitas!) and they work beautifully even for that!)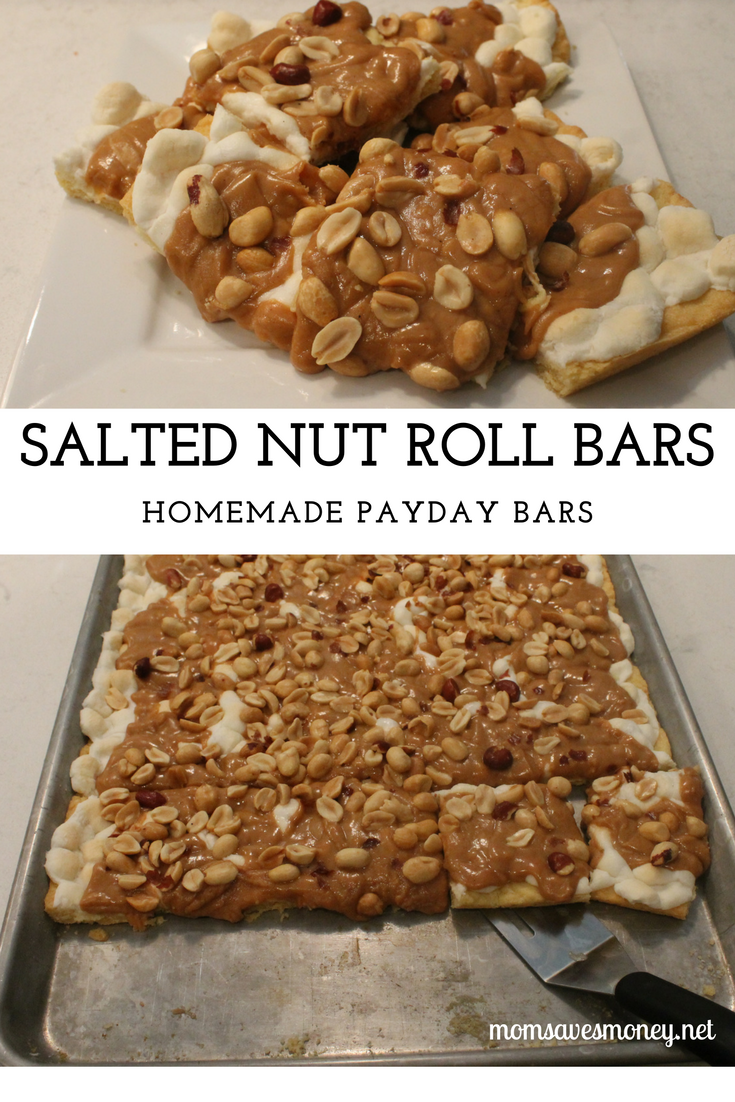 What's that you say?  You don't have a jelly roll pan?  Well, you should. Here's the one that I have — I love, love, love it because it has a lid.  Which might seem nice-to-have-but-not-a-must-have unless you've ever want to actually take your desserts out of the house.  With a lid, you can stack other things on top of it in your car.  Like your purse or the library books (that may or may not be overdue) or other desserts.  So, trust me on this – get one with a lid!
But just in case I haven't sold you on having a jelly roll pan or you don't need to make that much, I've included the measurements both for a jelly roll pan AND a normal 9×13 pan.  Now, the 9×13 size only uses 1/2 the cake mix, but that's okay!  Save the other half for the next time you make this.  Or save the other 1/2 to just have more crust on a dump cake.  You'll use it!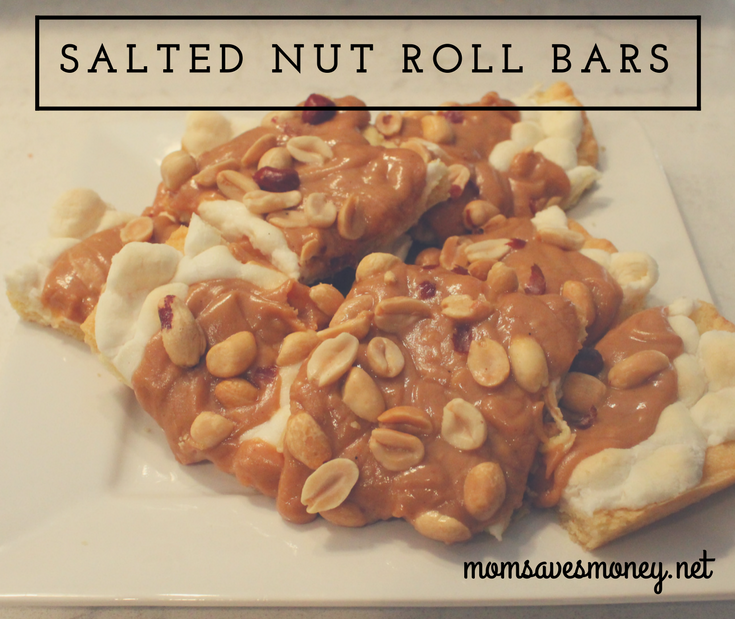 The instructions are easy — it might seems complicated because there's essentially 4 layers, but it isn't that hard.  After all, 2 of the layers are just 1 ingredient each – marshmallows and peanuts!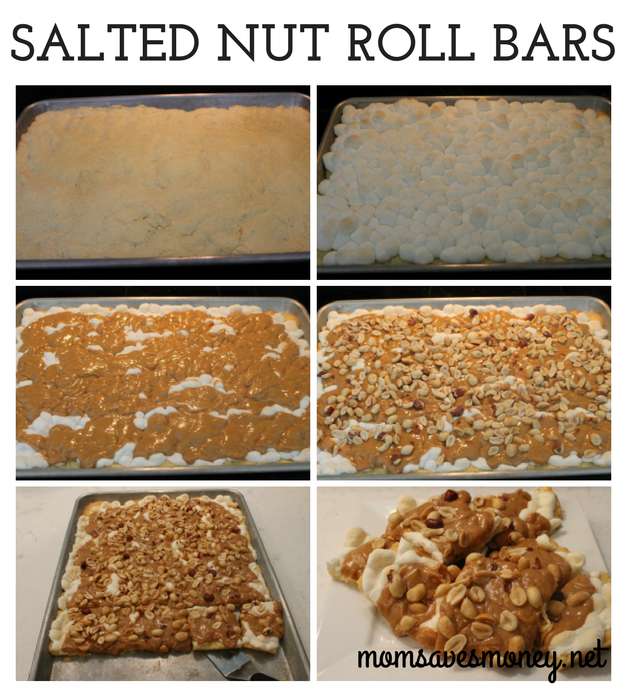 Salted nut roll bars
Ingredients:
For a jelly-roll size pan:
Base:
1 yellow cake mix-dry
2/3 cup butter,  softened (about 11 tablespoons)
1 egg
Middle layer:
1 bag miniature marshmallows
Topping:
2/3 cup white corn syrup
1/4 cup butter, softened
2 cups creamy peanut butter
2 teaspoon vanilla
For a 9×13 pan:
Base:
1/2 yellow cake mix-dry
5 Tablespoons butter, softened
1 egg
Middle layer:
1/2 bag miniature marshmallows (just eyeball it – you can't go wrong)
Topping:
1/3 cup white corn syrup
2 Tablespoons butter, softened
1 cup creamy peanut butter
1 teaspoon vanilla
Directions:
1. Mix the first 3 ingredients and pat in a your pan roll pan and bake @ 350 degrees for 12-13 minutes. It won't look like it'll all reach, but it will. Keep working it. This layer will not be done after baking – tis okay, you'll be baking some more.
2. Remove from oven and sprinkle a layer of miniature marshmallows on top.  Bake @ 350 degrees for 8 minutes. Marshmallows should be a very light brown.
3. On the stove, heat all topping ingredients on low until all melted. Do not over cook.
4. Allow marshmallow layer to cool a bit and pour this on top. Sprinkle dry roasted peanuts on top.
5. Let bars cool before cutting. It might take a few hours before it cuts easily and even then, it's marshmallows, so it'll be a little sticky to cut!
Jayme is a wife to 1 and a mother to four little boys. She coupons, but isn't super extreme about it. She price matches and loves it! While she likes to cook, she's in the stage of life where simple is usually better! She never knows how many hands she'll have free at dinner time! You can find her at No Regrets Living.