This post is sponsored by Hiland Dairy but the content and opinions expressed here are my own.
It's a new year, a new decade and time to get healthy. Today I'm sharing five simple tips on how I'm making healthier choices as a busy mom on a budget.
I have three kids. Every day brings its own level of crazy busy between work, after school activities, cooking dinner and taking care of the family. I used to be the queen of excuses when it comes to exercise – too busy, too expensive – but I've found simple ways to get healthy.
Good nutrition and regular exercise help me feel better and be more productive throughout my day. It's a simple thing I do for me for self-care. Over the years, I've realized it doesn't have to take over my life, but should be something I can easily incorporate into my daily routine.
I let go of excuses and found ways to make being healthy WORK for me on a budget and without much extra time. It's small changes that allow me to stay healthy, choose nutritious foods and move more throughout my normal day.
How to Make Healthier Choices with Hiland Dairy
Pack in the Protein
Choosing high protein, healthy snacks will help you fill fuller throughout your day. When I did the 10-week training program and lost 17 pounds (and felt stronger than ever), the trainers stressed the importance of getting protein at every meal and eating small meals throughout the day. Pair Hiland Dairy single serve cottage cheese (12 grams of protein per serving) with a piece of fruit or vegetable. The single serve cottage cheese comes in plain or incredible flavors, including strawberry, garden veggie, zesty fiesta, pineapple or peach. Protein has never tasted so delicious. More easy-to-prepare protein choices includes cheese sticks, hard boiled eggs, tuna pouches, beef jerky, yogurt, cottage cheese, nuts, chicken or seafood.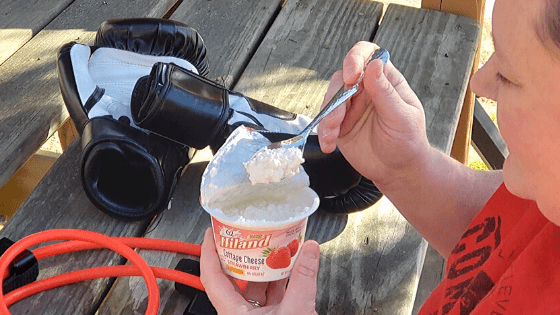 Prepare Snacks On-the-go
One of the hardest things for me is to manage running my three kids to activities and staying fueled on busy days. It's so tempting to stop at a drive-thru or get a sugary coffee to keep me going and ward off hunger pains. Instead I grab a Hiland Dairy smoothie, a piece of fruit, or a cheese stick for on-the-go. Being prepared with simple snacks for myself and my kids has not only saved us money, but has helped us eat healthier too.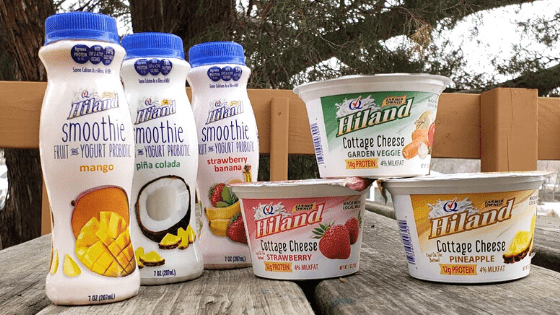 Move More Every Day
Schedule 30 minutes every day to exercise. It doesn't have to be strenuous, sweat-drenching exercise, just move. Take a walk around the neighborhood with the dog. Join a low cost, no frills gym and hop on a stationary bike or log a few miles on a treadmill.
Schedule your 30 minutes of exercise a day, but also find ways to move more throughout your normal day. Take the stairs instead of the elevator. Park further from the entrance to get more steps. Take regular breaks while binging shows to walk in place, do crunches or stretch. Adding more movement throughout the day will help you stay healthier. Check out 50 ways to get more steps every day.
Don't Skip Resistance Training
Resistance training helps build muscle and strength. It's important to a healthy lifestyle to incorporate weight training into your workout routine. It doesn't have to be expensive or extreme. A few dumbbells or resistant bands is sufficient. You can follow free workout videos on YouTube.
Check out my video to see how I workout on a regular basis using resistance bands for resistant training and kickboxing for cardio.
Drink More Water
Staying hydrated is key to staying healthy. You will stay fuller and feel better when you swap sugary drinks for water. Try to drink at least 8-10 glasses of water throughout the day. Choosing water over soda or coffee is a great healthy swap that will save you money.
All these small, budget-friendly changes will help you be a new you in the New Year! To assist you on your health journey, Hiland Dairy is offering one lucky person a chance to win a 'Get Fit' prize pack including free product coupons to try their new smoothies and single serve flavored cottage cheese. Enter the Hiland Dairy 'Get Fit' giveaway now.
What tips do you have for staying healthy?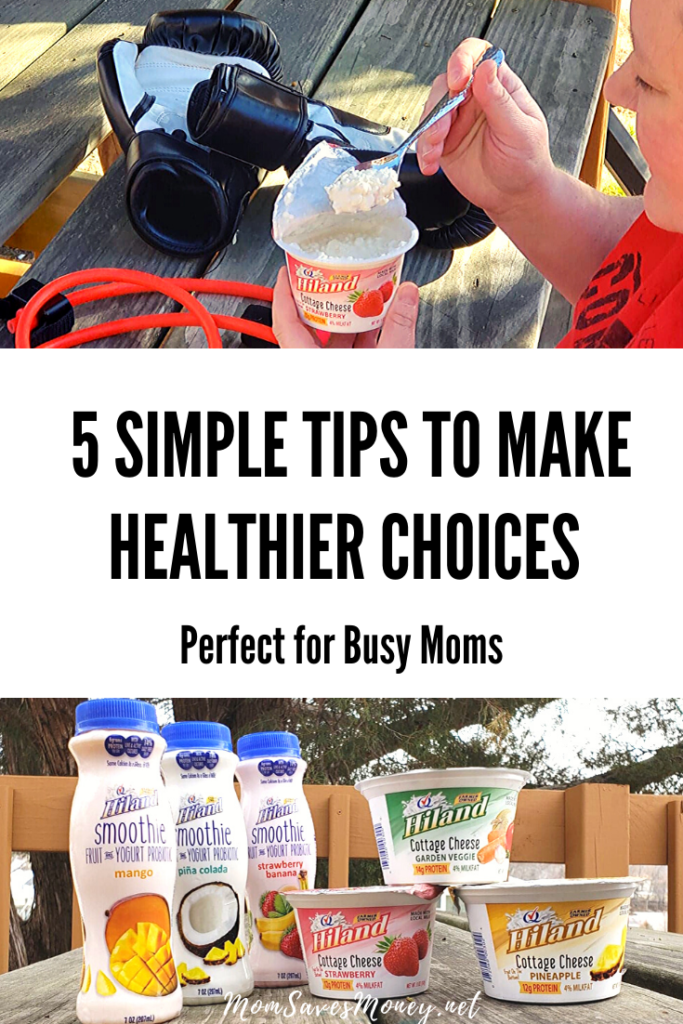 Check out more posts: