Disclosure: Today's post is sponsored by Verizon. All opinions are mine #vzreviews
The last few month's I've been testing several different fitness bands and have been working on being more active. After my serious injury and weight gain last year, my new fitness goal is to engage in low-impact activities and just be more active on a daily basis.
On average, I take about 5,000 steps per day, but my goal is 10,000 steps and I really want to incorporate more activity into my daily living. I found it's easy to get more steps if I just focus on small changes and make fitness part of my daily routine! I don't have to spend hours at the gym to get fit, but I do have to be intentional about being more active.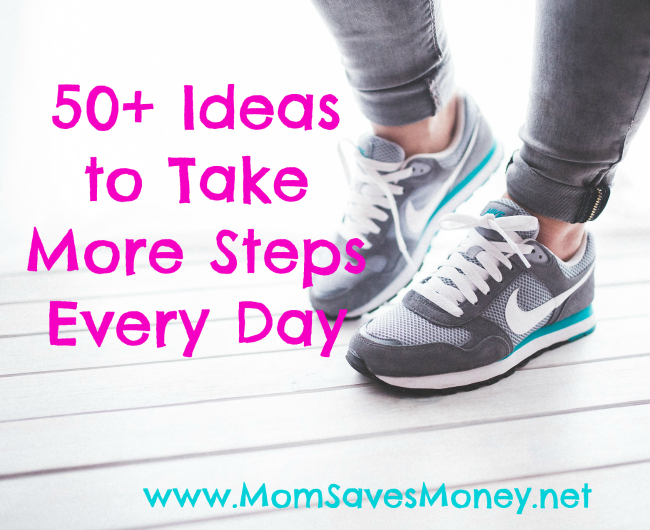 Here are 50+ fun ideas to increase your steps!
With the Kids:
1. Visit a new park & play instead of sit
2. Pick up trash at the park
3. Go on a nature walk
4. Visit the local zoo
5. Walk around the block
6. Stroller walking at the mall
7. Visit children's museum & participate in activities
8. Visit a state park
9. Take a hike on a trail
10. Play a game of tag
11. Play catch
12. Have a nature treasure hunt (find stick, flower, weed, pine cone, etc.)
13. Geocache
14. Visit a local forest and hit the trails
15. Turn on music & have a dance party
16. Go swimming at the pool & get in with the kids
17. Play musical chairs
18. Plan an outdoor picnic & walk
19. Walk to/from school on nice days
Doing Chores:
20. March while dusting
21. Vacuum one extra day per week
22. Garden – plant & weed
23. Do yard work
24. Mow the lawn
25. Mow the neighbors lawn too
26. When picking up around house take multiple trips to put items back in place
27. March while folding laundry (Thanks reader Melanie for this idea)
More ideas:
28. March in place while watching TV
29. March in place during TV commercials
30. Take the stairs whenever possible
31. Take the stairs at home or work (if you have them) a few extra times a day
32. Walk on work breaks
33. Get a walking buddy
34. Park farther from store in parking lots
35. Walk instead of drive
36. Take a longer walking route to your destination
37. Set aside 20-30 minutes a day to exercise
38. Wake up 10 minutes early to take a quick walk
39. Take a 10 minute walk after meals
40. Set alarm on fitness band for every 10-15 minutes & get up and move
41. Take a fitness class
42. Pop in a DVD fitness video
43. Take a dance class with spouse
44. Do 25 jumping jacks
45. March in place for 1-5 minutes
46. Join/start a walking or running club
47. Go on walks to catch up with friends instead of coffee dates
48. Walk to each end of the mall when you go shopping
49. Walk the dog
50. Walk 5 minutes before grabbing a snack
51. Visit a museum
52. Walk the track at a local school
I hope these ideas help you get more steps daily. For those of you following my fitness band test, I picked the Garmin Vivosmart as my tracking band to keep and use. I really love having a way to check my activity and help me stay on track with my fitness goals. A fitness band has been very motivating to me and makes me more aware of my daily activity levels. I love having a fitness band!
Do you use a fitness band? What other ideas do you have to get more steps daily?
If you enjoyed this article, you will also like: