For as long as I can remember, I've loved catching a great deal and saving 50%, 75%, 90% or more on items during Black Friday shopping extravaganza. I would get up at 4 am, willingly, and start my eight hour shopping frenzy.  I would go into battle armed with my reusable bags, detailed shopping lists and credit cards. Every door buster I found still on the shelf was a small victory. Black Friday shopping was fun and exciting. I would get so caught up in the idea of a 'great deal' and always end up spending more than I intended.  I saved thousands of dollars over the years, but at what cost?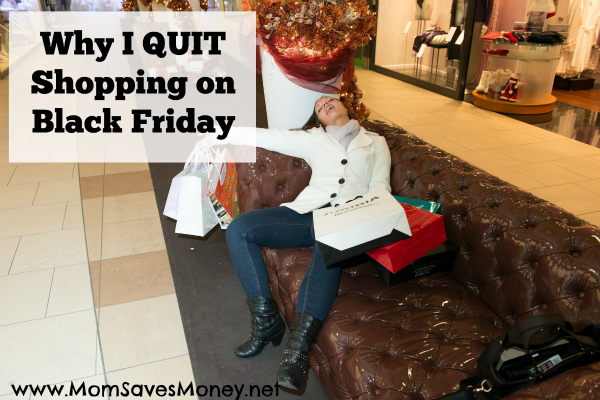 This summer is when I discovered the reality and consequences of my Black Friday shopping. It took almost half a year to do a major de-cluttering of my house in order to hold a massive garage sale.  I went through every nook and cranny of my house to get rid of the items we no longer need. Guess what I found?  Those good Black Friday deals barely used or sometimes even new in the box! Some of them were gifts I gave to the kids or my husband that were never even opened. Why did I waste my time and money? Now, all that shopping created me hours of work de-cluttering.  As I wasted away weekend after weekend on this massive de-cluttering project, I reminded myself to never do this again. I chose to take over my life and simplify!  I could have spent that time with my family doing something fun, but I was stuck trying to take back my house that had become cluttered with 'great deals'.
Then I panicked. What about the kid's presents? I don't want to pay full retail, so I may need to go Black Friday shopping.  But, all I had to do was take a look at the overflowing toy box and realize more toys are not what they need. At the end of the day, it's often a battle for them to clean it all up, because they are overwhelmed with so many toys. When has Christmas become synonymous with lots and lots of presents and toys? My kids are happy just to get one wrapped present and a full stocking! This year, each kid will only get one toy, a new book and a few articles of clothing. I can guarantee, they will not be upset at all. They will be happy to open a few presents, spend time with their grandparents and cousins and eat all the pumpkin pie they want.
I know if I venture out on Black Friday, I will see too many 'great deals' that I won't be able to pass up. But, what good is an item, even if I saved 90%, if I find it buried in my basement years later? I can use that money now, on stuff that really matters. I am choosing to take control of my house, my finances and our future. I am choosing to free myself from clutter, to not spend money we don't have and to rediscover the true meaning of Christmas. Presents don't make people happy, love makes people happy and you can't buy love.