Disclosure: Contains affiliate link
This year I thought it would be fun to make something homemade for my kid's teachers and bus drivers – DIY chocolate chip cookie jars. We are making the most of Christmas on a budget and spreading holiday cheer is important to us.
In less than an hour, I put together these super cute cookie jar mixes. They were so easy to make and very reasonably priced with all the sales on baking goods this time of year.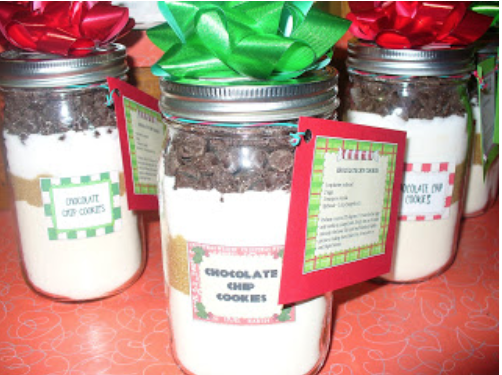 I got the recipe from the book 100 Easy Recipes in Jars. I absolutely love this book for homemade gifts! It describes how to decorate, layer and embellish the jars and includes recipes for cookies, bars and snack mixes.
I made six chocolate chip cookie jars in less than an hour. I even baked an extra batch for the family and they were delicious! In the book, they layer cloth over the top to make it look super fancy, but I only had bows, so that's what I used. This book is worth the money if you like to make homemade gifts or bake.
I printed the printable labels included in the book (there are over 2000). I attached the label directly to the jar, and glued the recipe instructions to festive colored cardstock attached to the jar with a colored wire. The entire jar is topped with a holiday bow for a wrapped look to the gift.
These homemade cookie jars were a hit with the bus drivers and teachers and I stayed on budget with Christmas shopping. It was a win-win.
Share your DIY gift ideas in a comment.