Don't waste money this Christmas on expensive wrapping paper, especially when the kids  just tear it open and throw it to the side without a thought. You can use any of these five common household items to wrap a beautiful gift.
When I used up the rest of my leftover wrapping paper I decided to not buy anymore. At $3-$5 per roll, wrapping those presents adds up fast. I skipped the fancy wrapping paper this year and put more money in our pocket for holiday fun and festivities.  Check out my creative, frugal, and eco-friendly wrapping paper alternatives.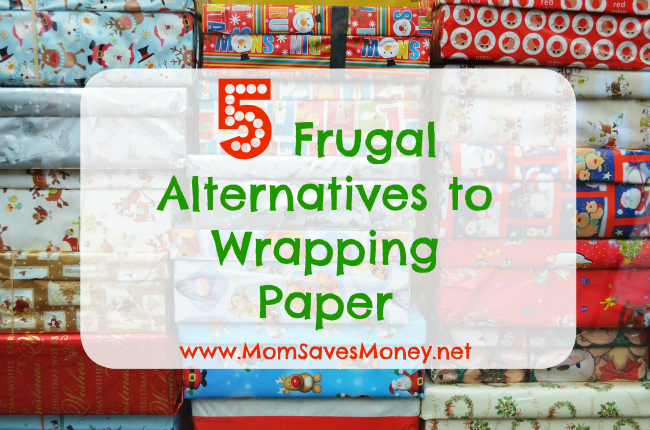 1. Sunday comics – My father has never purchased gift wrap and always wraps presents in newspaper. The Sunday comics are bright and colorful and make excellent gift wrap. Plus, your recipient can get a good laugh from the comics.
2. Recycled gift bags or boxes – I save all the gifts bags I receive as gifts and reuse them. I even save and reuse the tissue paper. I keep a box in the upper shelf on my closet stocked with used gift bags. Friendly tip – Don't write names on the bags, so your frugal friends can reuse their gift bags too!
3. Brown paper bag – Sounds pretty boring, but a plain paper bag is easy to decorate. You can have your kids color on it (grandmas love that), tie a pretty bow around it and add a few pine cones for decoration. Next time you do your grocery shopping, just ask for paper bags instead of plastic, and you will be set for holiday gift wrapping.
4. Magazine pages – There are many bright colorful pages from magazines that would make excellent wrapping paper for smaller gifts. Or, tape the magazine pages together collage-style to wrap larger gifts. This is a great way to up-cycle something that normally just goes in the recycle bin.
5. Reusable Bag – Give your gift in a reusable bag, so your recipient gets two gifts instead of one. You can usually buy cute holiday ones at grocery stores or the dollar stores for about a dollar each.  This is a great way to go 'green' and give an extra gift with your gift.
View more tips on how to make the most of out Christmas on a budget and easy ways to earn extra money for Christmas shopping.
What other creative DIY ideas do you have for alternatives to wrapping paper?