Another week, another chance to save some money on groceries using this week's best deals!  Here are some menu suggestions:
Main Dishes
Cheeseburgers – With the 90 degree weather that we had this week, I'm in the mood to grill!  But think beyond the basic and try one of these: French Onion Burger, Cheeseburger Quesadilla, Pepperoni Pizza Burger, or a Grilled & Stuffed Bacon Cheeseburger.  Yummers!
Chicken Fajitas – I love the marinade on this one, but I've been playing around with baking them in the oven rather than a skillet just for ease-of-preparation reasons.  When I get it mastered, I'll let you know, but for now, try this one out.
Cheesy Barbeque Chicken Sandwiches – We make this often since the leftover barbeque chicken freezes so well.  I often simplify it by leaving off the cheese and bacon.  This is about as easy as it gets!
Ham & Cheese Pasta Bake – I haven't made this one yet, but it looks like a great addition to a recipe book since it's a creative way (I think) to use ham.
Spinach Lasagna Rolls – This is another one that I haven't made (I'm slowly working up to introducing my family to cooked spinach), but it looks easy and fancy without being overly complicated.
I make some variation of this Beefy Mac & Cheese casserole about once a month (which is quite often for us), because it's so easy to change-it-up!  If I'm feeling Italian, I use Italian spices (oregano and basil) and mozzarella cheese.  If I'm feeling Mexican, I'll use cumin or taco seasoning with cheddar or Monterey Jack.  Freezes beautifully too!  I often split it in ½ and make ½ and freeze ½.  That works well for our small family.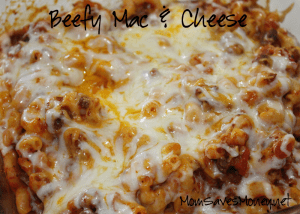 Beefy Mac & Cheese
Ingredients
2

pounds

lean ground beef

1

large onion, diced

1

tablespoon

canola oil

salt & pepper

spices (oregano, cumin, coriander, chopped garlic, basil, chili powder, your choice!)

2

cans of tomato sauce

1

box macaroni

2

cups

cheese
Instructions
Brown your beef and onions with salt, pepper, garlic salt and the spices. Drain. Add back to pan.

Add the tomato sauce. If you have time, let it simmer on low for an hour or so, but that's not mandatory.

Cook the macaroni in boiling water till it's almost done. Drain it and add it to the tomato sauce.

Let cool (if you have time), transfer it to a large baking dish and cover it with foil.

When ready to bake, bake at 400 degrees until it's hot (about 30-45 depends on how cold it was when you started baking).

For the last 5 minutes or so, uncover, put cheese on top and cook for 5 minutes or so. Putting the oven on broil will make it nice and brown (but watch it carefully!)
Notes
Freezer Instructions:
I usually freeze these pre-baked.  In fact, for my family, I make 2 9x9 pans instead of a 9x13 pan.  Then on the day when I want to make them, I just de-thaw overnight or during the day.
Jayme is a wife to 1 and, so far, a mother to two little boys. She coupons, but isn't super extreme about it. She price matches and loves it! While she likes to cook, she's in the stage of life where simple is usually better! She never knows how many hands she'll have free at dinner time! You can find her at No Regrets Living.