For most of us that live in a decent-sized city, it's really easy to find a Chinese restaurant with good Sweet & Sour Chicken. And yet, I never order it.  BUT…I often have it.  I just make my own.
I've mentioned this before, but the main reasons that I can think of to make something homemade rather than buying it are:
Cost
Taste
Quality
That's why I make my own.  It's fairly inexpensive to make this recipe for my family of 6, where it'd be really pricey to buy it from a restaurant.  And with diet restrictions in our family, eating out isn't really a good option – it's hard to know if a meal out is wise.  When I make something at home, I know it's safe for my whole family.  And taste? That's usually been my main reason to make something at home — I can make it taste the way that I want to.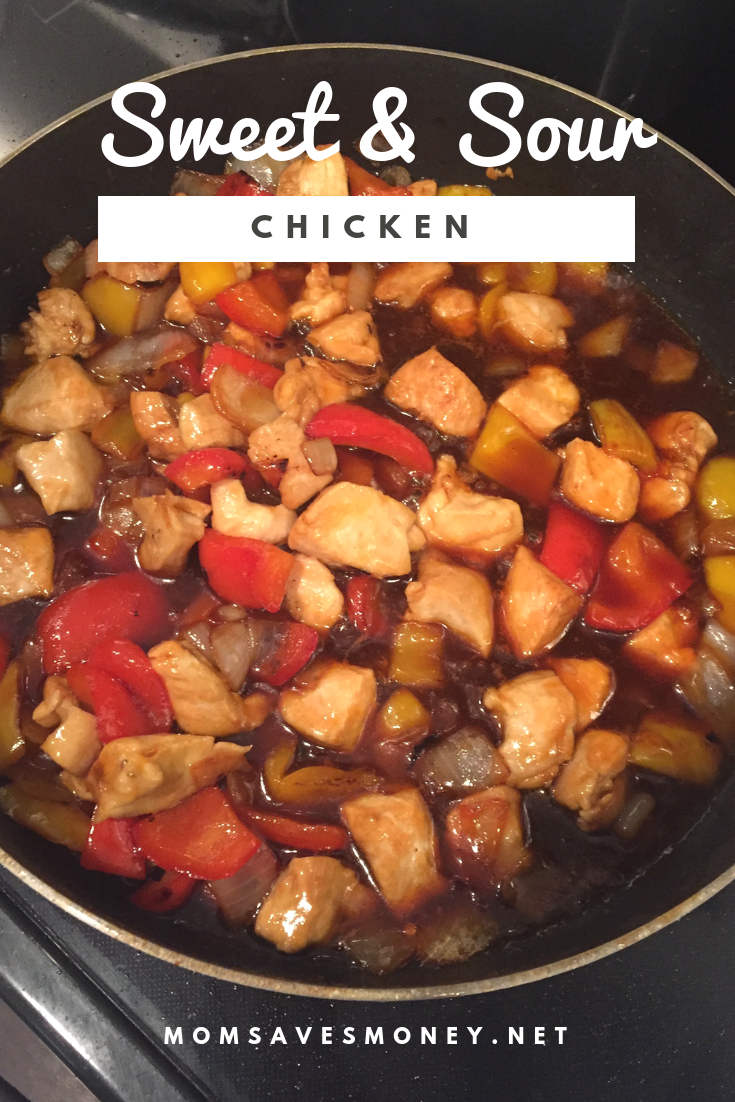 "The way that I want to" in this case?  Lots of sauce!  And lots of peppers and onions.  I like the chicken, for sure, but when it comes to peppers and onions?  Well, let's just say that I'm a BIG fan!
Now traditional Sweet & Sour Chicken usually has breaded chicken, but I don't.  I leave it unbreaded.  1) It's easier that way.  2) It's healthier that way.  3) It makes it easily gluten-free that way (a concern for my family.)  And 4) I like it that way.
And traditionally, it's made with green and red peppers.  But I use whatever I have.  Green peppers are usually the cheapest of the bell pepper colors, but I often get those 3-packs of colored peppers at Aldi, so I'll use whatever colors I have.
We pair it with rice for a complete meal. I keep frozen cooked rice ready in the freezer, so this meal comes together quickly! 
This is a big favorite in our house.  We have it often, especially since we've gone gluten-free. (Check out my list of 20 simple gluten-free recipes.) This recipe is easily made gluten-free with the right soy sauce and that was a huge help for me as I was learning new recipes to cook.  Love that!  It's definitely been a comfort to me in the kitchen.
Sweet & Sour Chicken
Ingredients
3-4

boneless skinless chicken breasts, cut into bite-sized pieces

2

tablespoons

oil

2

red bell peppers, chopped

1

onion, chopped
Sauce
3/4

cup

sugar

1/2

cup

apple cider vinegar (or white vinegar)

2

tablespoons

soy sauce

1

teaspoon

garlic salt

1/2

teaspoon

onion powder

1/4

cup

ketchup

1

tablespoon

corn starch

2

tablespoons

cold water
Instructions
Make the Sauce:
Add sugar, vinegar, soy sauce, garlic powder, onion salt, and ketchup to a medium sauce pan. Stir and bring to a boil.

In a small bowl whisk together the 1 tablespoon corn starch and cold water until dissolved.

Add to sauce pan and stir until thickened, then reduce to low heat.
Make the Chicken & Veggies:
Drizzle a large pan or skillet with oil. Add chicken and cook for 5 minutes over medium heat.

Add peppers and onions. Continue until chicken is browned and cooked through.

Add sauce to chicken and peppers. Stir.
Jayme is a wife to 1 and a mother to four little boys. She tries to coupon, builds a smart stockpile, and always meal plans. While she likes to cook, she's in the stage of life where simple is usually better – she never knows how many hands she'll have free at dinner time! You can find her on Instagram.