Wow – did the weather turn cooler or what?  That's exciting to me because I love fall – the return of soup weather and lots of apple crisp!  Since man cannot live on apples alone, here are my menu suggestions based upon what's on sale this week:
Main Dishes 
Many of the ingredients for this potato salad are also on sale this week – again, I like to make enough for 2-3 meals.  Make it once, Eat it twice!
I've been on the lookout for a good chicken pot pie recipe.  Something tasty, but still easy.  I want it to be homemade as much as is reasonable.  Through some trial and error, I've found my go-to recipe.  It isn't as homemade as some – I've landed on not making my own crust.  But it's more homemade the others – all the "insides" are homemade.  Try it – I think you'll like it!
When I did this, I made 2 of them – made one for dinner that night and then one more for the freezer for later.  Why make 1 when it's just as easy to make 2?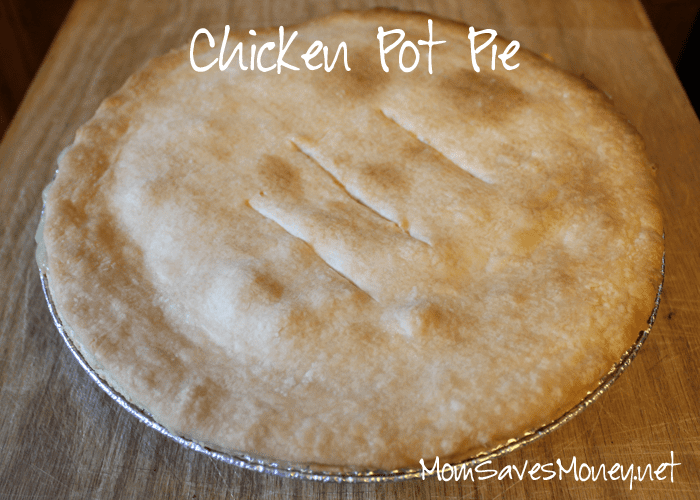 Chicken Pot Pie
Ingredients
¼

cup

unsalted butter

¼

cup

Bisquick

2

tablespoons

chopped yellow onion

¼

teaspoon

salt

Pinch ground black pepper

1

cup

frozen mixed vegetables (carrots, peas & green beans)

1¼

cups

chicken broth

1½

cups

cooked , cubed chicken

1

deep-dish double pie crusts (I use the Pillsbury kind that come 2 in a pack)
Instructions
Pre-heat oven to 375 degrees F.

Prepare the bottom crust if it isn't in a pie pan already by placing the crust in a pie pan.

Prepare the filling: Heat the butter in a 2-quart saucepan over medium heat until melted. Using a wooden spoon, stir in the Bisquick, chopped onion, salt and pepper. Cook, stirring constantly, until the mixture is bubbly. Gradually stir in the chicken broth, then stir in the frozen vegetables. Stir until it reaches a boil for 1 minute. Add chicken and remove from heat. Pour on top of bottom crust.

Put the top crust on. Pinch the side and cut off the excess.

Make 2-3 slits in the top to allow the steam to get out.

Bake for 45 minutes, or until crust is golden brown and filling is bubbly. Cool for 10 minutes before serving, and enjoy!
Notes
Freezer Instructions: Prepare pot pies through step 3. Cool until room temperature, cover with the top crust and cut the slits. Wrap in wax paper and foil, and freeze up to 3 months. When ready to eat, bake at 350 degrees F for 75 minutes, or until crust is golden brown and filling is bubbly.
Jayme is a wife to 1 and, so far, a mother to two little boys. She coupons, but isn't super extreme about it. She price matches and loves it! While she likes to cook, she's in the stage of life where simple is usually better! She never knows how many hands she'll have free at dinner time! You can find her at No Regrets Living.