Lots of baking supplies on sale this week – that's great going into the holiday baking season being fully stocked up!  I was on my last bag of flour too, so it's great timing for me.  Make sure you check out the full list of what's on sale this week, so you can know what to buy!
Main Dishes
Sloppy Joes – Manwich sauce is on sale this week at Bag N Save & No Frill, so if you don't make your own sloppy joes, this would be a great way to use that and possibly some ground beef that was on sale last week!
Chicken, Cheese & Green Chile Enchiladas – We haven't had these in a while and that's a shame – time to make a batch (or two)!  Tortillas are on sale at Hy-Vee this week and I always have cheese and chicken in my freezer.
Pork Tenderloins – These tenderloins are on sale and this site has a great marinade for them.  The guys that I usually make this for love it!
Bagel Pizzas – Bagels are on sale and it'd be fun to make mini pizzas out of them! Or one of my favorite things to order at Brueggers is a Bagel Sandwich with a plain bagel, cream cheese, lunch deli meat, lettuce and tomato.  You could easily replicate this at home – heartier than regular sandwich bread, but still super easy.
Italian Sausage & Tortellini Soup – Is it cold enough yet for soup?  If so, put the canned tomatoes that are on sale to good use by making this great soup.  The tortellini is optional, but adds some extra fun!
I've shared a recipe before on making buffalo drumsticks using a crockpot, but what if the oven is more your thing?  Try this recipe!  This time, I used buffalo sauce, but you can also use BBQ sauce.  I think this is a great watching football food!  And it makes as little or as much as you want.  Plus, drumsticks are a pretty inexpensive way to eat chicken.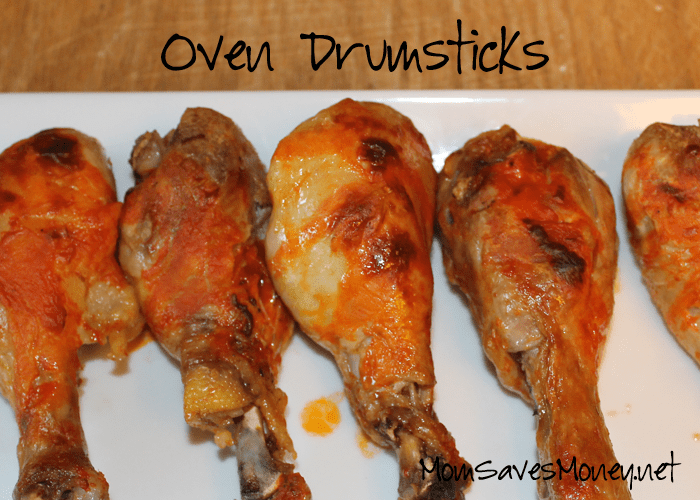 Oven Drumsticks
Ingredients
Sauce (Buffalo or BBQ)

Drumsticks (as many as you want – I'd plan on 2-3 per adult, depending on what else you're serving.)
Instructions
Preheat oven to 400.

Spray baking dish with cooking spray. Use a 8x8 if you're only making a few. Or use a 9x13 or even a couple of them.

Add some sauce to the bottom of the dish. Don't completely cover it, but you want some sauce on there.

Add the drumsticks on top.

Put more sauce on top of the drumsticks. No need to drown them, just brush the sauce on.

Bake for 1 hour, flipping them over about ½ way through. Check them for doneness when the time is over. It might take a little longer if you're making a lot.

Add more sauce, if desired in the last 5-10 minutes of baking.

Enjoy!
Jayme is a wife to 1 and, so far, a mother to two little boys. She coupons, but isn't super extreme about it. She price matches and loves it! While she likes to cook, she's in the stage of life where simple is usually better! She never knows how many hands she'll have free at dinner time! You can find her at No Regrets Living.