Smoked Sausage has become such a well-loved ingredient in our family. EVERYONE in the family likes it and there are many ways to prepare it. This simple sheet pan oven-roasted sausage and peppers recipe is one of the latest recipes that I've been using.  I cook it with potatoes, peppers, and onions to make an easy Hash.  I've combined it with onions and veggies and baked into foil packets.
This latest way is just slicing up the sausage, combining with vegetables and drizzling with olive oil. That's it.
And to make it even ridiculously more simple – I often use frozen veggies. You can get those big bags of stir fry veggies. Those are great. Sometimes I'll get the bags of Normandy veggies – cauliflower, broccol, and carrots. I'll use those and add in whatever else I have – mushrooms and zucchini being common ones. Delicious!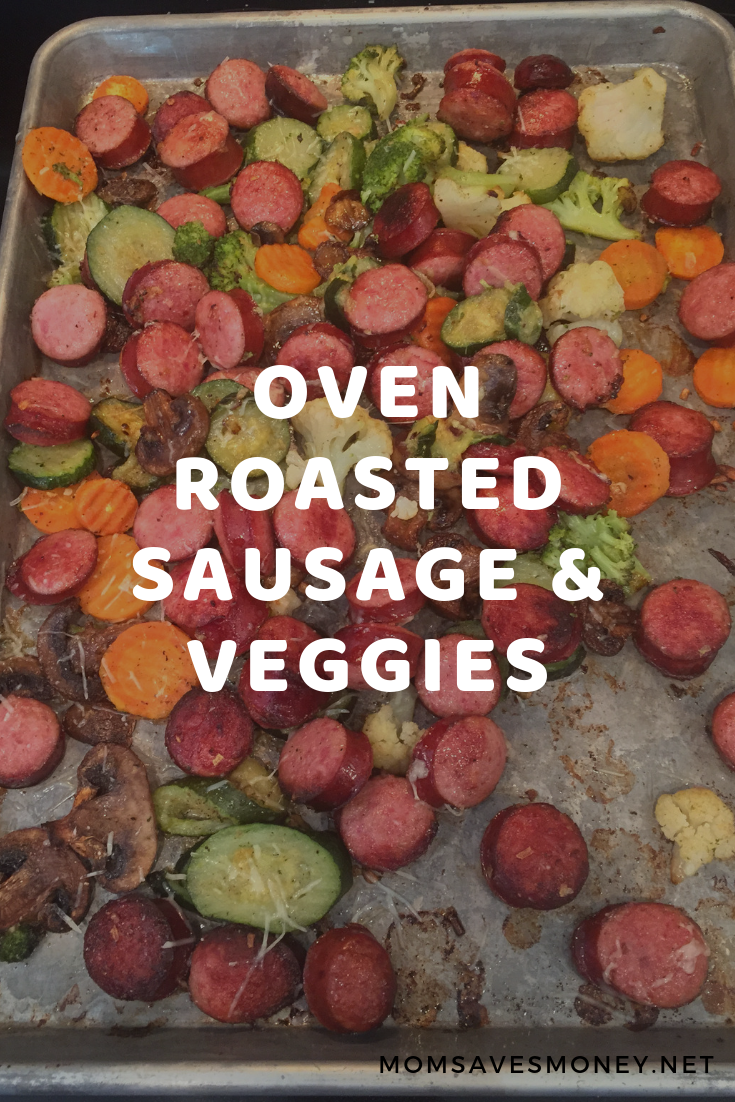 If I'm feeling particularly fancy or generous, I'll sprinkle on some shredded parmesean cheese on top when it comes out of the oven.  Not too much – just enough to give it a little bling!  A little fun! A little pizzazz!Totally optional, but it does take it to the next level.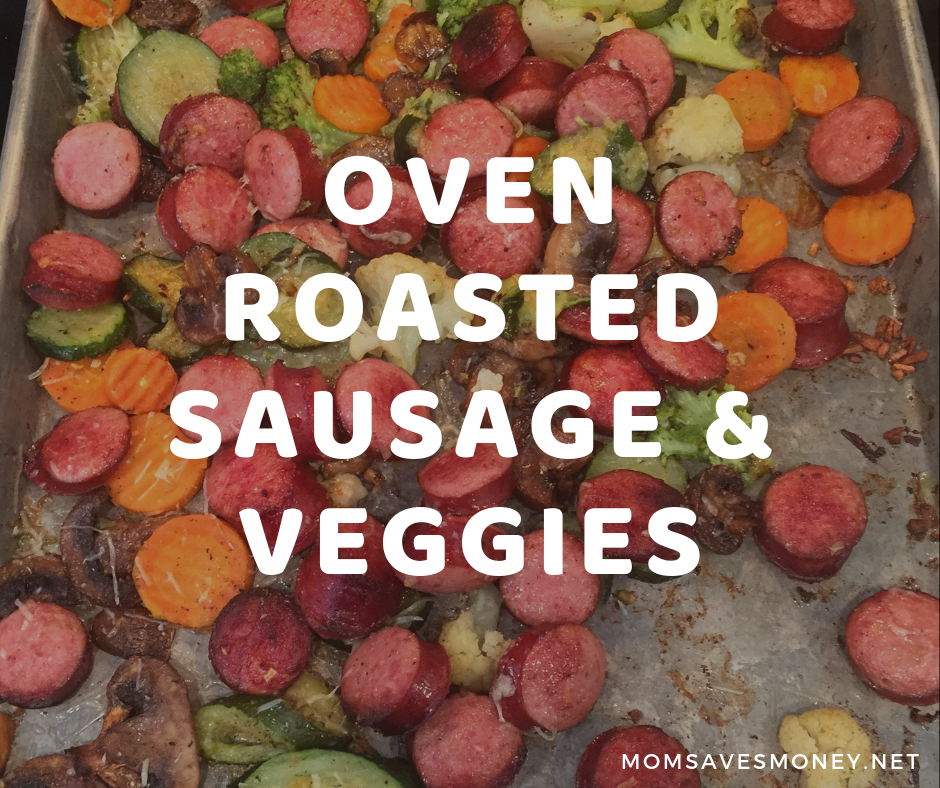 Love simple 5-ingredient or less recipes? Check out our cookbook 'Incredibly Easy 5-Ingredient Meal Plan and Cookbook' with a 6 week meal plan, weekly shopping list and 59 delicious recipes.
Sheet Pan Oven Roasted Sausage & Veggies
Ingredients
smoked sausage, sliced into 1-inch pieces

frozen or raw veggies (carrots, bell peppers, zucchini, mushrooms, cauliflower, broccoli, etc)

olive oil

salt & pepper, to taste

grated parmesan cheese (optional)
Instructions
Preheat the oven to 400 degrees F.

Chop the veggies into bite sized pieces, if they're not cut.

Place all the veggies and sausage on a sheet pan.

Drizzle with olive oil. Sprinkle with salt & pepper. Mix to coat the meat & vegetables with oil.

Bake 15 minutes and remove from oven. Stir.

Bake for another 10-15 minutes until vegetables are done.

If using, sprinkle with grated parmesan cheese. Serve!
Jayme is a wife to 1 and a mother to four little boys. She tries to coupon, builds a smart stockpile, and always meal plans. While she likes to cook, she's in the stage of life where simple is usually better – she never knows how many hands she'll have free at dinner time! You can find her on Instagram.