Stock up on lots of baking supplies this week!  Time to get some butter in that deep freeze of mine!  Make sure you look at Nicole's list of what's on sale this week for all the good deals, but here are some menu suggestions for this week.
Main Dishes
Chicken Broccoli Crescent Roll Ring – 4 ingredients??!  And uses a lot of things that are on sale this week?  Sign me up!
Italian Sausage Tortellini Soup – This is still one of my favorite recipes – I'm working on perfecting a crockpot version of it.  But it is awesome!
Italian Sausage Lasagna Rolls – This is another great use for the Italian sausage that's on sale at Fareway.  I'd make a big, big pan (or two) out of it and have it for leftovers.  With the holidays coming, simplify your pre-holiday menu!
Parmesan Baked Pork Chops – I just picked up some pork chops that were on Manager's Special, so this recipe just went on our menu.
Marinated Chicken Breast – 2 ingredients.  2!  Great family friendly chicken recipe that goes with pretty much any side dishes.
Wanna spice up your biscuits?  Here's a recipe for you – okay, yes, it's practically the same recipe as the famous "Red Lobster" biscuits, but there's a fun addition – jalapeno!  It makes them the perfect side for taco soup or another mexican dish.  Wanna keep it traditional?  Just omit the jalapeno!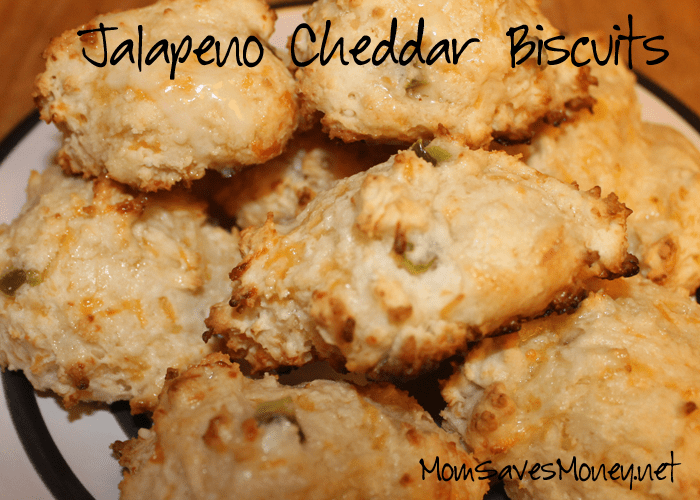 Jalapeno Cheddar Biscuits
Ingredients
2

cups

Bisquick

2/3

cup

milk

1

cup

cheddar (try pepper jack instead for an additional kick!)

3-4

jalapeno slices, finely chopped (I use the ones that are already sliced in the condiment section)

½

cup

butter (optional)

¼

tsp

garlic powder (optional)
Instructions
Preheat oven to 450.

Mix bisquick, milk, cheese and jalapenos until soft dough forms. Beat vigorously for 30 seconds.

Drop dough by spoonfuls onto greased baking sheet.

Bake 8-10 minutes until golden brown.

(optional, but take them from good to great!) Mix butter and garlic powder, brush over warm biscuits before removing from baking sheet. Serve warm.
Jayme is a wife to 1 and, so far, a mother to two little boys. She coupons, but isn't super extreme about it. She price matches and loves it! While she likes to cook, she's in the stage of life where simple is usually better! She never knows how many hands she'll have free at dinner time! You can find her at No Regrets Living.