It's Beef time in OMAHA! A couple of different places have hamburger on sale at a great price.  Time to stock up!  Check out the rest of this week's deals.
Main Dishes
Italian Chicken Strips – I haven't made these yet, but I'm gonna!  Looks like an easy to way to make homemade chicken strips and she includes freezer directions!  Sign me up!
Slow Cooker Buffalo Drumsticks – I made these again this past weekend and remembered how good they were!  Even my 2 year old will eat them (as long as I don't put more buffalo sauce on his before roasting.)
Taco Salad – I don't really have a recipe for this, but I usually just toss chopped lettuce, tomatoes, cheese, and taco meat (all that hamburger was on sale last week) into a big bowl.  Then I break up some tortilla chips and mix it all together.  I like mine with Ranch dressing.  Others like it with salsa!  It's a family friendly way of doing tacos if you have youngins that can't make their own tacos.
Pizzadilla – This is what would happen if a pizza and a quesadilla had a baby.  Tastiness!
Chicken Tacos – Since this is a slow cooker meal, it also won't heat up your house.  Serve it on a hot day!
The following is one of my favorite meals that I just don't remember to make often.  Which is a shame because as yummy as it is Day One, it makes ROCK STAR leftovers.  There's just something about spaghetti sauce that always makes things taste better the next day.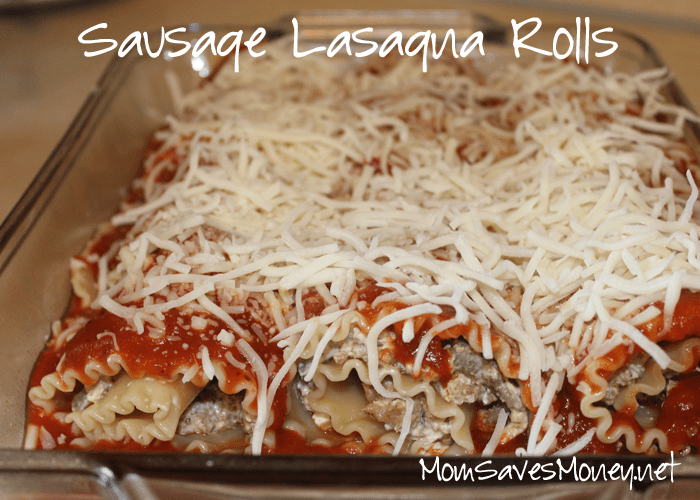 Sausage Lasagna Rolls
Ingredients
1

lb

sausage, cooked, crumbled, and drained (I use Jimmy Dean brand. You can use as spicy as you want.)

8

oz

cream cheese

½ - ¾

green pepper, diced

26

oz

jar spaghetti sauce

12

lasagna noodles

2

cups

mozzarella cheese, shredded
Instructions
Preheat oven to 350.

Cook noodles according to package directions. Drain. Keep warmish.

Meanwhile, brown meat with onion and green pepper. Drain.

Put meat, onion and green pepper back in the pan. Add cream cheese on low heat until cheese melts.

Spread ½ the sauce in a 9×13 pan.

Lay one noodle flat and spoon some of the mixture in the middle of the lasagna noodle. Carefully roll up the noodle and place in baking dish. Repeat with the rest of the noodles.

Pour rest of the sauce over top of rolls, top with cheese.

Bake for 15-20 minutes.
Notes
Freezer instructions: These also freeze really well. Just freeze before baking. Then when ready to make, either defrost during the frig for a day or plan on at least doubling the baking time.
Jayme is a wife to 1 and, so far, a mother to two little boys. She coupons, but isn't super extreme about it. She price matches and loves it! While she likes to cook, she's in the stage of life where simple is usually better! She never knows how many hands she'll have free at dinner time! You can find her at No Regrets Living.