Winner, winner, chicken dinner!  Well, maybe for you it isn't a chicken dinner on the menu, but a ham dinner.  Let's explore some of the meals we can make with the things that are on sale this week, shall we?
Snack & Dessert Ideas:
Apple Crisp – Yeah, it isn't fall.  But a warm apple crisp is good any time of the year!
Cinnamon Swirl Cake – Bakers and Super Saver have cake mixes for $1.00 (or less!), so get a white cake mix and go crazy with this recipe.  Or make this Grasshopper Fudge cake for Valentine's Day (just use red food coloring instead of green).
Side Dishes:
Main Meals:
Beef & Veggie Stir Fry – pick up some of that broccoli, carrots and onions that are on sale at Aldi.  This recipe is made with steak and is oh-so-tasty!
Hamburger Veggie Soup – this beef soup recipe uses the tomatoes on my Bakers' shopping list.  (You can easily leave the cabbage out if that isn't your thing).
Ham & Hashbrown Casserole – Pick up those hashbrowns at Bag N Save or No Frills and you got yourself a breakfast-for-dinner kind of meal.
English Muffin Pizzas – If you have lots of energy, let your kids top their own mini pizzas.  I also like to do this with hamburger buns.  Or make some breakfast sandwiches.
This past weekend, we had Taco Soup.  Ever had it?  It's wonderful in the wintertime and very flexible.  Want to make hamburger stretch farther?  Just use less of it.  Like beans?  Use more.  Dislike beans?  Leave 'em out.  Like it more spicy?  Add an extra can of Rotel.  Feeding a bunch of kindergarteners?  Leave the Rotel out.
I made A LOT this weekend – so much that I used my roaster pan and tripled the recipe.  We ate some.  We're giving some away.  We're freezing some.  Beautiful thing!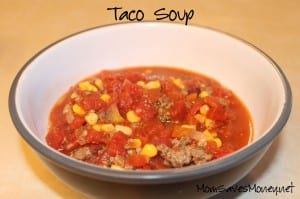 Taco Soup
Serves 4 adults, easily doubled or tripled.
Ingredients:
1 lb ground beef
1 onion, chopped
1 pkg taco seasonings
1 pkg dry Ranch seasonings
2 large cans diced tomatoes, undrained  (58 ounces total, give or take)
1 can Rotel tomatoes, undrained
1 can each: black beans (or kidney beans), pinto beans, whole kernel corn  (any of these are optional if you don't like them)
Directions:
1 . Brown meat and onion.  Drain.  Add seasonings.
2. Drain beans and corn.  Add to meat along with tomatoes.
3. Simmer until well blended and hot.  (I usually have it sit on Low in the crockpot for a few hours.)
4. Add a bit of cheddar cheese or sour cream when serving.  Or Fritos!  All are optional though.
Freezing instructions: I just freeze it after it cools down in well-labeled ziplock bags.  You can even mix the ingredients up ahead of time and freeze.  Then just add it to the crockpot in the morning, and stay on low most of the day.  I haven't personally tried that, but I think it would work.
Jayme is a wife to 1 and, so far, a mother to two little boys. She coupons, but isn't super extreme about it. She price matches and loves it! While she likes to cook, she's in the stage of life where simple is usually better! She never knows how many hands she'll have free at dinner time! You can find her at No Regrets Living.