I'm making progress on getting my freezer levels to a manageable state!  Here's my first week's post and my second week's post.
Just like last week, I haven't seen any huge miracles in my freezer.  So I'm kind of disappointed by that, but as I look back at the meals I made, there was something that was from the freezer.  I'm definitely working on my goal and haven't fallen off the wagon.  It's simply a reflection of how far 1 package of chicken will go, considering my family size.  And it's a reflection of the fact that using a couple of bags of chocolate chips doesn't reduce much volume.  But I'll keep trucking along!
This week:
Leftovers really went a long way this week.  I made a roast, chicken stir fry, a chicken pasta dish and chicken fajitas for dinners this week. The roast alone got us 3 meals.
We normally have a friend over for dinner on Monday nights (read: a 40-year old bachelor who gets 1 home cooked meal a week) and I've realized how much more food I prepare on those nights than on others.  Mostly because adding 1 adult to 1 meal almost doubles the amount of food that I need.  This past week (and this upcoming week), he won't be coming to dinner.  That's an impact.
I do think it'll take another week before the freezer will be in a "good enough" state to start organizing better.
Here's my rough list of what we were able to eat:
o   4 pounds chicken
o   3 pound roast
o   1 roll of pork sausage
o   1 package of pre-cooked ground beef (roughly 1 pound)
o   1 4-lb boneless ham (but I haven't cooked it yet)
o   ½ huge bag of stir fry veggies
o   2 bags of shredded cheese
o   3 bags of frozen veggies
o   1 pound of butter
o   1 carton of ice cream
o   2 frozen dinners
o   2 bags of chocolate chunks (I made monster cookies!)
o   1 bag of left-over-from-Halloween fun-size Reese's Peanut Butter cups (made into fudge!)
o   2 bags of left-over-from-Halloween fun-size Snickers bars (just brought them into work)
BUT….Here's what I added to the freezer this week:
o   3 bags of frozen veggies
That's it!  I feel pretty good about not adding much to the freezer.  I just saw some veggies on sale at the store that I knew we didn't have, so I bought them. When it comes to veggies, I strive (but usually fail at) for variety!
So what's it look like?
Here's an updated picture!  It's getting there!  I have a couple of meals this week that I'm planning on making that will use up some of the "bulkier" items, so that will help with volume.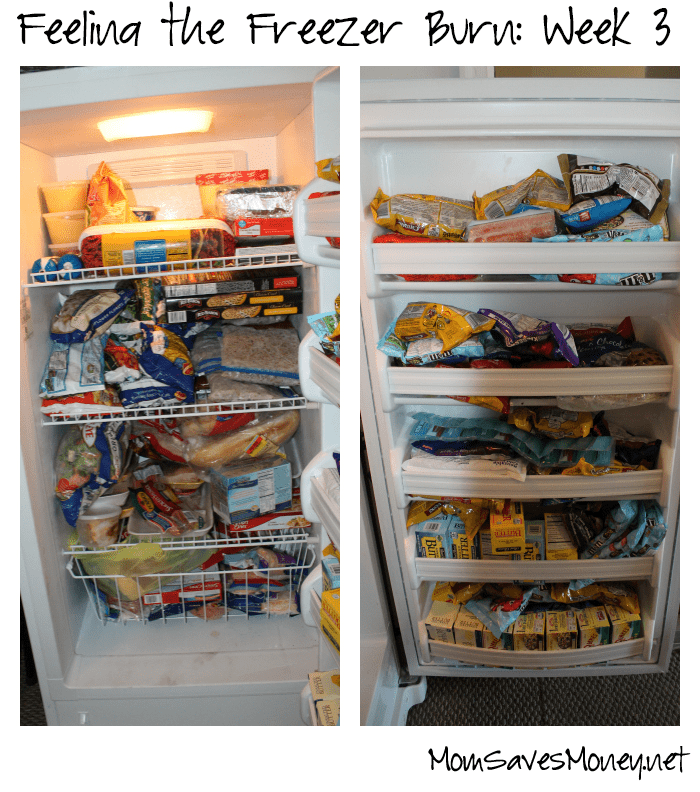 How are you doing on your goals this month?
Jayme is a wife to 1 and a mother to two little boys and a third boy due in April 2015. She coupons, but isn't super extreme about it. She price matches and loves it! While she likes to cook, she's in the stage of life where simple is usually better! She never knows how many hands she'll have free at dinner time! You can find her at No Regrets Living.