I'm calling it "DONE!"  You know, this effort to intentionally eat from the freezer and get it into a more organized state.  The freezer isn't empty, by any means, but I'm calling it "empty and organized enough for now".
We actually didn't eat much from the freezer this week, but the big step forward was getting it organized.  It isn't as organized as I'd like it to be, but it's leaps and bounds ahead of where it was, so that's why I'm calling it "good enough".
I ordered freezer organization bins from Amazon and they work great – except I ordered 1 too many.  I knew that only 2 would fit on each shelf, but I failed to realize that there's a light on the "ceiling" of the freezer, which is preventing any from fitting on the top shelf.  Oops!  Anyone need a freezer basket?  I think I'd still like something up there, so I'll keep my eye out for a shorter basket to use.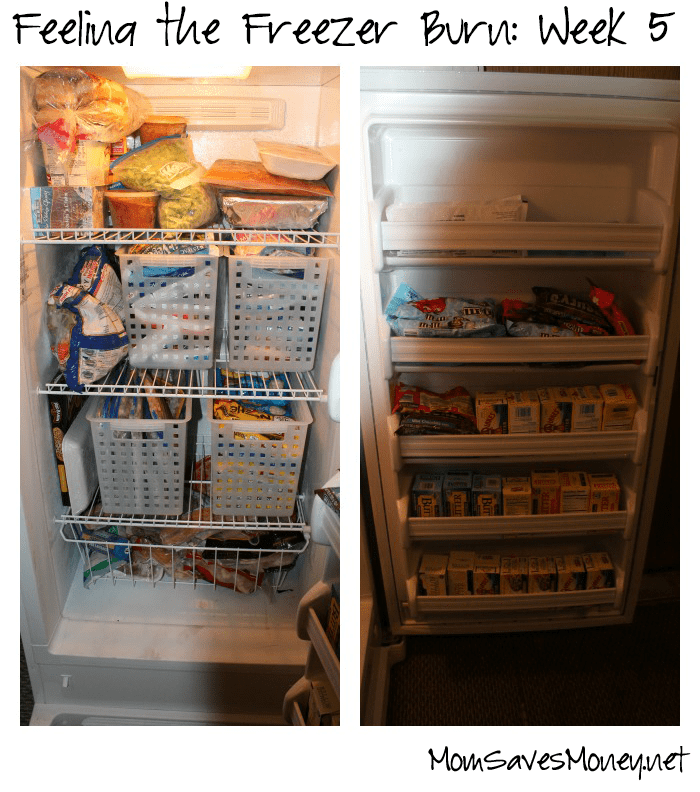 This week:
Here's my rough list of what we were able to eat:
1 container of Cool Whip (hello Jell-o cake!)
1 package of already browned hamburger
1 bag of butterscotch chips (okay, my sister used these in Scotcheroos, but I'm counting it because it came from my freezer!)
1 roast
1 bags of frozen veggies
1 frozen pizza
BUT….Here's what I added to the freezer this week:
NOTHING!  Except for 4 storage containers!
I've ended up organizing it this way:
Top shelf: ice cream, individual frozen meals that I take to work, "other" awkward sized items like hamburger buns
Second shelf: 1 bin of cheese and 1 bin of veggies.  Bigger bags of veggies and those that didn't fit go on the side next to it.  I'll eat from there first.
Third shelf: 1 bin of chocolate chips (I have way too many!) and 1 bin of "stackable" meats like hamburger that I've already browned and put into bags.  On the side is frozen pizzas an any longer packages of meat like pork chops.
Freezer basket: This is where I used to put my cheese and veggies, but now it's awkward meat items like roasts, pepperoni, bags of chicken – things that don't stack well inside of a bin.
On the door: BUTTER!  And the insane amount of M&Ms that I have.  Yes, I have Easter M&Ms.  From last Easter!
So what's it look like?
Here's an updated picture of the final result.  And a picture of the before and after.  Maybe not as dramatic as some freezer make overs, but it's fun to see!  At least for me to see!
How are you doing on your goals this month?
Jayme is a wife to 1 and a mother to two little boys and a third boy due in April 2015. She coupons, but isn't super extreme about it. She price matches and loves it! While she likes to cook, she's in the stage of life where simple is usually better! She never knows how many hands she'll have free at dinner time! You can find her at No Regrets Living.