It's money saving time in Omaha!  Thank you to the Super Bowl for inspiring Super sales!  Make sure you check out Nicole's list of what's on sale this week and get some things added to your stockpile.  Using items on sale this week, here are some menu suggestions.  (Oh, yeah….want a monthly meal plan?  Try this one!)
Main Dishes  
Baked Italian Sausage & Peppers – With peppers on sale, this is a good time to make this dish – especially if you have Italian Sausage links in your freezer, like I do! I serve it over spaghetti noodles, but you can also put them in a hoagie bun to make a sandwich!
Egg Salad – I don't often think of making egg salad.  And I don't think of it as a dinner food, but why not? Eggs are at a great price at No Frills & Bag N Save. If Egg salad sandwiches don't sound enticing for dinner, then consider this a lunch suggestion.
Cheeseburgers – I confess that I'm horrible at shaping my own hamburger patties.  I've tried several methods and have just decided to give up the battle.  Which is great for this week that Bakers has pre-formed hamburger patties on sale!  Using my griddle makes cheeseburgers in the winter super easy!
Chicken Tortilla Bake – this looks like a simpler, casserole-type version of my favorite Chicken Enchiladas.   Certainly worth a try if you're looking to save a few steps of rolling the tortillas into enchiladas.
Chili Dogs – make your own chili!  Buy it in a can (a couple of different places have it on sale this week).  Top a hot dog with that chili and you have another delicious and easy meal!
This dessert is as easy as it comes.  And it's as inexpensive as they come.  It starts with a cake mix, add some Jell-o and top with Cool Whip!  And since you serve it refrigerated, there's no worries about timing it just right to serve it warm.  Use any color & flavor Jell-o you want.  Say red or green at Christmas time. Or red or blue for the 4th of July.  Or just plain blue so you can root for both the Patriots and the Seahawks in the Super Bowl this weekend!
If you want to get fancy:
A 2-layer cake is perfect for doing 2 different colors.  Just make 2 batches of the Jell-o and use ½ of the Jell-o on each layer.
Top with berries in the same flavor of Jell-o that you used: strawberries and blueberries are great!  (Although they might turn your Cool Whip into a different color.)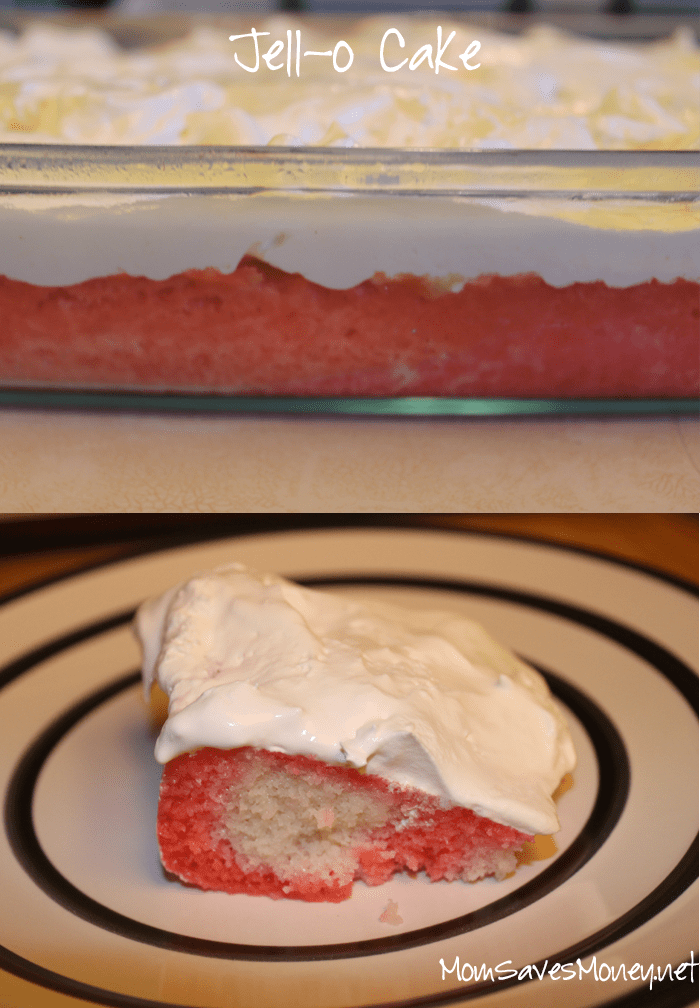 Jell-o Cake
Ingredients
1

pkg. white cake mix + ingredients for that cake, according to the back of the box

1

cup

boiling water

1

small package Jell-o (any flavor)

1

tub (8 oz.) Cool Whip Whipped Topping, thawed (for easy spreading)
Instructions
Prepare and bake cake according to directions. You can do a 9x13 pan or even a 2-layer cake. Both work great here.

Add boiling water to the Jell-o. Stir until dissolved.

Poke cake with a fork to make lots of little holes.

Pour Jell-o onto the cake.

Refrigerate. When cool, frost with Cool Whip. Keep refrigerated and serve cold.
Jayme is a wife to 1 and a mother to two little boys and a third boy due in April 2015. She coupons, but isn't super extreme about it. She price matches and loves it! While she likes to cook, she's in the stage of life where simple is usually better! She never knows how many hands she'll have free at dinner time! You can find her at No Regrets Living.