Labor day is coming up! For many, that means, cook outs, picnics and a day off work!  For us, that means grilling steak while my father-in-law helps us install a new storm door.  I hope you're doing better than I am!  Looking at this week's sales, here are some menu suggestions for you.
Main Dishes 
I really like Italian food.  I like it the first time I serve it, but what makes it awesome is that the leftovers are usually wonderful too!  This recipe is no exception.  It takes 5 minutes to put together, then an hour to bake.  Lovely!
If you were making Sausage & Peppers sandwiches, I wouldn't cut the sausages very small.  Serving it over pasta?  Make 'em smaller.  Feeding a crowd?  This dish easily multiplies.  And if you wanted to minimize the meat, just add more veggies.  For me, I do at least 3 bell peppers and I'd even be content with going down to ½ pound of sausage and I'd still think of it as very filling.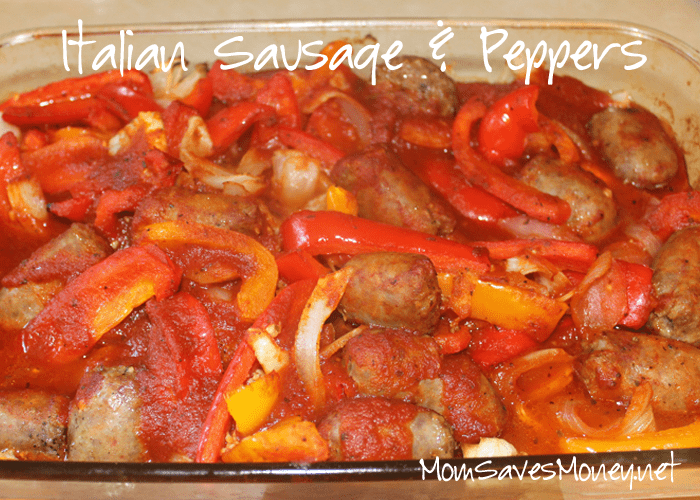 Italian Sausage & Peppers
Ingredients
2-3

large bell peppers (any color you want)

1

large sweet onion

1

sp

garlic , minced

1/2

tsp

oregano

salt , pepper to taste

1

lbs

Italian sausage

1-2

tablespoons

olive oil

2-3

cups

of your favorite spaghetti sauce

1

lb

of pasta or hoagie buns
Instructions
Preheat oven to 375.

Slice peppers and onions into strips (like fajita style).

In a 9×13 pan, mix peppers, onions, garlic, olive oil, salt, pepper and oregano together.

Cut sausage links into pieces. I do bigger than bite size, but if you did smaller, it would shorten your baking time. It depends on how you're going to serve it.

Put sausages onto of the veggies.

Bake for about 40 minutes until vegetables are soft.

Add in the spaghetti sauce and stir it into the sausage, peppers and onions.

Bake for another 15 minutes. Make sure the sausages are done before serving.

Boil your pasta if you're going to serve it over spaghetti. Or prepare your hoagie buns if you're making sandwiche.
Jayme is a wife to 1 and, so far, a mother to two little boys. She coupons, but isn't super extreme about it. She price matches and loves it! While she likes to cook, she's in the stage of life where simple is usually better! She never knows how many hands she'll have free at dinner time! You can find her at No Regrets Living.