I'm in a cooking funk.  It's not that I don't have a whole arsenal of recipes at my disposal.  (Because, clearly, I do.)  It's not that I don't have the ingredients on hand.  (Because, well, I have a healthy stockpile of essentials.)  It's just that I don't feel like cooking.  So…we've been eating out a lot.  Too much, really.  Life has been semi-busy lately and I've been using that as an excuse to go get fast food.  Great for the grocery budget, but far worse for our Dining Out budget!  I'm committing to getting back on track this week – you can too!  Use Nicole's list of weekly sales and maybe some of these ideas will inspire you.
Main Dishes  
Vegetable Beef Soup – I have a recipe with similar ingredients, but this looks awesome!  Maybe it's her pictures.  Maybe it's the fact that I'm in a food rut.  Maybe it's because the wind was like 100 miles per hour yesterday, but I want to make this!!!  I will make this! Will you?
French Bread Pizza – Lots of pizza ingredients on sale this week.  Buy some day old French Bread and have yourself a quick meal.
Bow Tie Fiesta Pasta – A great use of ground beef, green peppers and pasta – all on sale this week!
Buffalo Chicken Drumsticks – I like to think of these as "really big chicken wings".  So easy.  So tasty.  So on sale this week!
Creamy Tuna & Shells With Spinach – I admitted last week that we weren't big seafood fans in our house.  But it's Lent, so that's the perfect time to try a new tuna recipe.  This one from Martha Stewart looks promising!
This is similar to French Bread Pizza, but makes for a fun dinner experience.  Let everyone in your family (or maybe kids for a birthday party?) make their own pizzas!  A couple of months ago, I had my nephew and nieces over for dinner and we each made our own little pizza.  To keep it simple, I just used hamburger buns.  You can also use English muffins or tortillas.  If you're really adventurous, make your own dough.
I just set out the ingredients and let each kid make their own.  One tip: a healthy 8-year-old can easily eat 2-3 "halves" of a bun made into a pizza!  Same with husbands!
This also makes for a super quick lunch if you have some of the toppings on hand. I usually have ground beef, pepperoni and buns in the freezer and cheese in the fridge, making it really easy to pull off!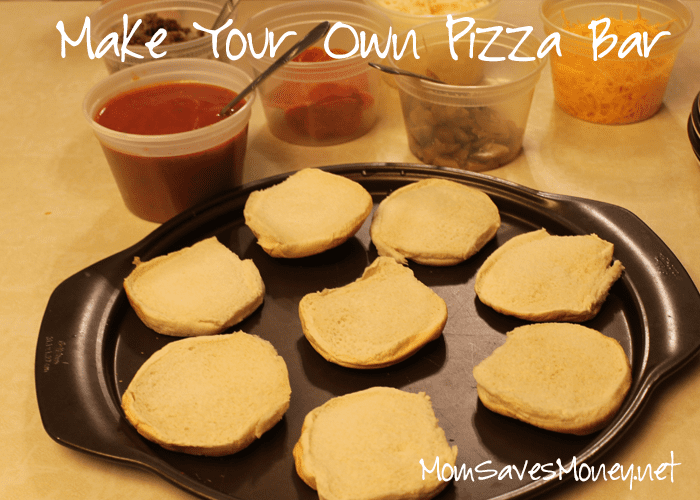 Make Your Own Pizzas
Ingredients
Hamburger meat, browned and crumbled (optional)

Pepperoni (optional)

Mushrooms (optional)

Green peppers (optional)

Cheese (whatever kind you like)

Pizza Sauce

Hamburger buns, tortillas or English muffins
Instructions
Preheat oven to 350º F.

Let each kid/person top their "pizza dough" with pizza sauce and whatever toppings they desire.

Put onto greased pizza pans or cookie sheets. I made sure I remembered the order that they put them on and which one was first, just to eliminate the "she got my pizza!" chaos that could've ensued.

Bake in oven for 10-15 minutes until heated through and cheese is brown.

Serve to hungry people!
Jayme is a wife to 1 and a mother to two little boys and a third boy due in April 2015. She coupons, but isn't super extreme about it. She price matches and loves it! While she likes to cook, she's in the stage of life where simple is usually better! She never knows how many hands she'll have free at dinner time! You can find her at No Regrets Living.