This has been a rough week around our house.  Tuesday, I started getting a headache that just would not go away – no matter what I took for it.  On Wednesday, the really bad neck pain started.  It got so bad that I went to see the doctor on Thursday, who gave me a shot of something and then a prescription.  That didn't seem to do much.  Friday, she called me in a different prescription, which seems to be making it a little better.  At least I can get out of bed.
I don't know how your family works, but we're learning quickly that when mama ain't well, things don't function as smoothly.  Just because I don't feel like eating, doesn't mean that the rest of my family doesn't!  My husband did great though, taking care of a 2-year-old and an 8-month-old.  But it also meant that any menu plan went out the window!  Instead, we did the fast food thing twice and ate a couple of meals that I had in the freezer.  Glad I had those freezer meals.  Glad we had extra entertainment money too!
As I continue to get rid of his headache and neck pain, my menu this week is going to rely heavily on stockpile items and leftovers.  And probably lots that my husband will grill!  No need to complicate things.
Take a look at what's on sale this week and make a great menu!
Main Dishes
Frito Pie – We used to call these Walking Tacos when we'd get them at the State Fair.  But since I have taco meat in the freezer, this is a good week!  Check out Pioneer Woman's recipe here.  Or this Frito pie casserole style.
Brautwurst (or Italian Sausage) –  You can grill them, but you can also try this method of broiling them in the oven. It works super well!
Pulled Pork – I just posted this one a couple of weeks ago and it's still one of my favorites!  Aldi's has the pork butt on sale that would be wonderful in this!
Quesadillas – This is also a simple meal.  Just put chicken and salsa between tortillas and bake!  There are lots of fancy versions out there, but I like simple.
Spicy Chicken Rigatoni – I LOVE, LOVE this recipe.  It's a little bit of red sauce.  A little bit of Alfredo sauce.  Toss in some rigatoni noodles and some cooked chicken and you're done!
This isn't really a recipe per se…but more of a reminder that you can think outside of the box when it comes to pizza.  It doesn't always have to be on a pizza crust.  It can be on English muffins or bagels or hamburger buns or even French Bread!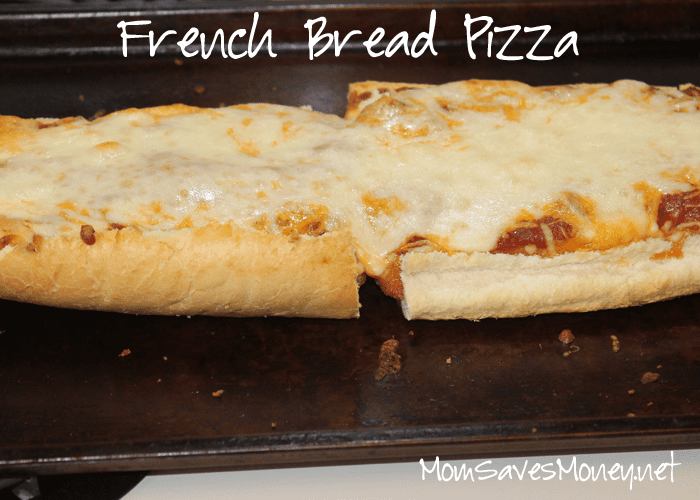 French Bread Pizza
Ingredients
French Bread

Pizza stuff – pizza or spaghetti sauce, cooked ground beef, pepperoni, mushrooms, green peppers, etc.

Cheese
Instructions
Slice the French bread in ½ length wise so that it looks like a boat. I like to hollow out the middle a little bit to allow the ingredients to sit "inside" the bread.

Mix together your pizza ingredients.

Dump the pizza stuff into the bread.

Cover with cheese.

Bake at 350 until crispy and hot. Usually about 20-25 minutes.

Slice and enjoy!
Jayme is a wife to 1 and, so far, a mother to two little boys. She coupons, but isn't super extreme about it. She price matches and loves it! While she likes to cook, she's in the stage of life where simple is usually better! She never knows how many hands she'll have free at dinner time! You can find her at No Regrets Living.