Lots of good sales this week – you know, in case you like food.  Hello cheese at Super Saver!  And butter at Bakers!  And lots of produce at different places too!  Make sure you use Nicole's list of weekly sales to know what to stock up on.
Main Dishes  
BLTs – I don't have a recipe for this per se, but with bacon on sale, this would be a great week to make some.  Put some bacon, some lettuce, some tomato slices on pieces of buttered toast and you got a sandwich!
Shredded Beef Enchiladas – Pick up a roast, stick it in your slow cooker and have yourself a little Mexican fiesta!  I've made a similar recipe using stew meat, but my recipe also uses canned enchilada sauce.
Ham & Cheese Crescent Bake – I'm intrigued by this recipe.  3 ingredients?  Is it really that easy?  Looks like it!  I love ham & cheese and crescent rolls are on sale, so this is worth a try!
Egg Salad Sandwich – Are you doing the "No meat on Fridays" thing for a while?  Try Egg Salad!  It's a nice change from fish and meatless pasta.
Italian Sausage Soup – Fareway has ground Italian sausage on sale – I love this recipe for a soup using that sausage (cheese tortellini optional, but wonderful!)
Want another good use for lots of ingredients on sale this week?  Breakfast sausage?  Cheese?  Eggs?  Crescent Rolls?  This recipe uses it all!  Technically, it's a breakfast casserole, but I'd serve it at night too.  Or it'd be great for a brunch like a baby or wedding shower.  It would make a great holiday morning breakfast – since it's yummy, but still really easy!
I only made a ½ batch (hence the smaller pan in the picture), but it keeps so well that next time I'll make a full batch and we'll have it a few times.  It's yummy re-heated the next day!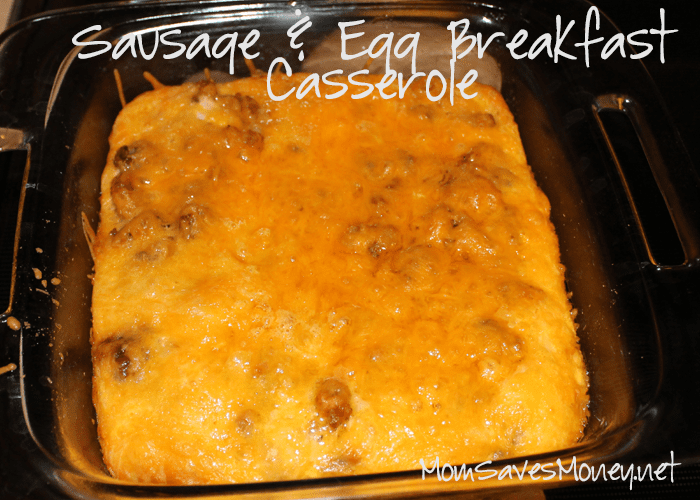 Sausage Breakfast Casserole
Ingredients
1

pkg crescent rolls

1

lb

mild sausage, browned and drained

6

eggs, beaten

2

cups

shredded cheddar cheese

1/2

cup

salsa (optional)
Instructions
Preheat oven to 350.

Spray a 9x13 pan with cooking spray and roll out crescent rolls on the bottom of the pan.

Brown & drain your sausage. If using salsa (and I would!), mix the salsa in with the sausage. Pour on top of the rolls.

Top with the beaten eggs.

Top with the cheese.

Bake for 30 minutes until cheese is brown.
Jayme is a wife to 1 and a mother to two little boys and a third boy due in April 2015. She coupons, but isn't super extreme about it. She price matches and loves it! While she likes to cook, she's in the stage of life where simple is usually better! She never knows how many hands she'll have free at dinner time! You can find her at No Regrets Living.