Looking for some recipe suggestions? Wondering what you can do with the things that are on sale this week? I got some suggestions for you!
Pick up some oatmeal at Bag N Save or No Frills and make some Oatmeal Butterscotch Cookies! Or if your family likes a hot breakfast, try Money Saving Mom's Freezer-Friendly Baked Oatmeal. I'm not a big banana fan, but I'd pick up a couple just to let them soften to make them into Taste of Home's Banana Bars. And if you get some of the pork chops, Simple Nourished Living has some great marinades that are excellent!
If you're looking for a main dish idea, these Chile Colorado Burritos are an excellent use of tortillas and refried beans. Just add a couple other ingredients, throw it in the crockpot and you're good to go! This is also very freezer friendly!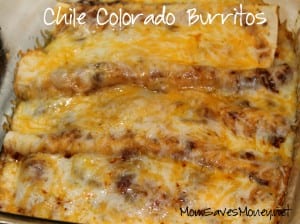 Chile Colorado Burritos
Adapted from Food Pusher
Makes 10 burritos, depending on the size of your tortillas and if you use refried beans.
Ingredients:
2 (ish) pounds stew meat
1 large can mild enchilada sauce (19 oz.) (or about 2.5 cups if you make your own sauce)
2 beef bouillon cubes
1 can refried beans (optional)
10-12 flour tortillas
2 cups of shredded cheddar cheese (or Colby Jack)
Directions:
1. Put beef, bouillon, and enchilada sauce into a crock pot and cook on low for 7-8 hours, or until meat is very tender.
2. When beef is done, heat up refried beans in the microwave.
3. On each tortilla, spoon out some refried beans (if using) – just a few tablespoons or so.
4. Use a slotted spoon to put some of the meat on the tortilla on top of the beans.
5. Roll into a burrito.
6. Stick them in a casserole dish. I find that 1 9×13 pan or 2 9×9 pans work great.
7. Once all the burritos are rolled and in the pans, pour the remaining enchiladas sauce on top.
8. Cover with cheese.
9. When ready to bake, bake at 350 degrees for 15-20 minutes.
10. Enjoy!
I find that it makes about 10 burritos when I use the fajita size tortillas. I like that size because it fits perfectly in my dishes. To make this an even more frugal meal, use more beans in the burritos. The more beans you use, the less meat will fit on the burrito. Less meat used = more burritos! I usually serve with salsa and a side of Mexican rice!
Freezer instructions: Complete steps 1-7 above, except freeze the pan before adding cheese and baking, covering well to protect from freezer burn. On the day you wish to serve, take the pan out of the freezer and leave in the fridge. You'll need to bake them longer (around 30-40 minutes) until the middle gets hot. Add the cheese half way through baking.
Jayme is a wife to 1 and, so far, a mother to two little boys. She coupons, but isn't super extreme about it. She price matches and loves it! While she likes to cook, she's in the stage of life where simple is usually better! She never knows how many hands she'll have free at dinner time! You can find her at No Regrets Living.