It's funny what one person will find intimidating when it comes to menu planning and cooking. Normally, I think I have a pretty good handle on it, but as I start my 6-week maternity leave, I realize that now I'm responsible for lunches too! That's something that my babysitter normally handles. It isn't completely foreign to me as I love to use leftovers for lunches, but it is a change to my normal routine. Make sure you check out Nicole's list of what's on sale this week so that you can make a smart menu plan!
Here are some menu suggestions:
Main Dishes
Italian Sausage & Peppers – Throw some sausage links, onions and bell peppers into a casserole dish. Bake. Add spaghetti sauce. Bake some more. Serve on buns or noodles. It can be that easy!
BBQ Pork Riblets – I haven't made these, but this recipe looks very easy and riblets are at a great price! This might be a good time to practice for a recipe that would also go well for Memorial Day next month.
BLT (Bacon, Lettuce, Tomato) Sandwich – Bacon is on sale this week, so this is a good time to fry some up, stick it on toast and cover it with lettuce and tomato. If you wanna get gourmet, add some deli turkey for a BLTT!
Frito Pie – This is also a simple recipe that pulls together really quickly. With beef on sale, it could be the right week! Check out Pioneer Woman's recipe here. Or this Frito pie casserole style.
Baked Potato Buffet – Another easy one. This site gives you lots of ideas for toppings. I like the idea of chili (that maybe you have from making the Frito Pie above) or ham (that maybe you still have leftover from Easter) with broccoli. Yummy!
Here's a recipe for quiche that can not be easier. Or more versatile. I call it my "Choose Your Own Adventure" quiche because you can choose what goes into it. I've written the ingredients list to be intentionally vague. Want to do a ham & broccoli quiche? Great! Want to do an Italian sausage and green pepper quiche? Awesome! Want to do a chicken and asparagus quiche? Tasty! You can use whatever meats, veggies and cheeses that you want (or that you have on hand)! I did a ham and broccoli quiche earlier this week, using leftover ham from Easter dinner. I used a combination of Swiss and cheddar cheeses and it was fabulous!
On the eggs, meats & veggies, I put a range of sizes. If you're using a standard 9 inch pie pan, go with the lower end. But if you have a bigger 10 inch pie pan, go with the upper end – you want the quiche nice and full!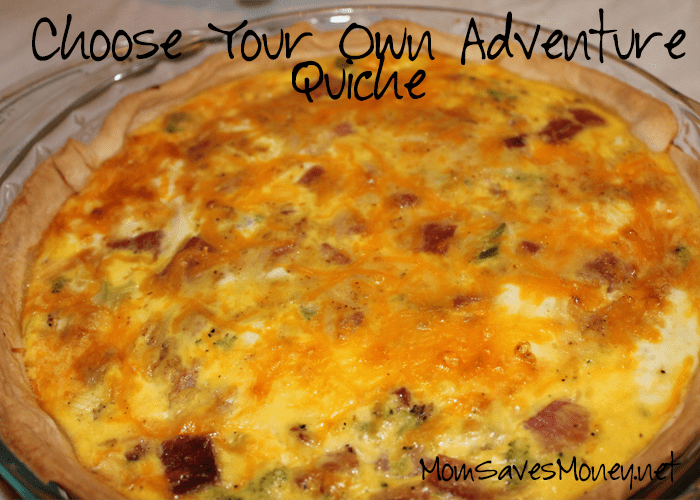 Choose Your Own Adventure Quiche
Ingredients
9-

inch

pie crust

4-5

beaten eggs

1

cup

milk

1/2

tsp

salt

1/4

tsp

pepper

1/2

tsp

mustard (optional – depends on what type of meat you're using – great with ham!)

1

cup

cheese

2-3

cups

of fillings (any combination of veggies or meats)
Instructions
Preheat oven to 350 degrees.

Cook the meat & veggies however you like.

In the pie pan, spread out your pie crust.

Spread a little bit of the cheese on the bottom of the crust.

Put the meat and veggies on top of the cheese.

In a bowl, beat the eggs. Add the milk, salt, pepper, mustard and the rest of the cheese. Mix.

Pour it all on top of the meat and veggies.

Bake for 45 minutes.

Let reset of 10-15 minutes before slicing. This reheats super well too.