It seems like when it comes to breakfast foods, there are two categories: Breakfast-is-ready-already and Breakfast-will-be-ready-in-an-hour-after-I-do-something-with-these-30-ingredients.  But it doesn't have to be that way.  There is a middle ground between ready in 5 minutes and ready in 5 months. When it comes to breakfast:
There

is

a way to have simple and satisfying without sweat and sobbing.
There

is

a way to have tasty and tempting without tussle and torment.
There

is

a way to have flavorful and fun without fuss and fear.
It's possible people! It is possible!  Here are some great breakfast ideas to get you to simple, satisfying, tasty, tempting, flavorful and fun breakfasts!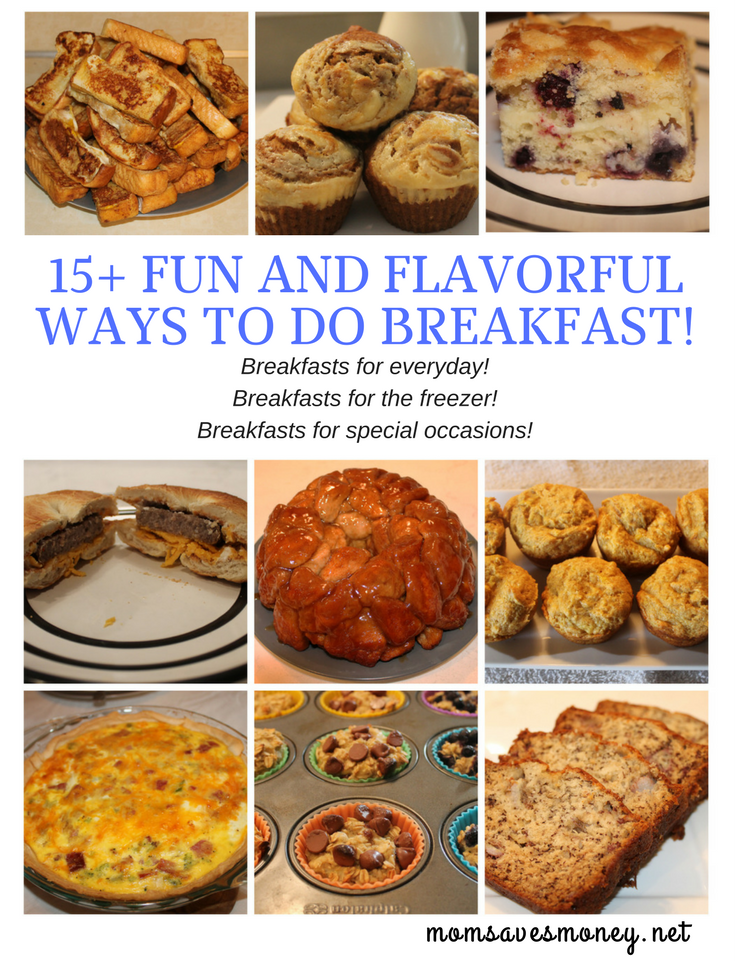 Everyday Greatness
These breakfasts are perfect for everyday.  Sure, they're more complicated than "open cereal box, pour into bowl", but they aren't that complicated.  They'll help you and your family get the day started off right!
Perfect for the freezer
I love, love, love breakfasts that I can pull straight from the freezer.  Even though I'm a stay-at-home mom who could spend all the time in the world on breakfast…well…I'm a stay-at-home mom who has 4 little ones who don't let me spend all the time in the world on breakfast.  Pulling something out of the freezer is perfect!
Special Breakfasts
Be it a holiday.  Or a birthday.  Or the first day of school.  Or the last day of school.  Or the first day of a new job.  Or the last day of an old job.  Or a wedding shower brunch.  Or Christmas.  Or Easter.  Or "Just Because".
Quiche – I was torn on this one.  Should this be an everyday breakfast or a special one?  It really is easy enough for everyday – and incredibly customizable.  It heats up very well, so making 1 quiche is good for several meals. But, at the end of the day, it's a quiche!  And that makes it special.  So I put it in the Special category.  Sitting down with a slice of quiche and a cup of coffee is a

satisfying

way to start the day!
Blueberry Cream Cheese Casserole – This one has fancy written all over it without fussy.  It takes a few more steps than I normally do for breakfast, so I put it in the "Special" category, but it still isn't hard.  It uses everyday ingredients possibly already on hand.  Blueberries and cream cheese are a wonderful and 

flavorful

combination!
Overnight Cinnamon Apple French Toast – I love apples!  In the fall, yes, but any time of the year, they're delicious when they're baked, covered with brown sugar, and mixed with whipping cream.  I gain 5 pounds just by thinking of it.  Which is why it's it the "special" category – this can't be an everyday occurrence for me – way too

tempting

!
Caramel Rolls – If I could perfect any breakfast recipe, it'd be real, honest-to-goodness cinnamon rolls.  I mean, who doesn't love cinnamon rolls?  But it isn't the quickest recipe and I've got other things I gotta master first.  BUT…what if you could take store-bought biscuits and add some pizzaz? You'd end up with this lovely creation.  

Tasty

!
Overnight Monkey Bread – It doesn't get much better than this – this is my "go to" for Christmas morning.  Prep it the night before and pop it in the oven when you wake up.  By the time the Christmas presents are opened, it'll be ready to star in the show.  It's

tempting

enough to compete with all the goodies beneath the tree.
Overnight French Toast Casserole – This is my "impress the breakfast guests" recipe.  Any time we have guests that are eating breakfast with us, this is what I go for.  Again, pull it together the night before and it'll be ready to eating when you are!  Those French are

flavorful

people!
Biscuits & Gravy Casserole – For me, it does not get any better than this.  Almost any time I go out for breakfast, I order biscuits & gravy (assuming it's on the menu, of course).  I love it.  It's just a good ol' country breakfast that this city girl adores.  This is one of my ultimate

temptations

!
Jayme is a wife to 1 and a mother to four little boys. She coupons, price matches and meal plans. While she likes to cook, she's in the stage of life where simple is usually better – she never knows how many hands she'll have free at dinner time! You can find her at No Regrets Living.