Did you know that if you eat too many carrots, you'll look like an oompa loompa?  Okay, that's a lie.  But carrots are wonderful!
They give you fiber.
They might not be orange.  They can be purple, red, white or yellow.
Bugs Bunny loves them and who doesn't want to love what he loves?!
They're wonderful when shredded and made into carrot cake.
But they're also wonderful when they're roasted – which is a great way of making them.  It brings out the natural sweetness of the carrot and is just different enough from normal steamed carrots that it doesn't feel like you're eating a boring vegetable the same way over and over again.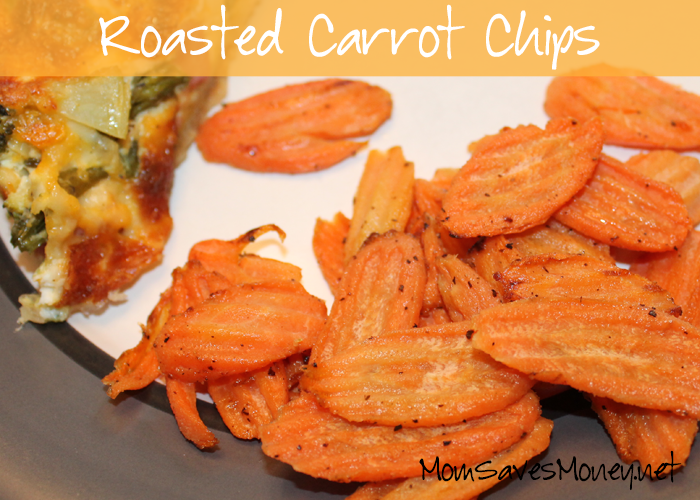 Roasted Carrots
Ingredients
Carrots (of course!) - you can cut carrots into strips, use baby carrots or carrot chips

olive oil

seasonings - I often use garlic powder, thyme, salt & pepper. I also like crushed red pepper if you want some kick!
Instructions
Preheat oven to 400 degrees.

Arrange as many carrots as desired on a cookie sheet.

Sprinkle with olive oil - not too much, you don't want to drown them.

Sprinkle with seasonings and mix it all around on the cookie sheet.

Bake in the oven for about 15 minutes. It'll take a little long if you're using 'thicker' carrots like baby carrots.

Serve!
Want some other easy & healthy side dishes?  Try these!
Jayme is a wife to 1 and a mother to three little boys (soon to be 4 this summer!). She coupons, but isn't super extreme about it. She price matches and loves it! While she likes to cook, she's in the stage of life where simple is usually better! She never knows how many hands she'll have free at dinner time! You can find her at No Regrets Living.