I recently made these roasted potato wedges and they were great!  It was a good way to use up the couple of potatoes that I had left from a big bag and it was a nice alternative to baked potatoes. 
How to Season the Potato Wedges
This recipe is really versatile and you can season the potato wedges to your tastes. If your family likes spicy things, use chili powder or cumin.  If you want an Italian flare, try a little basil, garlic powder, and oregano. I mostly used garlic powder and seasoned salt.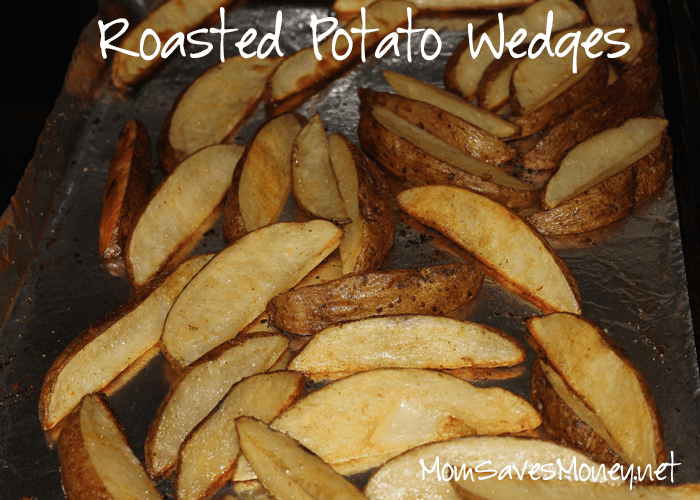 Tips for Cutting Perfect Potato Wedges
There's no exact science to cutting potato wedges, however the more evenly the potatoes are sliced, the better they will cook. I use medium to large Russet potatoes and cut each potato into 8 wedges. I start by cutting the potato in 1/2 lengthwise, then in 1/2 again. Then in 1/2 again. They will be in strips, like fajita vegetables. 
How to Make Them Crispier
Once the potatoes are cut, remove as much extra water as possible using a paper towel or hand towel. Then coat in olive oil and season with your favorite seasonings. Make sure to flip the potatoes after 15 minutes in the oven to ensure both sides get crispy and cooked through. 
Servings Ideas for Roasted Potato Wedges
Try these potato wedges with a few of our favorite sandwich recipes:
Baked Potato Wedges
Easy roasted potato wedges seasoned to your tastes
Ingredients
4

med-large russet potatoes

scrubbed and cut into wedges

2

T

olive oil

spices - seasoned salt, paprika, garlic powder, cumin, chili powder, etc. (whatever you like)
Instructions
Preheat oven to 425°F. Line a cookie sheet with foil. This makes for easy clean up, but isn't required.

Cut each potato into 8 wedges by cutting in 1/2 length wise, then in 1/2 again. Then in 1/2 again. They'll be "strips" like fajita veggies. Dry them off as much as possible.

Place your wedges on the cookie sheet and sprinkle with the olive oil. Mix with hands.

Add spices on top. Mix with hands.

Roast in the oven for 15 minutes, then shake or stir or flip them. Roast for another 15-20 minutes. You want them tender, but not falling apart.
Jayme is a wife to 1 and a mother to four little boys. She tries to coupon, builds a smart stockpile, and always meal plans. While she likes to cook, she's in the stage of life where simple is usually better – she never knows how many hands she'll have free at dinner time! You can find her on Instagram.