Disclosure: This post was sponsored by Y-USA as part of an Influencer Activation for Influence Central.
Food insecurity is in every community across the nation, ranging from 4% to 33% of people who don't know where they will find their next meal. Schools provide meals to these children throughout the school year, but what happens over school break? Finding money to cover three square meals a day can prove challenging for families already struggling.
The YMCA has a summer food challenge to help raise awareness of food insecurity and show the difficulties many communities face. To participate in the Food Desert Challenge simply feed your family for three days for only $5 per person per day. For our family of five, that's $25 a day. Now, for those of you that are serious couponers, like myself, that may already be your grocery budget. I can easily feed my family for that amount, but that also means no eating out or coffee stops (those expenses add up fast).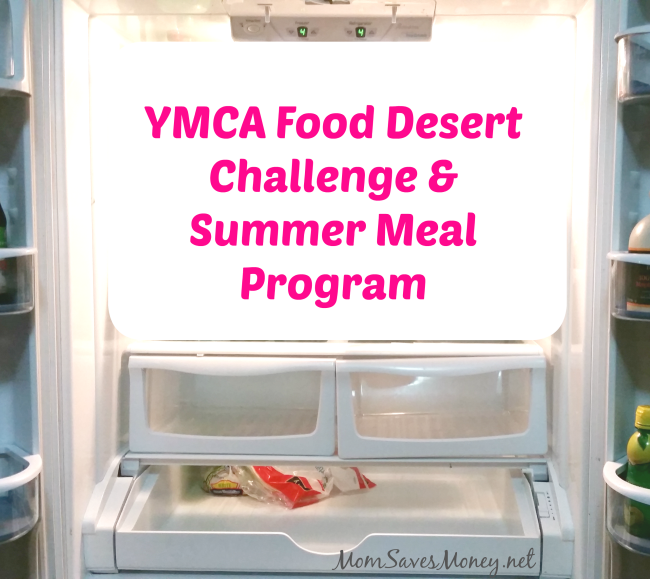 I took the Y's Food Desert Challenge on head-first. I was able to provide three square meals every day for under $25 a day for our family, and there were only a few challenges for us.
Here was our basic meal plan for these three days:
Breakfast options – cold cereal & milk, oatmeal or eggs
Lunches – Sandwiches, watermelon or grapes, carrot sticks & milk or leftovers (Note – We did take advantage of the free kid's lunch program locally two of these three days for my kids)
Snacks – Fresh fruit, granola bars or yogurt
Dinner meal plan for this challenge
– Ham & Cheese crescent bake with only 3 ingredients and steamed broccoli (bonus – we were able to use the leftover ham & cheese for lunches)

– Chicken & Rice in slow cooker (cubed chicken, rice, cream of mushroom & onion soup mix) with steamed zucchini and watermelon slices
– Picnic dinner with sandwiches, grapes, chips and fresh veggies (I was able to find clearance produce and grapes were on sale)
The one challenge we faced was the night we visited my daughter at Girl Scout camp for family night. The cost of each additional meal was $5. That was the day's entire budget for food and I knew we wouldn't be able to do that during this challenge. My daughter enjoyed the meal since it was included in the camp and the rest of the family enjoyed a simple picnic basket dinner. Our picnic food cost less than $8 total, so we were able to stay on budget that day. It's amazing how even a $7 difference in the cost of a meal impacts the overall day's budget during this challenge.  I also skipped any coffee stops, since that would blow the budget quickly.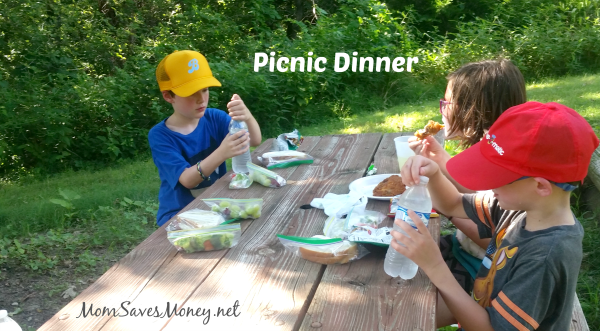 The total cost of this three day meal plan was below the $75 allotted for our family, but I was very careful and intentional in my meal plan and shopping trip. I challenge you to also participate in the Food Desert Challenge and would love to hear about your results.

Here's How to Feed Your Family for Less & Tips for Completing the Y's Food Desert Challenge:
   1. Meal Plan – Meal planning is absolutely essential to save money on groceries. If you grocery shop without a plan, you end up buying food that may not complete a meal or waste produce. Meal planning only takes a few minutes a week and you can even 'cheat' with our monthly meal plan
   2. Cook from Scratch – Many recipes are much cheaper if you cook it from scratch versus buying prepackaged versions.
   3. Reduce Portion Sizes – Start with smaller portions (or even smaller plates) and give everyone time to digest their first plate of food. If you have a picky eater, like my 5-year old, I only put one or two pieces of the veggie on his plate. I know I can convince him to eat that small amount, but if I gave him more, it would probably go to waste and end up in the trash.
   4. Shop the Sales – When you buy items at full price you are paying a premium. To save money on your groceries, meal plan around the sale items. If chicken is on sale one week, incorporate that into your meal plan. If canned beans are on sale, make chili.
   5. Buy In-Season Produce – Produce is one of the largest expenses in our grocery budget. I remain frugal, but healthy, by selecting on sale and in-season produce to feed my family. I also shop at stores that markdown close dated produce by up to 50% to save even more. In summer, I visit Farmer's Markets and watch the grocery ads for sales. In winter, I rely mostly on frozen veggies to make our budget stretch further.
   6. Use the YMCA Summer Food Program – If you or someone you know is struggling with food insecurity, please utilize the YMCA's free summer food program. This year, thanks to the support from the Walmart Foundation, the Y will provide 5 million meals and snacks to 250,000 kids at 1,500 locations. This program is available to all kids and teens up to 18 years of age. Please spread the word if you know someone who could benefit from this amazing program.
I hope these tips help you save on your grocery budget and that you consider completing the YMCA Food Desert Challenge. You can use the hashtag #FoodDesertChallenge on social media and also check out these additional resources:
Y-USA Website: www.ymca.net
Y-USA Summer Food Program Website: www.theyfeedskids.org
Y-USA Facebook Page: www.facebook.com/YMCA
Y-USA Twitter: twitter.com/ymca
Y-USA Instagram: www.instagram.com/ymca
Did you know the Y-USA had a summer food program? Are you planning to complete the YMCA Food Desert Challenge?