Disclosure: Contains affiliate link
Fall is my favorite time of year with leaves changing colors, pumpkin everything and apple picking season! This time of year, apples are falling from the trees and on sale at the grocery stores. If you are really lucky, you or your neighbor may even have an apple tree in the back yard.
If you want to stock up on apples at this incredible price, it's very easy to dehydrate them, so you can enjoy delicious apple rings all winter.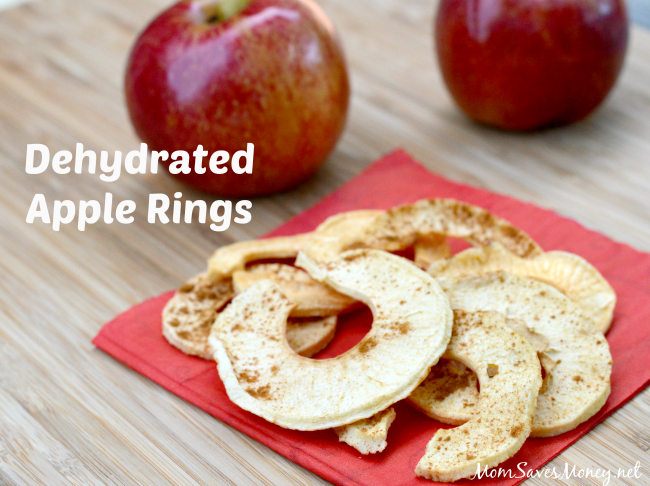 When you dehydrate apples, it really doesn't matter what variety they are. Just keep in mind, if the apple is more tart, like Jonathon apples, then the dehydrated apples will also be more tart. Sweet apples, like Red Delicious or Honeycrisp, will be sweeter when dehydrated.
Whenever you process apples, I highly recommend an apple peeler, corer and slicer tool, like this one. They are very easy to use and with a few cranks of the handle your apples are perfectly peeled, sliced and cored and ready for dehydration, pies or even homemade applesauce. Each apple takes less than 30 seconds to process, so it's definitely worth it if you are preparing several pounds of apples at one time. Also, the slices are the same width and size, which is essential for even dehydration with your fruit.
Just watch this video to see how incredibly easy it is to process the apples for dehydration: (On a side note, this is my first ever edited video and I'm super excited to share.)
Once cored, peeled and sliced, I simply cut along one side of the apple to create the individual rings.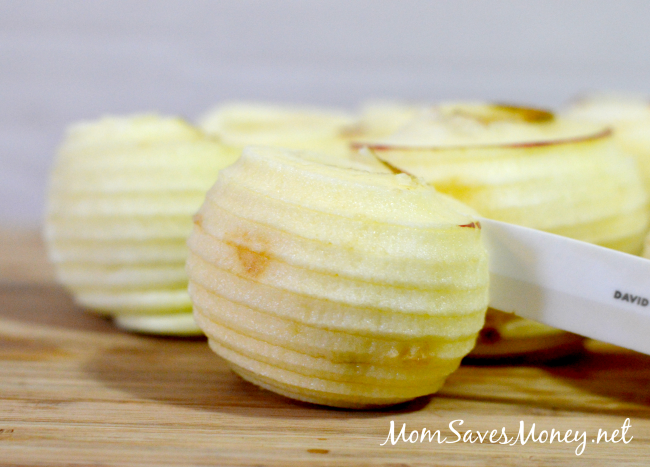 You can dip your apples in lemon juice/water mixture before dehydration to retain the lighter color to the apples. If you skip this step, your apples will be a light brown in color, but it does not affect the flavor. I personally skip this step for simplicity.
You can also add a seasoning of choice to your apples for a little added flavor. My personal favorite is cinnamon, but nutmeg or allspice would be excellent as well.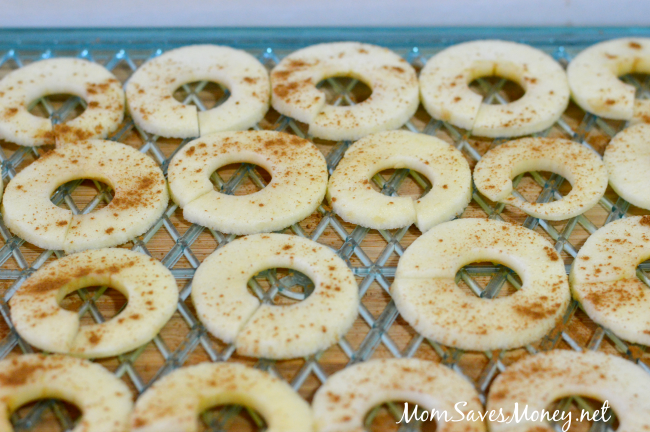 I use this 10-tray dehydrator that circulates air flow through the unit, so no need to rotate trays. If you dehydrate regularly, it's definitely worth the investment. I was able to easily fit 6 pounds of apples in my dehydrator.
Dehydrated Apple Rings
Ingredients:
Apples of Choice
Cinnamon (optional)
1 Cup Lemon Juice & 1 Quart Water Mixture (optional)
Directions:
1. Peel, core and slice your apples in even rings.
2. Optional – Soak in 1 cup lemon juice, 1 quart water mixture for no more than 10 minutes to retain color. Drain liquid from fruit.
3. Place on dehydrating trays, leaving some space between the rings for air circulation.
4. Optional – sprinkle with cinnamon or other spices for added flavor.
4. Dehydrate at 140 degrees for 18-24 hours. Rotate trays if necessary per instructions on your dehydrator.
5. Remove when apples are fully dehydrated. The apple rings should feel leathery and pliable, but not brittle. If in doubt, leave them in longer. It is better to have slighter overdone apple versus apples that still retain too much moisture and could mold.
6. Let cool and store in airtight container for up to three months.
That's it. Super easy to make dehydrated apple rings. I was able to process six pounds of apples in only 30 minutes and my family loves dried fruit for a quick snack or on-the-go.
Have you ever dehydrated apples? What's your favorite apple recipe?