Did you know?
Today potatoes are grown in all 50 states of the USA and in about 125 countries throughout the world.
The potato is about 80% water and 20% solids.
An 8 ounce baked or boiled potato has only about 100 calories.
The average American eats about 124 pounds of potatoes per year while Germans eat about twice as much.
French fries aren't french.  Thomas Jefferson gets the credit for introducing "french fries" to America when he served them at a White House dinner.
In October 1995, the potato became the first vegetable to be grown in space. NASA and the University of Wisconsin, Madison, created the technology with the goal of feeding astronauts on long space voyages, and eventually, feeding future space colonies.
It's impossible to be unhappy while eating a potato.
Okay, I might have made that last one up!  But the rest of them are true – at least according to the Idaho Potato Museum.
I do like potatoes and, in general, I'm happy when I'm eating one.  Whether that's in a sausage & potato soup, as potato skins, in a hash, or just as a perfect baked potato, I just like them.  I really like them in a soup — a baked potato soup!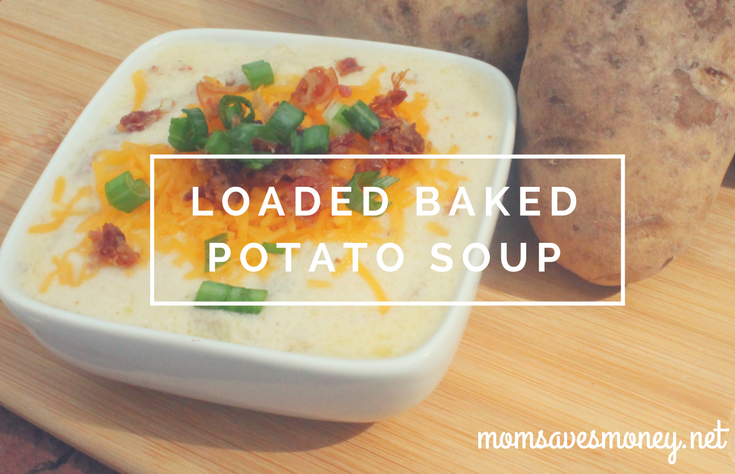 Now this isn't exactly a low calorie recipe – look at all that milk!  And cheese!  And sour cream!  And bacon!  But those same ingredients that make it a little fuller figured in the calorie department, also make it delicious.  I mean, that milk!  And cheese!  And sour cream!  And bacon!  YUMMY!  It's perfect when I serve it along side a panini!
This recipe is from a wonderful woman in my previous church – I've only modified it a little.  (Okay, I include more cheese!  That's it.)  The ingredients are simple and straight forward…nothing strange or unique about it.  But if you don't have some of them on hand, that might be okay.
Don't have (or want to take the time) a baked potato?  Use frozen hashbrowns instead.  Or do what I do and bake the potatoes the night before and let cool in the fridge the next day.
Don't have any cooked bacon?  Use bacon bits or just skip it.  The bacon makes a wonderful addition to the soup, but it's still excellent without it!
No green onions?  That's okay!  I usually leave the green onions out – simply because I don't often have them.  Make it your way!
Loaded Baked Potato Soup
Ingredients
4

large baked potatoes (about 4.5 - 5 cups worth), baked, peeled and diced

2/3

cup

butter

1/3

cup

flour

6

cups

milk

salt & pepper , to taste

4

green onions, chopped & divided (optional - lovely with or without them)

12

slices

of bacon, cooked, crumbled and divided (or about 1 1/2 'cans' of bacon pieces)

1 1/2

cups

cheddar cheese, divided

8

ounces

sour cream
Instructions
If not done already, bake the potatoes, cool them, then peel them and dice them. Not super small, but not very big either.

In a sauce pan over low heat, melt butter and then add flour. Stir until smooth. Cook 1 minute stirring constantly.

Add milk slowly. Cook over medium heat, stirring often until thick and bubbly.

Add potatoes, salt & pepper, 2 tablespoons of the green onions, 1/2 of the bacon and 1 cup of cheddar cheese. Cook until heated through.

Stir in sour cream. Add in more milk if too thick.

Serve with cheese, bacon pieces and green onions on top.
Jayme is a wife to 1 and a mother to four little boys. She coupons, but isn't super extreme about it. She price matches and loves it! While she likes to cook, she's in the stage of life where simple is usually better! She never knows how many hands she'll have free at dinner time! You can find her at No Regrets Living.