I feel very lucky that my kids aren't picky eaters.  Certainly, they have their preferences – they all love apples, but don't care for pears.  And they'll always choose watermelon over cauliflower.  But, really, they eat almost anything that I put in front of them.  They'll eat all kinds of fruits.  And meats.  And vegetables.  I'm lucky.  I know this.
One of the things that they love is rice.  (Although, it's messy when they eat it. Toddlers and rice aren't exactly the neatest combination, you know!)  So one of the quick, go-to meals that I've come up with is this Teriyaki Chicken Fried Rice.  It's practically a complete meal as it has a starch, a protein and lots of vegetables in it.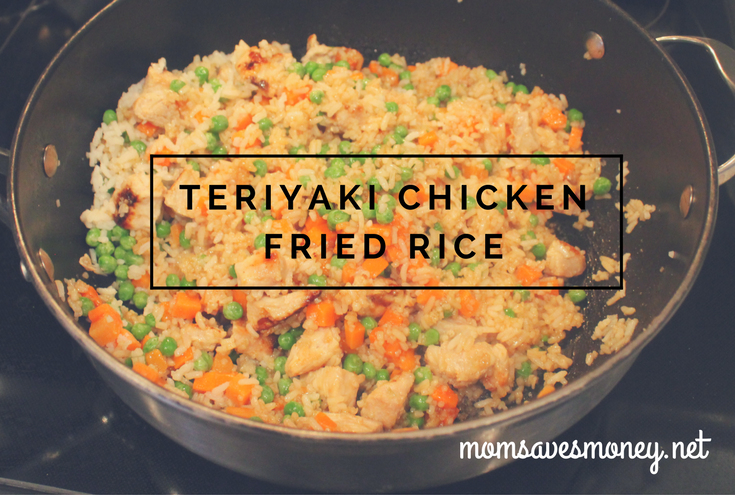 And it's easy.  When it's on my menu plan, I'll make the rice the night before or maybe that morning.  And that's critical – to have cold rice.  If the rice isn't cold, it doesn't "fry" very well.  But when it's cold, it stands up to the heat super well.  Cooking the rice ahead of time also makes the meal come together very quickly.  Dice some chicken.  Whisk some eggs.  Grab a bag of frozen veggies.  Get the teriyaki sauce.  Combine it all together and you have a meal.
I use my homemade teriyaki sauce, but you don't have to.  You should though because it's WONDERFUL!  Since I'll make a big batch and keep smaller portions in containers in the freezer, it's easy to grab what I need and serve it on up.  But if you want to use bottled teriyaki sauce, go for it.  Easy!  If you want to use soy sauce instead, go for it.  Easy!
A tip to make clean up easier: Serve it in bowls with spoons – especially if you have toddlers.  It's hard enough for them to get the rice on their spoon and the spoon in their mouth.  The ability to scoop up the rice is much easier that way.  At least that's what I've learned!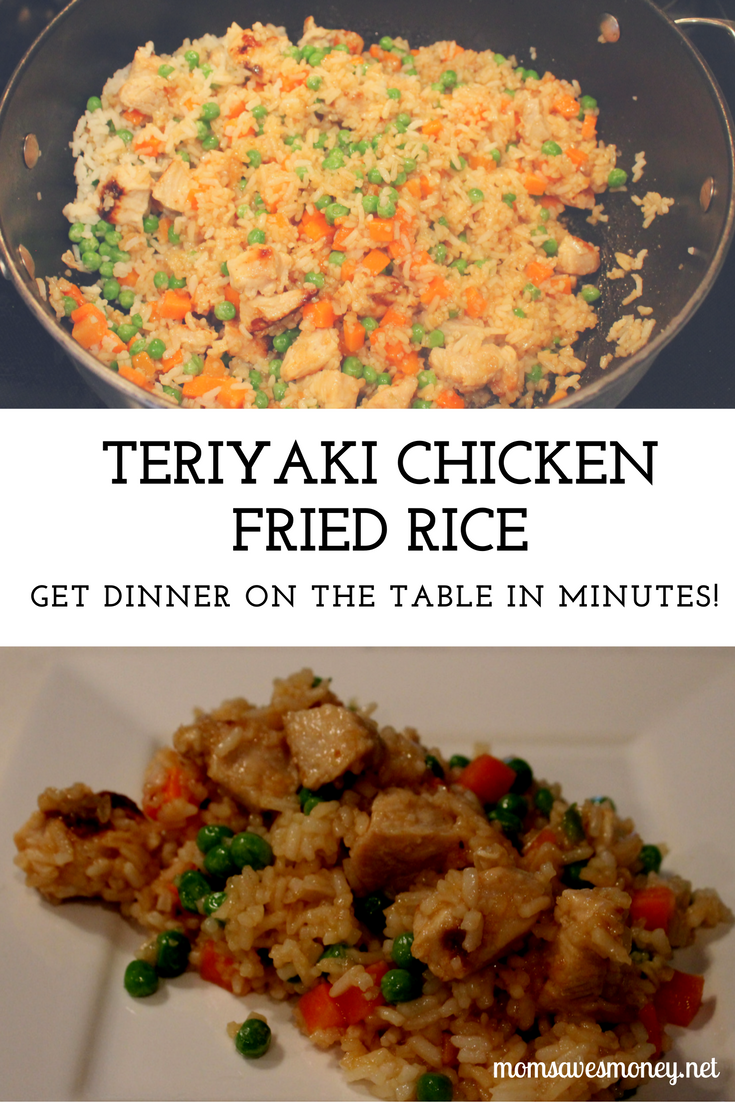 Teriyaki Chicken Fried Rice
Ingredients
Chicken Fried Rice:
1

pound

chicken, diced into bite-sized pieces

Butter

2-4

eggs, whisked (optional, I often leave out)

16

ounces

frozen veggie mix (I use carrots, corn, peas, and green beans mix)

1

small white onion, diced

4

cups

rice, cooked and cold

1/3 - 1/2

cup

teriyaki sauce (homemade recipe below)

2

green onions, thinly sliced (optional)
Teriyaki Sauce:
1/2

tablespoon

cornstarch

1/2

tablespoon

cold water

1/4

cup

white sugar

1/4

cup

soy sauce

1/8

cup

rice vinegar

1

clove

garlic

, minced (about 1/2 teaspoon)

black pepper to taste
Instructions
Chicken Fried Rice Instructions:
Cook the chicken: If not already done, cook the chicken in a large skillet. Remove and save for later.

Scramble the eggs: Melt a little bit of butter in the same skillet. Add the whisked eggs and scramble until done. Remove and save for later.

Cook veggies: Melt a tablespoon of butter in the same skillet. Add in the veggies. Cook until veggies are mostly soft. Just a few minutes.

Fry the rice: In the skillet, add 1-2 tablespoons butter. Add in the rice and teriyaki sauce. Mix and cook for 3-4 minutes until rice is hot.

Combine it all together: Add back in the eggs and chicken. Stir. Serve.
Teriyaki Sauce Instructions:
In a small saucepan, whisk together the cornstarch and cold water until smooth and no lumps. Then, whisk in the sugar, soy sauce, vinegar, garlic, and ground black pepper.

Bring to a boil over medium heat then reduce it and simmer until thickens.

To freeze it, wait until room temperature (or cooled in frig), then place in storage container.
Jayme is a wife to 1 and a mother to four little boys. She coupons, price matches and meal plans. While she likes to cook, she's in the stage of life where simple is usually better – she never knows how many hands she'll have free at dinner time! You can find her at No Regrets Living.