I love appetizers! They are easy to make and taste delicious. They are great for parties, potlucks and sharing. Sometimes I just make two or three appetizers for dinner, because I can.
From pinwheels to meatballs and dips, this is an amazing list of 20 of my favorite easy-to-make and yummy appetizers.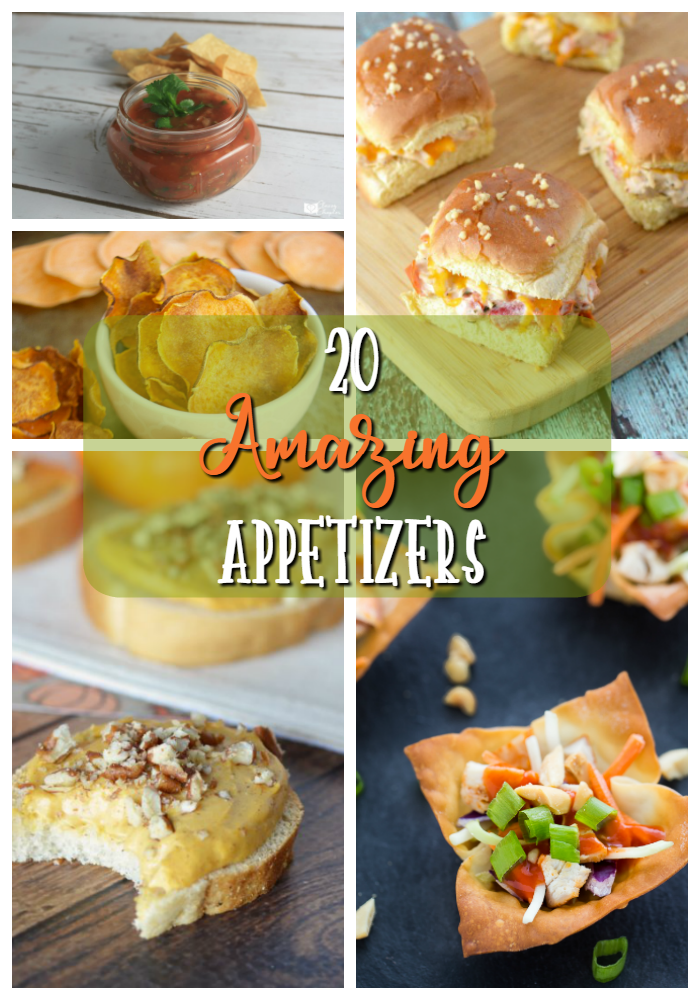 Bacon! Bacon! Bacon!
1. Savory Bacon & Garlic Appetizers
2. Bacon Apple Cheese Appetizers
3. Brown Sugar Bacon Wrapped Little Smokies
All About the Meat
4. Crock-Pot Swedish Meatballs
5. Angus Steak Bruschetta Appetizers
6. Chicken Fiesta Bowl Appetizers
7. Garlic Turkey Cheddar Tomator Basil Sliders (pictured above)
Bite-Sized Goodness
8. Simple Mini Triscuit Pizza Appetizers
9. Wonton Cup Appetizers (pictured above)
10. Pumpkin Cream Cheese Pecan Appetizers (pictured above)
11. Zucchini Puff Pastry Appetizers
12. Easy Pinwheel Appetizers
13. Grilled Caprese Flatbreads
Dips for Any Occassion
14. Slow Cooker Queso Dip
15. Classic Guacamole Recipe
16. Chili and Cheese Egg Rolls
17. Easy Salsa Recipe (pictured above)
Classic Appetizers
18. Italian Fried Mushroom Bites
19. Baked Mozarella Sticks
20. Baked Sweet Potato Chips (pictured above)
What is your favorite appetizer?