Do you feel like having an adventure? How about taking a fun filled camping trip? In case you haven't spent too much time in the Nebraska outdoors, it is beautiful and should absolutely be explored. A camping trip at one of our favorite Nebraska campgrounds is just the way to do it!
If you are wondering where to head out on your Nebraska family camping adventure, here are 10 of the top campgrounds in Nebraska for you to check out. Whether you tent camp or travel in an RV, these are the some of the best recreation areas and campgrounds throughout Nebraska.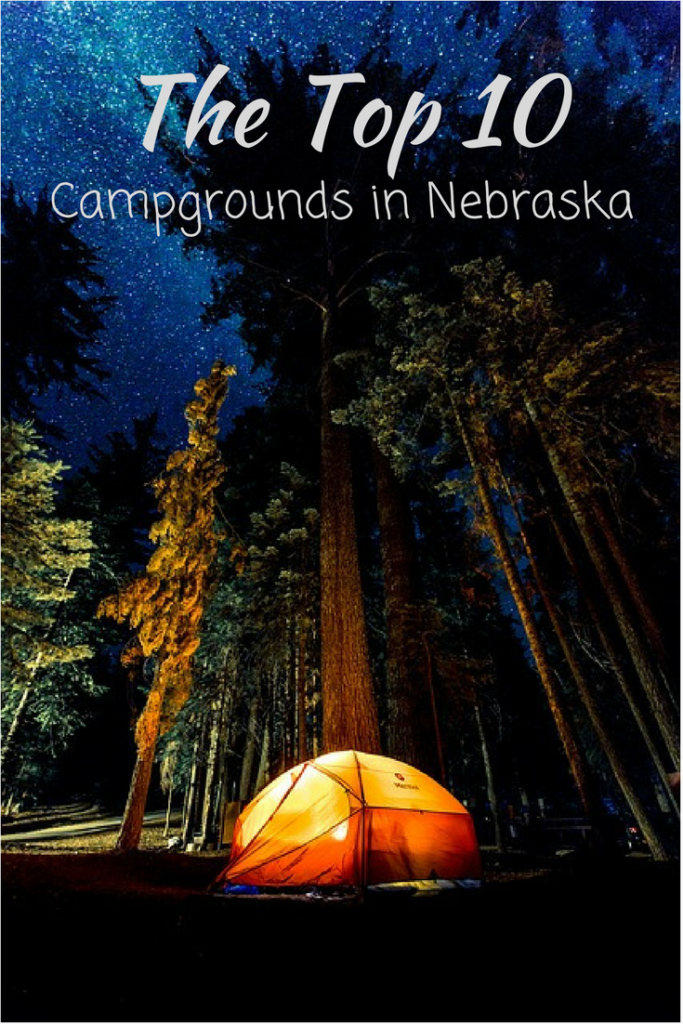 Johnson Lake State Recreation Area (Lexington)
If you like fishing and watersports, you are going to love the Johnson Lake State Recreation Area. Here you will find two separate campgrounds which offer three different Johnson Lake access areas where you can fish, boat, water ski or just hang out on the shore. Nearby you will also find an 18 hole golf course. There are approximately 150 campsites with availabilities for RVs or tents.
Pawnee State Recreation Area (Lincoln)
At the Pawnee State Recreation Area, campers will find hiking trails, boating and water sports, swimming, horseshoes, archery, horseback riding trails and more. If you want to get away for some adult time, there are wineries available for tours nearby. Visitors are encouraged to tent camp or bring their RV along to stay in.
Wagon Train State Recreation Area (Hickman)
Wagon Train State Recreation Area is a very popular day use picnic spot, but also features camping and RV sites. There is a 5 mph rule that is enforced on the water, but all boats are welcome. Fishing at Wagon Train is very popular with over 10 species caught often.
Calamus Reservoir (Burwell)
Calamus Reservoir campground has plenty of fishing to offer anglers, boat ramps and water sports options, plus a beach that is perfect for sunbathing and swimming. You will also find showers and other modern amenities. If you are interested in the nearby Calamus State Fish Hatchery, you can go on tour. There are over 150 campsites available for RVs and tents alike.
Chadron State Park (Chadron)
Chadron State Park campground and the surrounding National Forest has over 100 miles of trails that are enjoyed by both hikers and mountain bikers. The campground features playgrounds for the kids, swimming pools, and a plethora of fishing opportunities for anglers. There are RV sites, tent sites and if you prefer not to rough it, you can also stay in one of their cabins.
Fort Robinson State Park (Crawford)
Campers at Fort Robinson State Park can bring their tent, drive their RV or even stay in one of the historic cabins that have been restored. There are jeep tours of the park, or you can hop into a horsedrawn carriage and view the park that way. There is an indoor pool, hiking and biking trails and more.
Windmill State Recreation Area (Gibbon)
Windmill State Recreation Area is focused on (big surprise here) windmills! This campground is located at the resting spot for early day travelers and features antique, restored windmills. Campsites here include grills and fire rings and the campground itself offers modern restrooms, showers and laundry facilities. Sites are available for RVs and tents.
Enders Reservoir (Enders)
The Enders Reservoir campground is open year round for all of you serious campers and offers features such as laundry facilities and modern restrooms. You will also find opportunities for all types of boating, fishing and swimming at Enders Reservoir. There are 40+ campsites available for tents and RVs as well.
Eugene T. Mahoney State Park (Ashland)
Eugene T. Mahoney State Park offers countless recreation opportunities and even a beautiful event venue! Camping there though is top-notch. You will find many activities for the kids such as an aquatic center, playgrounds, kids theater, sports fields and more. If you want to explore beyond the campground you will find nearby golf courses, museums and more. Camping sites include those for RVs and tents, however you can also rent cabins or lodge rooms.
Fort Kearney State Recreation Area (Kearney)
Fort Kearny State Recreation Area is perfect for the water lover without a motor boat. Non-motor boating is all that is allowed here, but you will also find swimming and fishing opportunities along with hiking and biking trails. If you are lucky enough to visit this campground in the Spring, you just might stumble upon the largest gathering of sandhill cranes and other waterfowl in the world as they are known to make their appearance here. You will also find beautiful cottonwood trees, some over a century old. RV campers as well as tent campers will find sites here.
Please note – there are typically park permits and fees for camping and reservations are required. Check each individual campsite for details on pricing and to reserve your camping spot.
These are the top 10 Nebraska campgrounds, but you may also enjoy Branched Oak in Raymond and Ponca State Park in Ponca. So many great places to camp and sites to see in Nebraska! Which Nebraska campground is your family favorite?