Get kids excited about reading over the summer and avoid the summer slump with these 2017 summer reading programs! The free summer reading programs encourage your child to read with fun reward programs.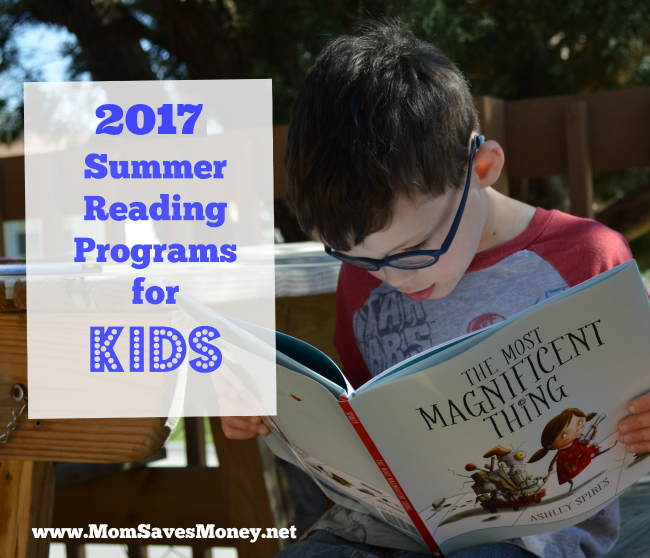 1. Barnes & Noble
The BN Summer Reading Program runs from May 16 – September 5, 2017. Kids keep a reading journal and turn them in at a local store to pick their choice of book from the list of options. They have books for grades 1-6.
2. Half Price Books
This program is for kids 14 and under and runs June and July. Simply read 15 minutes a day and fill out the monthly reading log. Each month (June & July), turn in your reading logs or review for $5 HPB Bookworm Bucks to spend at Half Price Books. That's $10 total for the summer! Bookworm Bucks and reading logs expire August 31, 2017.
3. Scholastic Summer Reading Program
From May 8 – September 8, 20167, simply log your child's minutes online and earn virtual prizes. Plus, you can enter to win great prizes from Klutz.
4. Chuck E. Cheese's
Simply print a reading log calendar (two weeks of reading) and redeem at any Chuck E. Cheese's location for 10 free play tokens.
5. Public Library Summer Reading Programs
Almost every public library has a summer reading program and this is my kid's absolute favorite program every year! Some libraries even have programs for teens or adults. The prizes at our local library include kid's books, free kid's meals, tickets to local events or pool passes. Plus, they often have free children's programs throughout the summer. Check with your local library for details.
6. Sync
Teens age 13+ can download two free audio books a week throughout the summer.
7. Dogo Book – Kids read and review select books (at least 30 words) and receive prizes. Review 2 books and receive a lip moisturizer (400 available), review 5 books for a free Belle's library (300 available) and review 10 books for a Beauty and the Beast 25th Anniversary collection Blu-Ray Combo pack (300 available). These prizes are first come, first serve through 9/15/17, so start reading now.
My kids absolutely love reading and these extra perks from reading programs are just motivation to keep it up all summer.
Do your kids get excited about summer reading programs? What tips do you have to keep them reading regularly during summer break?