Growing up in my family, the birthday kid got to pick what mom made for dinner that night.  90% of the time, all 3 of us kids always picked tacos.  My mom makes amazing tacos!  They aren't anything fancy, but maybe that's part of the appeal.  She fries the shells by hand and serves all the usual toppings – ground beef, tomatoes, lettuce, cheese, onion, guacamole, refried beans, and even cheese dip!  Not the healthiest, but we love it!
The other 10% of the time, someone goes "rogue" and asks for something else.  For me, that something else is beef stew.  Especially when I got older and had moved out.  It was then that I realized that I stink at making beef stew.  I had tried and failed many times.  Many times.  No matter how many times my mom told me how she made hers.  No matter how many different recipes that I tried.  Slow cooker.  Not in the slow cooker.  Canned veggies.  Frozen veggies.  Fresh veggies.  So much so that I just gave up.
Then I got married, started cooking for more than just myself and decided to try just one more time.  For old time's sake.  For the kids' sake.  To regain my honor as the main chef in my home!
The inspiration that I needed was Hy-Vee's recipe.  It came in one of their Season's magazine and is even posted online.  Over time, I've modified the recipe just a bit to make it a little easier to make, but it's pretty close to theirs.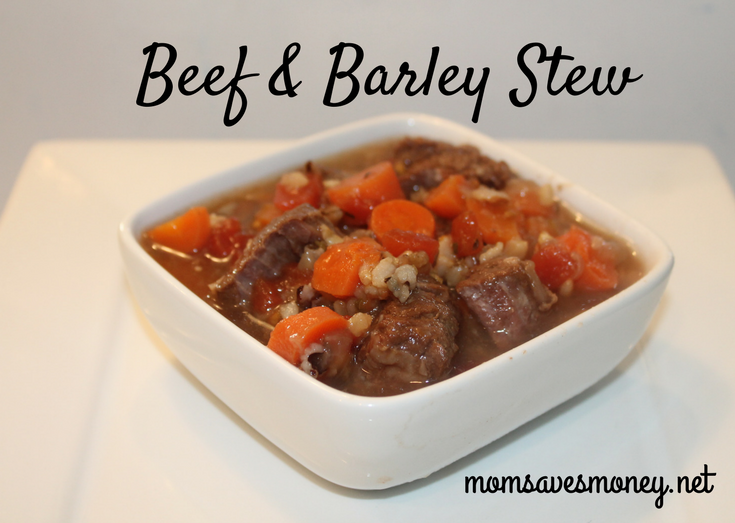 I've finally mastered it!  Now I love it so much that in the winter time, I make it probably every other week.  And I'll still make it once a month in the summer.  Once I made a big batch and ate it all week long.  Seriously, like every day for a week, I had beef stew.
Let's count the reasons that I love it, shall we?
One: My kids love it too.  In fact, my oldest son, really likes the broth – he calls it "soup juice".  "Mom, can I have some more soup juice?"  You betcha!
Two: It's practically a complete meal all by itself.  It's loaded with veggies. Beef.  Wild rice.  Barley.
Three: It's really hearty and filling!
Four: It's easy to make.  Now, it's not as easy as some of the slow cooker versions out there, but, it's still really straight forward.  And as many times as I've tried the slow cooker versions, this is still hands down my favorite.  I won't even try to make any other recipe.
Five: It makes for killer leftovers.  You can freeze it.  It re-heats well, making it a perfect dish to make a double or triple batch and freeze for later.  LOVE THAT!
Here are my tips for this stew:
I think stew meat is too big.  Even though it's cut by the butcher, I think it's too big.  So 1/2 way through the cooking, I scoop the meat out and cut it smaller.  You could cut it raw, but I think it's easier once it's cooked a bit.  You definitely don't need to do this, but I think it makes it easier to eat and helps the meat to break down, making the broth even better.  Try it — you'll love it!
The longer it simmers, the better.  The flavors really come together well that way.  I'll make it early on a Sunday afternoon and either serve it that night or serve it the next night.
I don't like my stew super, duper meaty, so I use 1 pound of stew meat instead of 2 pounds like the recipe originally called for.  But if you like a lot of beef, you can use the full amount.
I love it with the wild rice and barley, but I totally understand that not every one does.  Particularly because they aren't always common ingredients in everyone's pantry.  Skip them if they don't appeal to you.  If I was skipping them, I might reduce the amount of broth used so that it isn't too thin.  But, really, it's what you prefer.
Without further ado, here's my beef stew recipe!
Beef & Barley Stew
This mouth-watering comfort stew will be loved by everyone! Hearty and filling and freezes well.
Ingredients
1-1.5

pounds

stew meat

64

ounces

beef broth

(or 8 cups of water + 8 beef bouillon cubes)

1

large

1 large onion, chopped

1

Tablespoon

Worcestershire sauce

1

teaspoon

dried thyme

1

teaspoon

dried oregano

2

bay leaves

salt & pepper, to taste

1

can

diced tomatoes (about 14.5 ounces)

1

cup

chopped celery

2

cups

chopped carrots

8

ounces

sliced baby bella mushrooms

optional - I often leave out

1/2

cup

wild rice

optional

1/2

cup

barley

optional, but delicious
Instructions
To a large stock pot, add stew meat, broth, onion, Worcestershire sauce, thyme, oregano, bay leafs, salt and pepper. Bring to a boil.

Reduce heat, cover and simmer for 1 ­1/2 hours.

(Optional) Remove meat from pot; cut into smaller size pieces, if desired. Return to the pot.


Add tomatoes, celery, carrots, mushrooms, barley and wild rice. Return to boiling. Reduce heat, cover and simmer an hour or until vegetables are tender. Can let simmer longer - the flavor is amazing!

To serve, remove bay leaves and spoon into bowls!

To freeze: Cool soup. Put into freezer safe container (such as freezer bags or freezer containers). To serve, thaw in refrigerator, then re-heat. Reheat in a stock pot or Dutch oven until heated through.
Notes
For an easier to eat experience, I cut the stew meat into smaller pieces about 1/2 way through cooking, but that's optional.  It's just easiest to cut then.
The longer it simmers, the better.  The flavors really come together well that way.  I'll make it early on a Sunday afternoon and either serve it that night or serve it the next night.
While the wild rice and barley are optional, please try it with it!  It really increases the heartiness of this dish.
This makes wonderful leftovers and freezes well, so if you have a pot big enough, double it!
Jayme is a wife to 1 and a mother to four little boys. She coupons, price matches and meal plans. While she likes to cook, she's in the stage of life where simple is usually better – she never knows how many hands she'll have free at dinner time! You can find her at No Regrets Living.