Disclosure: This post has been compensated by Gain available at Walmart. All opinions are mine alone. #NewSchoolLaundry
Wouldn't it be great if your kids did their own laundry? With a family of 5, we do a load of laundry every single day. It's one chore that never seems to end.
It's simple to encourage kids to help with laundry and will make laundry much easier for mom and dad in the long run. I'll show you step-by-step how to get kids involved with the laundry process. It takes time and patience, but it's so worth it!
My 11-year old daughter is completely independent with her laundry and my 8 and 6-year old boys fold their own laundry and assist with many parts of the process. It's made the family laundry routine easy and fun.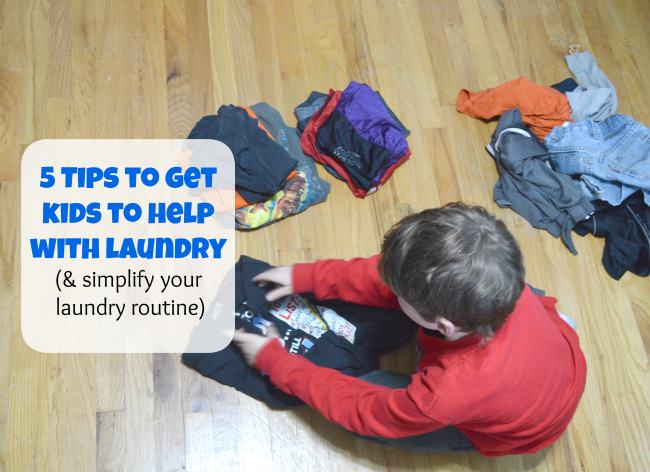 How to Get Kids to Help with Laundry:
Start Young – As soon as my kids could sit up, I started engaging them with laundry tasks. Washcloths are very easy to manipulate and I showed them how to fold them in half. Of course, I had to redo the folding when they were done, but it's an introduction to doing laundry. Plus, little kids think it's fun to help mom!
I also made sure the young kids were in the room with me as I folded their laundry. Even though they couldn't help with the entire process, I modeled the process of folding and putting away laundry.
Make Tasks Age-Appropriate – Don't expect your toddler to completely fold all her own laundry. Introduce new tasks as age and ability appropriate. This is a training process, so teaching new skills will take practice and patience. Give them small, easy tasks and build on those skills over time.
Here is an easy parent guideline on what age to introduce new skills. You don't have to follow it exactly, but it gives you an idea of where to start with your kids. Each skill builds on the next, so as they grow, add additional laundry tasks for them.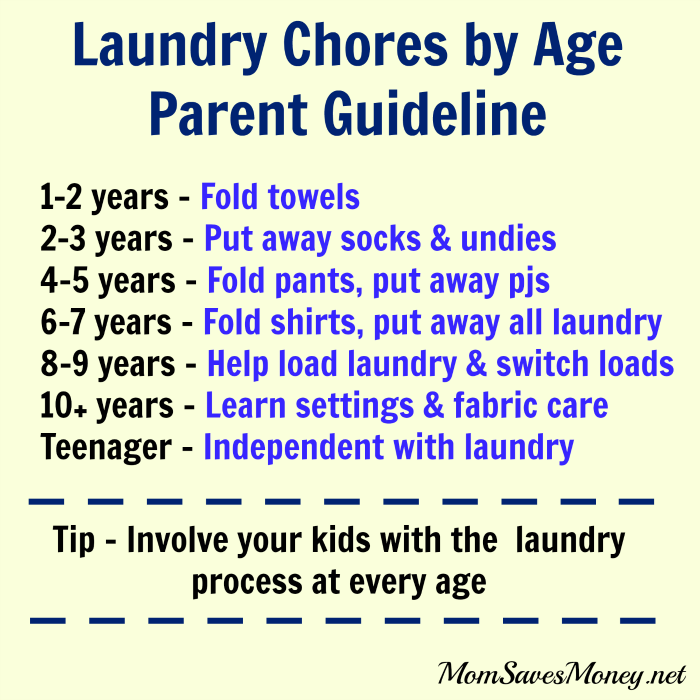 Let Go of Perfection – When kids fold their own laundry, it's not going to be perfect. Avoid criticism and instead praise their laundry folding efforts. Kids will feel a sense of accomplishment and pride for taking care of their own chores. Their clothes may not be perfectly folded and socks may end up in the pajama drawer, but it's okay! Mistakes are part of the learning process.
Continue guiding them and assisting them with laundry to show them the correct way to fold and care for their laundry. With regular practice, they will be laundry professionals before you know it!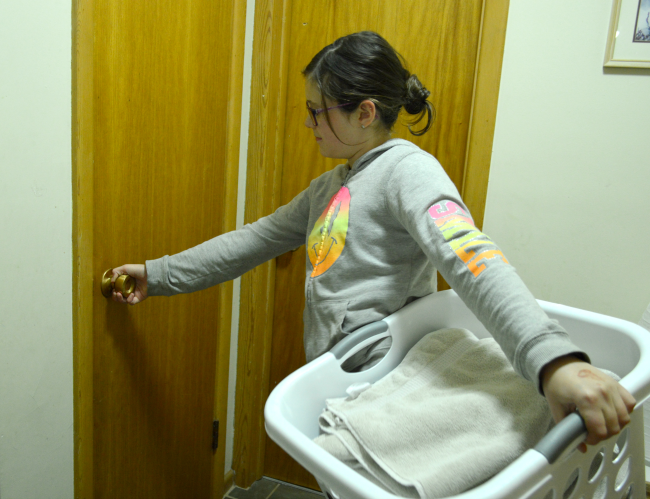 Create a Child-Friendly Laundry Room – Make your laundry room kid-friendly so they can help you in the laundry area. Most important is to make sure all laundry detergent and products are on a high shelf out of reach of small children. Next, keep a small trash can in the laundry to toss dryer lint and throw away trash left in pockets. I also make sure the laundry room is free of clutter and easily accessible.
If you are in the process of teaching your older child how to run the laundry machines, you can leave sticky notes with instructions for the dials. I supervised my daughter for almost a year operating the washer and dryer before I felt comfortable that she understood basic laundry care, but I still leave a sticky note for her with basic instructions.
Keep Laundry Products Simple & Effective – I like Gain's "new school" approach to doing laundry. There are so many products in the laundry aisle these days, but Gain makes doing laundry easy! They have developed a fresh new laundry regimen with four amazing products: Gain Flings, Gain Fireworks In-Wash Scent Booster, Gain Fabric Softener and Gain Dryer Sheets. When used together, you'll have that Gain fresh scent for days or even weeks.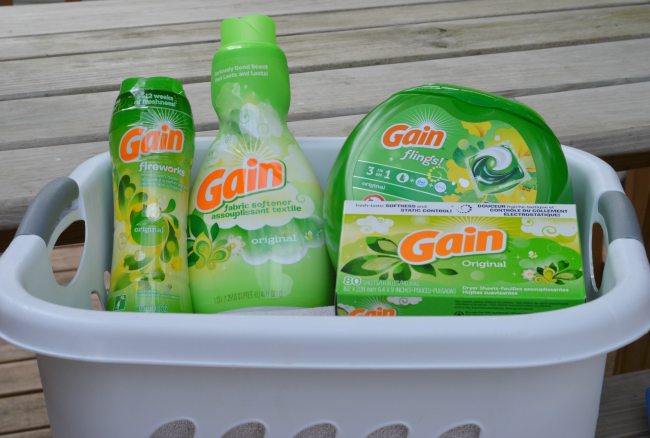 Gain Flings pacs are already pre-measured, with the right amount of detergent, Oxi Boost and Febreze all in one. Just toss a Fling into the washer drum before adding clothes for great-smelling and clean laundry.
Add a capful of Gain Fireworks Scent Booster beads along with your detergent anytime you need an extra boost of scent. With two small boys who play in the dirt outside, that means every load needs a little scent boost. The scent boosters are my favorite laundry product!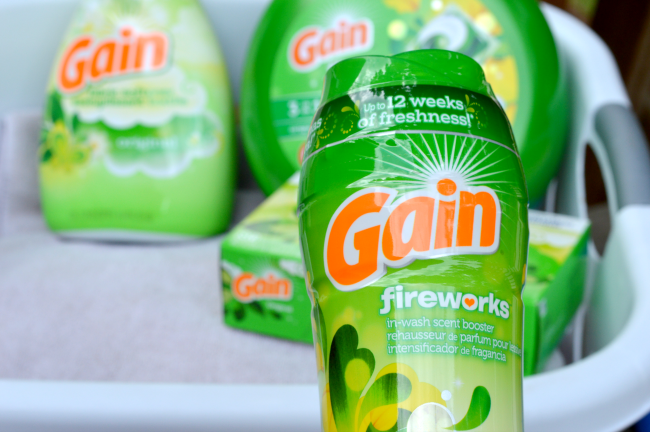 For incredibly soft clothing, just add a cap of Gain Fabric Softener to your machine's dispenser before you start the wash. Finally, use Gain Dryer Sheets to control static, prevent wrinkles while softening and freshening clothes in the dryer. When all four products are used together, you will have amazing results and your laundry will have that great Gain fresh scent.
Ready to simply your laundry routine?
Grab some free new school laundry samples and coupons from Gain this Saturday, May 6 at your local Walmart Supercenter from 11 a.m. – 4 p.m. I'll be at the 71st Plaza store when the event kicks off.
Participating local stores include:
Walmart Supercenter – 3010 E 23rd St., Fremont, NE
Walmart Supercenter – 8525 S 71st Plz, Papillion, NE
Walmart Supercenter – 16960 W. Maple Road, Omaha, NE
Learn more and purchase these products at any Walmart store or at walmart.com/NewSchoolLaundry.
Also, I'll be sharing more tips for teaching your kids how to do laundry with Gain products on KMTV's The Morning Blend on Friday, May 5 between 9 and 10 a.m. Be sure to tune in!
Do you plan to attend Walmart's free sample event? How do you encourage kids to help with laundry?